The second day of the Antalya Grand Prix 2017 ended with the award of four titles to four different countries as Uzbekistan, Russia, Austria and Slovenia climbed on top of the medal podium in the four categories of the day. One will remember the performance of Kathrin UNTERWURZACHER, who confirmed her position as the top seed of the category, the one of Anka POGACNIK, who defeated Elvismar RODRIGUEZ, supported by the IJF, in the final, the great result of Mirzokhid FARMONOV who ruins the golden hopes of a whole people despite the exceptional performance of Hasan VANLIOGLU in front of his public and finally the title of Stanislav SEMENOV for Russia, which continues to produce champions at every competition of the World Judo Tour.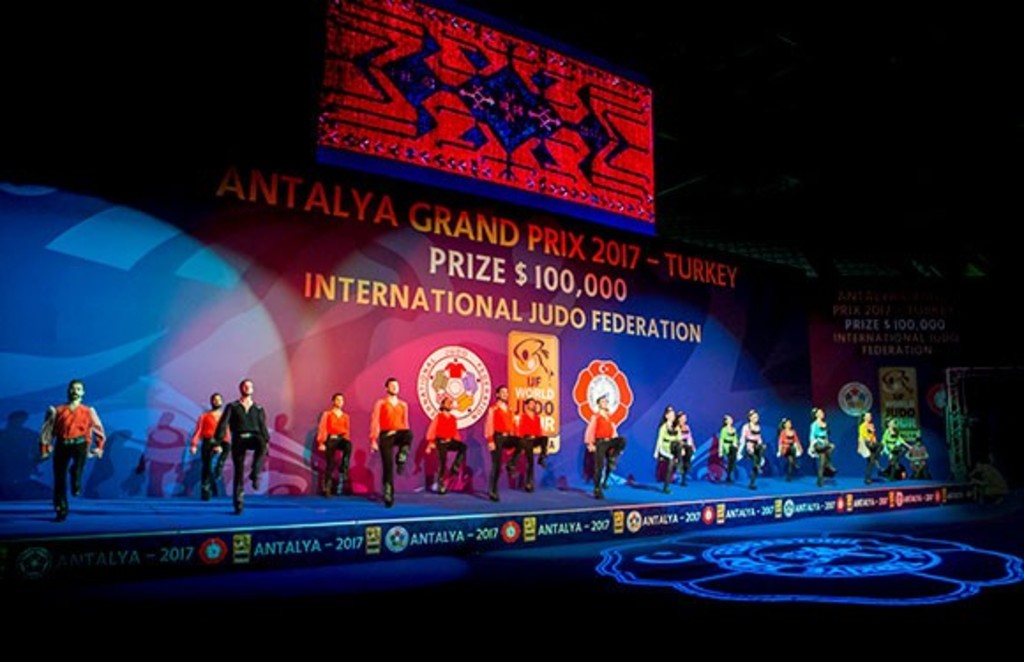 RED CARPET IN TURKEY
The second day of the Antalya Grand Prix saw the opening ceremony which followed the rhythm of the troop 'Fire of Anatolia' (Anadolu Atesi). The Fire of Anatolia is a Turkish dance group consisting of 120 dancers. The group has performed in more than 85 countries around the world, including the United States, China or Japan, and in front of more than 20 million spectators. The troop holds two Guinness World Records, one for fastest dance performance and another for largest audience, with 400,000 people in Eregli, in the Black Sea Region of Turkey.
During the opening speeches, Mr. Sezer Huysuz, President of the Turkish Judo Federation said: "Distinguished Mr. Marius Vizer, Distinguished Deputy Governor, Mr. Salih Gürhan, distinguished guest of the Antalya Grand Prix 2017. It is an honour to see you all here in this marvelous city. I would like to welcome all the participating countries and I wish them to represent their country in the best possible way. I would like to thank again the President of the IJF and I wish to see you here again soon. Thank you very much."

Mr. Salih Gürhan, Deputy Governor of Antalya: "Distinguished IJF President and TJF President, ladies and gentlemen, I welcome you here in Antalya. Distinguished athletes coming from allover the world, I am happy to see all of you in our city. It is a great happiness to host you. Antalya is a city of peace and sport as you could experience over the last two day. It is also the tourist capital of Turkey. That's why all visitors coming here can find peace. As you all know April 6 was the international day for sport Peace and Development. We hope that all conflicts in the world will soon be replaced by sport, peace and development. I would like to wish all the very best to all of you who are participating in this event."

Mr. Marius Vizer, IJF President declared: "Dear Deputy Governor, dear President of the TJK, organisers, guests, judoka and spectators. It is a big honour for the judo family to come to Antalya with the World Judo Tour. A great city, in a great country, with great people and wonderful spectators. I want to congratulate the TJK for the spectacular organisation of the event. And I want to congratulate also the former governance of the association for all their successes. I wish the President of the TJK, my friend and colleague, Mr. Sezer Huysuz all the best for the future. I wish all of you a great event in Antalya. I declare the competition in Antalya open. Thank you."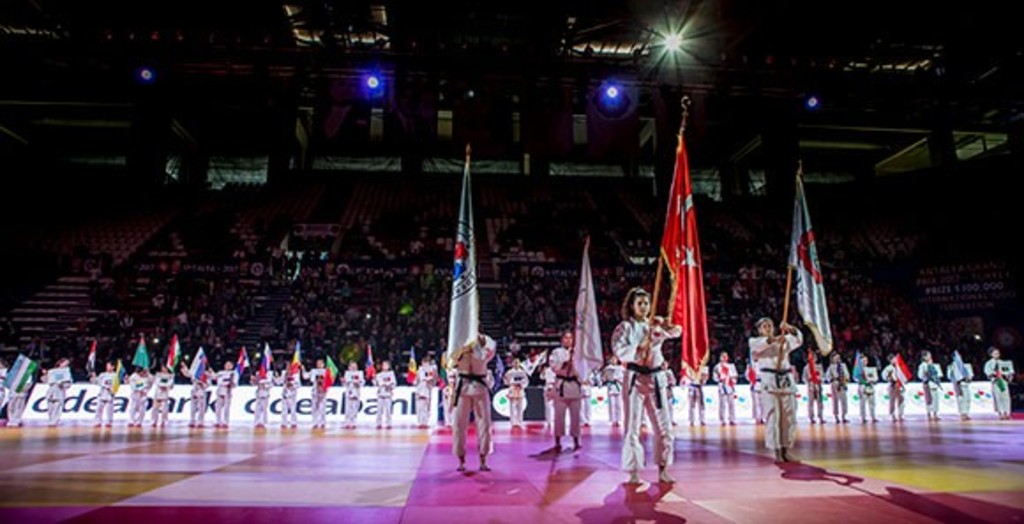 FROM ONE END OF THE TATAMI TO THE OTHER
Mr. Sezer Huysuz is the new President of the Turkish Judo Federation, elected in October 2016. After two days of competition and already two medals for the host country of this first Grand Prix in Antalya (after four editions in Samsun) he is a happy and excited president: "I have been a member of this beautiful judo family for more than thirty years and today I am filled with emotions.
"I reassure you, I am full of positive emotions. Not so long ago, I was on the other side of the tatami, on the side of the competitors. I am now the President of our national federation. Being on the tatami with my friends, I miss it for sure, but I am so happy to be able to contribute to the development of judo in another way."

The Turkish Judo Federation now counts more than 21,000 active judoka and extending to all those who have practiced judo and who are still close to the sport, it represents a community of more than 100,000 people in Turkey: "It is very important for us to have this Grand Prix here in Antalya. We are very pleased that the IJF President himself is present as well as many members of the Executive Board of the International Federation," said Sezer Huysuz, before adding:" I am a judoka who comes from the base. I went through all levels. This allows me to really know all the problems that athletes have to face. I know what they want and what they need. There is no doubt that we must do everything for our athletes. They are at the centre of everything."

Returning to the Grand Prix and its organisation, the President said: "Organising a Grand Prix requires a lot of effort. We want everyone to be happy and to leave with wonderful memories. We are ready to host even greater events. I think we have that desire and the capacity. This can only have a positive impact on Turkish judo and judo throughout the region. Of course this will also have an impact on our results. We will be able to attract more media and more sponsors, as well as more spectators."

"The support we receive from IJF President Marius Vizer is crucial. Otherwise we could not carry out all our projects. The fact that he is present and that he permanently accompanies us is an undeniable force. Judo now enjoys great prestige in Turkey. The President of the European Union, Mr. Sergey Soloveychik, will also be here tomorrow. Thank you all."

Mr. Sezer Huysuz finally commented on the project run by the IJF and the TJF in the Syrian refugee camps in the south of the country: "A new dojo was built in Kilis to accommodate more young people. The project is working extremely well. These families lost everything in the war, but we can offer them a smiling future. But judo becomes so popular that we will have to redouble our efforts to welcome even more young people. With the support of the IJF, we will work on this and organise judo events there. It is our social mission. We will, for example, send new coaches to supervise the populations."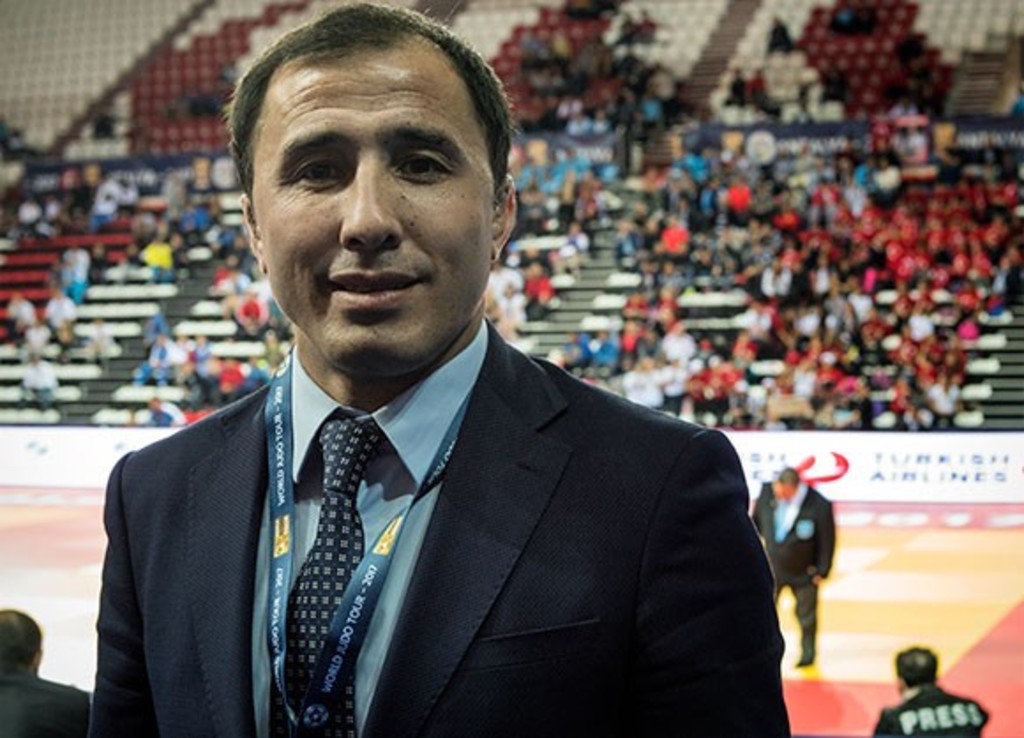 KOSOVO's NATIONAL SPORT
After a great day for Kosovo yesterday, which won two titles (-52kg: Distria KRASNIQI and -57kg: Nora GJAKOVA), the president of the Kosovo Judo Federation, Mr. Agron Kuka, explained how judo became the number one sport in his country: "First of all, I would like to thank President Marius Vizer from the bottom of my heart. Already in 2008 he had the vision that in our country there were talented judoka and that we were working very well. Without him, without his unwavering will, we would not be here today. His decision to support us and accompany us was the trigger for everything.
"Yesterday was an extraordinary day for us. Without our flag bearer, Majlinda Kelmendi, we were still able to win two titles. This is the first time this has happened. It is important that we can show that beyond the exceptional personality of Majlinda, we have other very good athletes, both for women and for men. Our team and our federation are making progress every day.

"Of course Majlinda remains an exceptional judoka. She was the first Junior World Champion for Kosovo. Then World Champion twice and finally, last summer she became the first Olympic champion for our country. She is an example for all, a true icon.

"In the future, we want to further strengthen our sport. With the support of the government, we are working to integrate judo into the school curriculum so that judo is massively taught in Kosovo. Judo is becoming the national sport."
-63kg: UNTERWURZACHER UNDEFEATED IN ANTALYA
Top seeded athlete, the Austrian Kathrin UNTERWURZACHER, winner of the Tokyo Grand Slam in 2016, and more recently bronze medallist in Tbilisi Grand Prix, qualified for the final after having defeated Valentina KOSTENKO from Russia and Amy LIVESEY from Great Britain, both on a waza-ari score. In the final she was opposed to Marian URDABAYEVA of Kazakhstan who successively defeated during the preliminary rounds Maja BLAGOJEVIC (CRO), Olga KRIUKOVA (RUS) and Katharina HAECKER (AUS).
UNTERWURZACHER and URDABAYEVA delivered a very intense bout. The Kazakh scored the first with a reversed sode-tsuri-komi-goshi for a waza-ari that surprised the favourite UNTERWURZACHER. The Austrian did not make the same mistake twice and when URDABAYEVA again attacked with the same technique, she countered her for a waza-ari as well. The same scenario was repeated for the last attack of URDABAYEVA, and once again UNTERWURZACHER could counter, score and continue with an immobilisation for ippon.

The first bronze medal contest opposed Valentina KOSTENKO (RUS) and Katharina HAECKER (AUS). At the end of the regular time, both athletes had only one shido each and entered the golden score for almost four minutes. Successively attacking but without scoring, neither KOSTENKO nor HAECKER could take the lead and win. It was after 3 minutes and 50 seconds that KOSTENKO was penalised with a shido and that HAECKER could celebrate her bronze medal.

The second bronze medal contest was a 100 British bout as Lubjana PIOVESANA (GBR) faced Amy LIVESEY (GBR). After a little more than one minute, LIVESEY was already penalised with two shido. Despite a few efforts, she was not able to really impose a different rhythm and she was penalised with a third shido (Hansoku-make), PIOVESANA taking the bronze medal.

Final
UNTERWURZACHER, Kathrin (AUT) vs. URDABAYEVA, Marian (KAZ)
Bronze medal contests
KOSTENKO, Valentina (RUS) vs. HAECKER, Katharina (AUS)
PIOVESANA, Lubjana (GBR) vs. LIVESEY, Amy (GBR)
Final Results
1. UNTERWURZACHER, Kathrin (AUT)
2. URDABAYEVA, Marian (KAZ)
3. HAECKER, Katharina (AUS)
3. PIOVESANA, Lubjana (GBR)
5. KOSTENKO, Valentina (RUS)
5. LIVESEY, Amy (GBR)
7. BALDORJ, Mungunchimeg (MGL)
7. KRIUKOVA, Olga (RUS)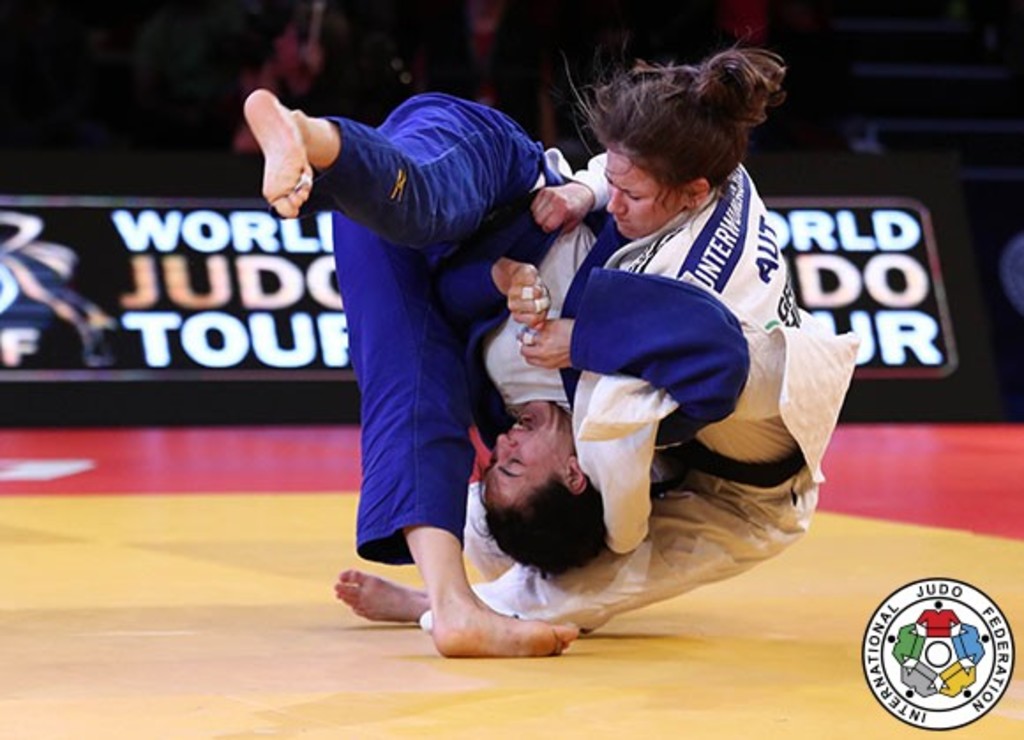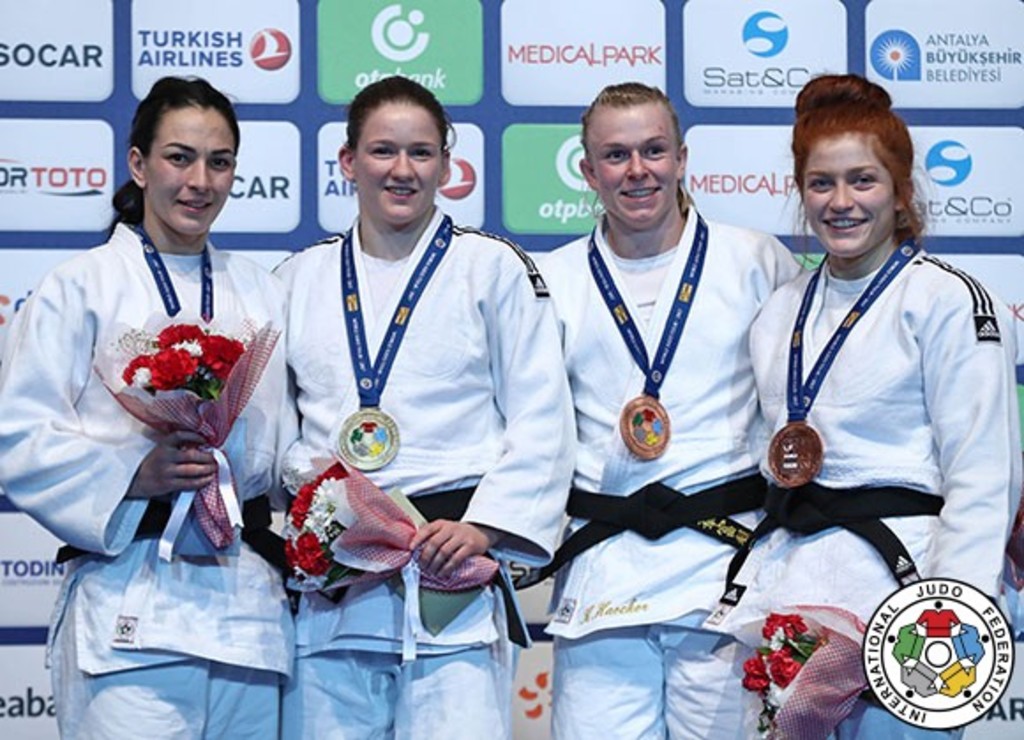 -70kg: THIRD GOLD FOR POGACNIK
The second women's final of the day opposed Elvismar RODRIGUEZ (IJF) and Anka POGACNIK (SLO), silver medallist last year in Tashkent on the occasion of the Grand Prix in Uzbekistan. Coming from Venezuela, Elvismar RODRIGUEZ is supported by the International Judo Federation and is currently training out of Hungary at the IJF Training Centre*.
The first penalty was awarded to Elvismar RODRIGUEZ for passivity and actually during the regular time that was the only element that appeared on the scoreboard. Thus both athletes entered the golden score and it did not take long for POGACNIK to launch a ko-soto-gari with an action-reaction to score a waza-ari and win her third gold medal on a Grand Prix.

The first bronze medal contest opposed Dilbar UMIRALIYEVA (KAZ) and the 2014 Junior World Champion, Barbara MATIC (CRO). After one minute, the Croatian did not really pay attention and was close to being caught with an armlock from which she miraculously escaped. UMIRALIYEVA was penalised with a first shido when entering the second half of the bout. As both athletes were approaching the edge of the competition area, MATIC initiated an chi-mata, but as UMIRALIYEVA immediately reacted and prepared her counterattack, MATIC simply hooked her opponent's inner leg to score ippon with a beautiful o-uchi-gari.

The second bronze medal contest saw Gemma HOWELL (GBR) and Szabina GERCSAK (HUN) facing for a place on the podium. GERCSAK was penalised the first for a false attack with a shido. Things started to be a little complicated for the Hungarian as she was penalised a second time and during a groundwork session, HOWELL could demonstrate all her skills to catch GERCSAK with a shime-waza (choking technique) for ippon and her fifth medal at a Grand Prix.

* Other athletes supported by the International Judo Federation in Antalya:
Emilie SOOK (DEN)
Larisa CERIC (BIH)
Aleksandra SAMARDZIC (BIH)
Harun SADIKOVIC (BIH)
Petar ZADRO (BIH)
Final
RODRIGUEZ, Elvismar (IJF) vs. POGACNIK, Anka (SLO)
Bronze medal contests
UMIRALIYEVA, Dilbar (KAZ) vs. MATIC, Barbara (CRO)
HOWELL, Gemma (GBR) vs. GERCSAK, Szabina (HUN)
Final Results
1. POGACNIK, Anka (SLO)
2. RODRIGUEZ, Elvismar (IJF)
3. HOWELL, Gemma (GBR)
3. MATIC, Barbara (CRO)
5. GERCSAK, Szabina (HUN)
5. UMIRALIYEVA, Dilbar (KAZ)
7. ERDOGAN, Semanur (TUR)
7. MATNIYAZOVA, Gulnoza (UZB)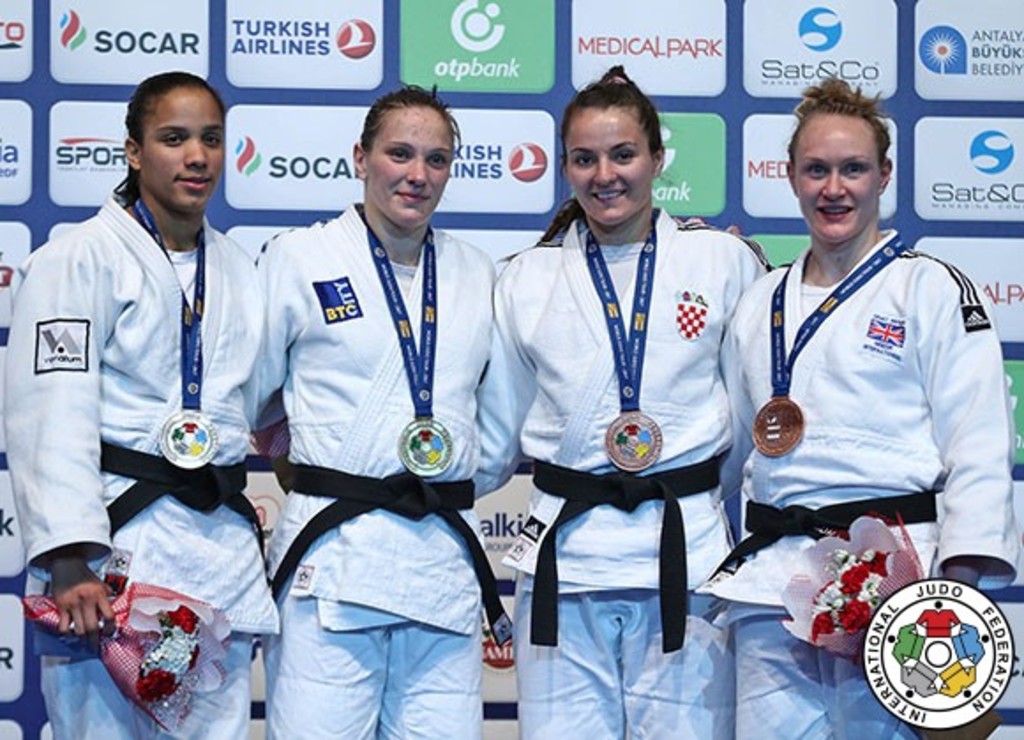 -73kg: FARMONOV's GOLDEN DESTINY, VANLIOGLU IN SILVER AT HOME
After a successful day for Turkey on day one of the Antalya Grand Prix, for the second day in a row, the host country qualified one athlete in the final as Hasan VANLIOGLU, delivered his best judo to overcome all challengers during the preliminary rounds. Born in Erzurum, a major city in eastern Turkey, the star of the day for the local public recently got married, and he has also become a father. Highly-motivated in front of his home crowd he had to produce his best judo to defeat Hidayat HEYDAROV in the semi-final. After an epic match between the two men, VANLIOGLU delivered one last desperate attack during extra time to score a waza-ari. After such a contest, both champions hugged each other with emotion.
In the final VANLIOGLU was opposed to the winner of the 2016 Grand Prix in Tashkent, Mirzokhid FARMONOV (UZB). Suddenly, when both athletes entered the competition area, the stadium awoke from the lethargy he was plunged in. After one minute and a half, FARMONOV had two penalties and VANLIOGLU only one, as the public was chanting 'TURKIYE, TURKIYE' in support. Five seconds before the final gong, VANLIOGLU was close to applying an arm-lock to his opponent, but FARMONOV could escape. Time for another golden score, which perfectly fit to the situation and it took only 21 seconds for FARMONOV to break all Turkish hopes for a gold medal, when the Uzbek launched a low sasae-tsuri-komi-ashi for waza-ari. VANLIOGLU was so close to bringing the first gold to the host country but today it was FARMONOV's destiny to step on top of the medal podium.

The first bronze medal contest opposed Rok DRAKSIC (SLO) and Tohar BUTBUL (ISR). Halfway to the end, BUTBUL was penalised with a shido but the scoreboard was still free of any positive score. With a little more than one minute to go, the Israeli launched a quick drop-seoi-nage. DRAKSIC turned into the air but landed on his stomach for no score. After four minutes, and one more penalty each, it was time for the golden score, where everything is possible. DRAKSIC who had one less shido than BUTBUL, was penalised a second time as a warning, Next penalty would decide the winner, and once again DRAKSIC got penalised giving the victory and the medal to BUTBUL.

In the second bronze medal contest Hidayat HEYDAROV (AZE) was opposed to Akil GJAKOVA (KOS). GJAKOVA entered the second half of the bout with one shido and received a second penalty for passivity a little later. Twenty seconds to the end, HEYDAROV engaged a superb kata-guruma but like a cat, GJAKOVA could turn and escape from the throw, but to do so he used a bridge position which is forbidden in judo because it can be dangerous. Logically GJAKOVA was disqualified and HEYDAROV could enjoy his first medal on a Grand Prix.

Final
FARMONOV, Mirzokhid (UZB) vs. VANLIOGLU, Hasan (TUR)
Bronze medal contests
DRAKSIC, Rok (SLO) vs. BUTBUL, Tohar (ISR)
HEYDAROV, Hidayat (AZE) vs. GJAKOVA, Akil (KOS)
Final Results
1. FARMONOV, Mirzokhid (UZB)
2. VANLIOGLU, Hasan (TUR)
3. BUTBUL, Tohar (ISR)
3. HEYDAROV, Hidayat (AZE)
5. DRAKSIC, Rok (SLO)
5. GJAKOVA, Akil (KOS)
7. BOBOEV, Giyosjon (UZB)
7. NARANKHUU, Khadbaatar (MGL)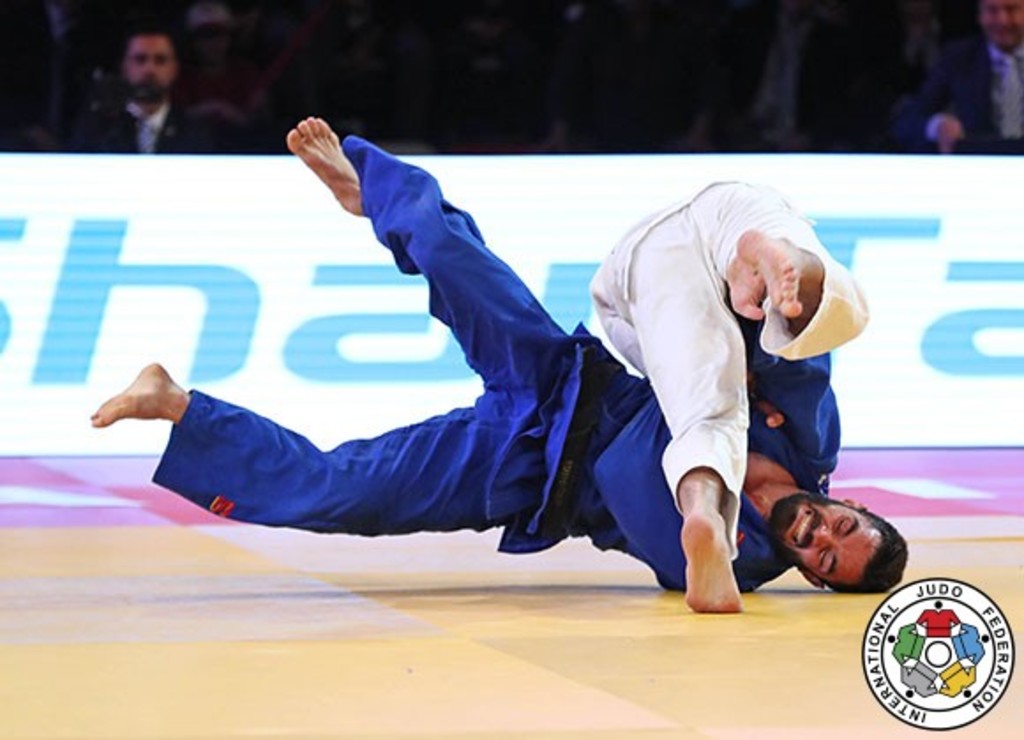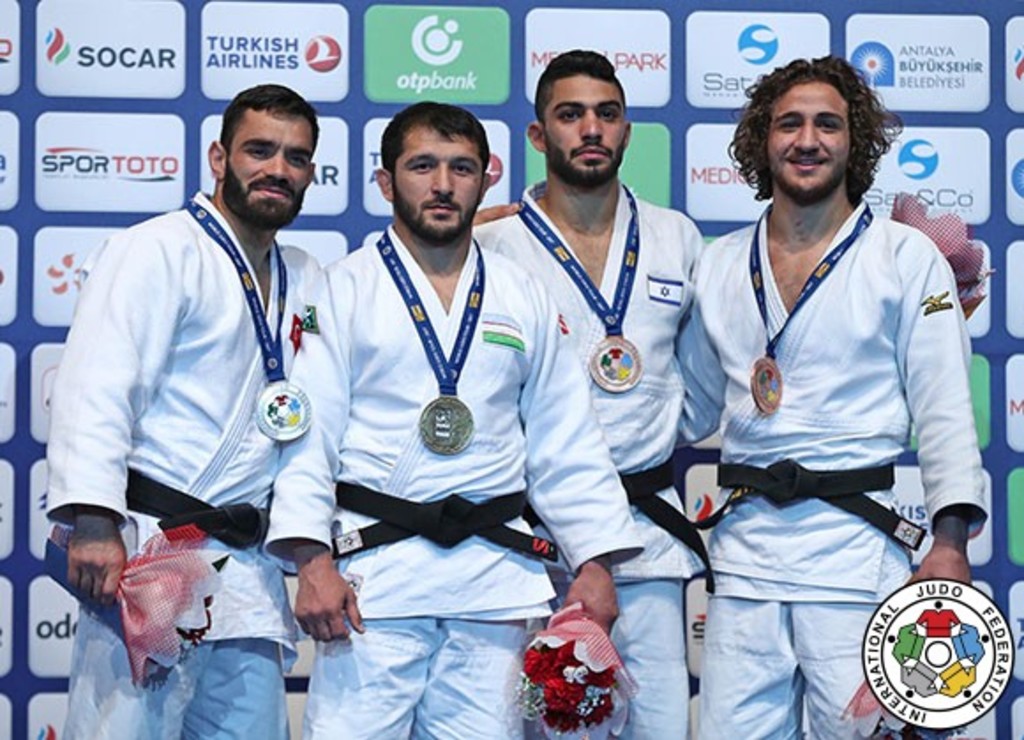 -81kg: SEMENOV ADDS MORE GOLD FOR RUSSIA
The last final of the day saw SONG Minki (KOR) and Stanislav SEMENOV (RUS) facing off for gold. SONG Minki's best results so far was only a bronze medal at the Asian Open in Taipei in 2016, when SEMENOV had already three bronze Grand Slam medals.
After both athletes were penalised with a shido for blocking their opponent, SEMENOV scored the first waza-ari with a kaeshi-waza technique. One waza-ari was enough to grab one more gold for Russia.

The first bronze medal contest opposed top seed NYAMSUREN Dagvasuren (MGL) - who was defeated in the semifinal by SONG - and Tamazi KIRAKOZASHVILI (GEO). But rapidly the match seemed to go only in one direction, the one of penalties, and before the end NYAMSUREN received two shido while KIRAKOZASHVILI was penalised three times and disqualified. Bronze for NYAMSUREN.

The second and last bronze medal contest of the day opposed the veteran Emmanuel LUCENTI (ARG), 32 years old, and Murat KHABACHIROV (RUS). LUCENTI got the first shido for holding the judogi on the same side without building an attack. Halfway to the end, KHABACHIROV scored a first waza-ari with a o-soto-gari technique and LUCENTI received his second shido for a pistol grip. The third penalty was not long to be given as again LUCENTI gripped his opponent's judogi on the same side without building any attack. Hansoku-make for the Argentinian, bronze medal for KHABACHIROV.

Final
SONG, Minki (KOR) vs. SEMENOV, Stanislav (RUS)
Bronze medal contests
NYAMSUREN, Dagvasuren (MGL) vs. KIRAKOZASHVILI, Tamazi (GEO)
LUCENTI, Emmanuel (ARG) vs. KHABACHIROV, Murat (RUS)
Final Results
1. SEMENOV, Stanislav (RUS)
2. SONG, Minki (KOR)
3. KHABACHIROV, Murat (RUS)
3. NYAMSUREN, Dagvasuren (MGL)
5. KIRAKOZASHVILI, Tamazi (GEO)
5. LUCENTI, Emmanuel (ARG)
7. CSOKNYAI, Laszlo (HUN)
7. GOTONOAGA, Dorin (MDA)