The Peace and Sport organization has just published its report on the organization of the 7th edition of the International Day for Development and Peace, with which the International Judo Federation was closely associated.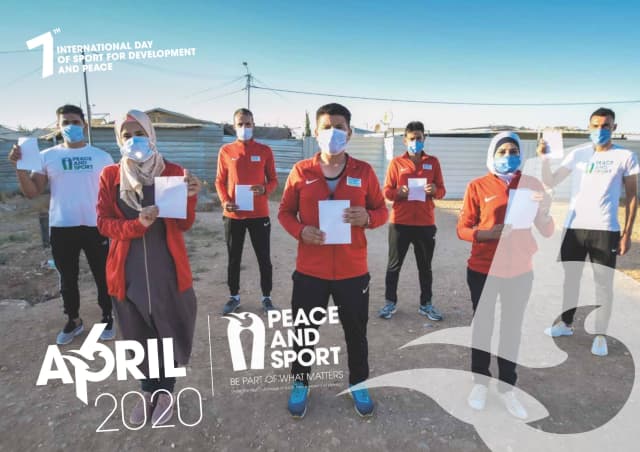 In the introduction, H.S.H. Prince Albert II of Monaco, Patron of Peace and Sport declared: "The message behind the International Day of Sport for Development and Peace, celebrated on April 6 this year, comes into full play in the current context. Using sport to protect our planet and reinforce our bonds with each other is a huge responsibility we owe to our children and to future generations... I am proud to see that, year after year, more and more people worldwide keep following this call for mobilization and are ready to become social change makers using sport and its values.
In regular times, Sport provides a platform for people to come together physically. Today, Sport through the #Whitecard sends a message of connectivity, hope and solidarity on social network. We must continue promoting the positive values of sport for peace, for our benefit today and for a fairer world in the future."
Joël Bouzou, President and Founder of Peace and Sport, declared: "The #WhiteCard campaign took place in exceptional circumstances this year. The coronavirus pandemic has prevented mass gatherings in many countries. But the results of this campaign aimed at promoting global solidarity and unity were extraordinary. It involved more than 117 million people on social networks. The sports movement including the International Olympic Committee, International Federations, National Olympic Committees, as well as Intergovernmental Institutions, International Organisations and Civil Society joined in. Together, we once again proved that sport can help bring people together, beyond social, racial or religious differences, especially in times of isolation."
The #IDSDP was launched on 23 August 2013, at the UN General Assembly with the support of the International Olympic Committee. April 6th was declared as the International Day of Sport for Development and Peace at the United Nations Headquarters in New York. This decision represented a historic step in recognizing the transformative power of sport and its boundless potential to advance positive social change.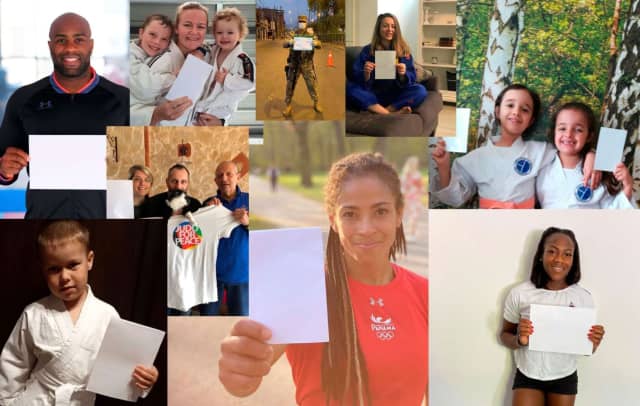 The #WhiteCard is a worldwide digital campaign associate with the IDSDP that promotes the positive and constructive values of sport. Every year the #WhiteCard campaign reaches millions of people through social media. Holding up a #WhiteCard has been recognized as the symbol of the peace-through-sport movement and it is an action that symbolizes the positive power of sport. The #WhiteCard is a gesture of inclusion, equality and peace. Symbolically, the #WhiteCard enables sport organizations, international institutions, governments, athletes and civil society to take action and promote themselves within the sport-for-developmentand-peace movement and identify themselves as being socially aware and committed.
This year, in the context of an unprecedented health crisis, the IDSDP was a propitious day to organize a digital initiative and participate in the #WhiteCard campaign on social media to be part of a global and digital solidarity movement.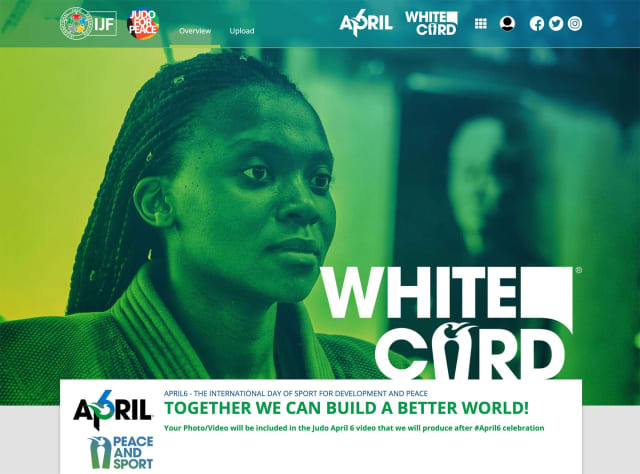 To celebrate the 7th edition of IDSDP, the International Judo Federation launched a dedicated online platform (https://whitecard.ijf.org/), where judokas from all over the world could get involved by sharing their #WhiteCard pictures. Several hundred people from more than 100 countries participated, and all the photos were compiled together in a video, helping to spread an important message about peace on all five continents. From children to adults, from local judokas to big names in the sport, participation was massive and showed the commitment of the judo community to build a better society.
More info and report: https://april6.org/en/