Francis Newman is a 15 years old girl and she recently represented Australia at the Youth Commonwealth Games in Bahamas, where she won a medal. But what makes her story even more interesting is that she comes from the remote community of Bamaga, which was visited by the IJF a last year.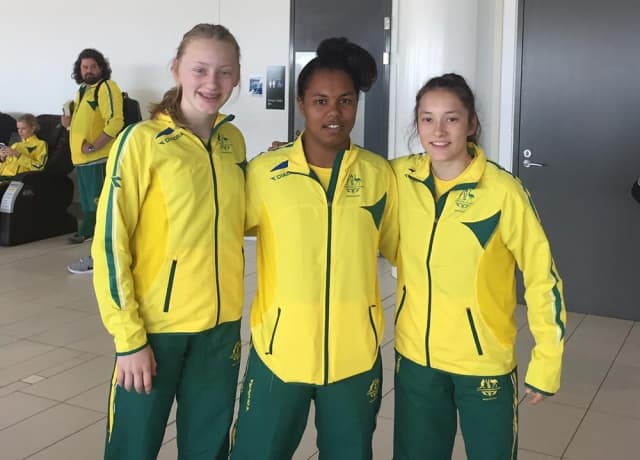 Neville Sharp, Deputy Chair of the Australian judo Federation said: "One of the girls from Bamaga where the International Judo Federation visited is now winning medals for Australia. This is an amazing story. To have a girl from one of the most remote parts of Australia representing Australia and winning a medal is remarkable."
Her coach, Xavier Barker explained: "She started Judo in 2012 when the Northern Peninsula Area Judo Club in Bamaga started. In 2013, I took her to her first competition in Cairns and she won it. The next year I took her to North Queensland Games where she won the Cadets division, only aged 12. In 2015, she won Queensland State Titles at both Senior girls and Cadet divisions and followed up with state titles in both Cadets and Junior Women in 2016. Last year, she also won the North Queensland Games Senior Women's Open, and she was only 14."
Bamaga is a small town in the top north region of Australia in the heart of the Aboriginal community. Judo was introduced in Bamaga in the 60's and has been recently redeveloped. It is the only sport that successfully and peacefully brought people from all the different communities together. Judo has a real impact on the daily lives of the children and despite some difficulties, judo is up and running in this remote area.
Xavier Barker said: "When Francis is in Bamaga she is very coachable. She can train judo as well as strength and conditioning every day. We knew straight away (when she was beating teenage boys as an 11year old) that we could coach her to be a champion. When she moved to Ipswich, outside Brisbane, for boarding school I organized for her to train at the local Judo club. The coaches there are excellent and Sensei Brian Mills has the rare distinction of having coached a player from childhood right through to the Olympics. We knew she would be in good hands."
Over the last 6 months, the club organized sponsorship for her to travel to the ACT International Open and Queensland International Open for mat experience and in a bid to qualify for national selection. After a silver medal in Tonga (OJU Champs) her coach doubled her training regime and made sure she could attend plenty of local competitions in Brisbane to try and get mat experience.
Xavier Barker is taking good care of his pupil: "At the Australian National Championships she underperformed. but by this stage we knew that she had been selected as the reserve for the Commonwealth Youth Games and we were a little worried. Her father and I organized for her to leave school and come back to Bamaga where she trained 3 times every day for a week with her local club before we sent her down to Cairns for a four week training programme with Sensei Karl Michaelis. Karl also had an English coach assist her, Danny Carr, and between them they worked 3 times a day, 6 days a week to try and straighten her out and make sure she was as well-prepared as she could be for the Bahamas."
Francis was certainly a different fighter in Bahamas and had more confidence in her technique, particularly her ne waza and kumikata. That led her to defeat her first opponent from Bahamas with a strong Tate Shiho gatame. She was able to bog down her English opponent next and was down 2 shidos before being thrown for ippon with a strong uchimata. She finished the day with a silver medal.
Xavier Barker (left) and Francis Newman (right)
"
Her best result and the best result for our club back in Bamaga
Xavier Barker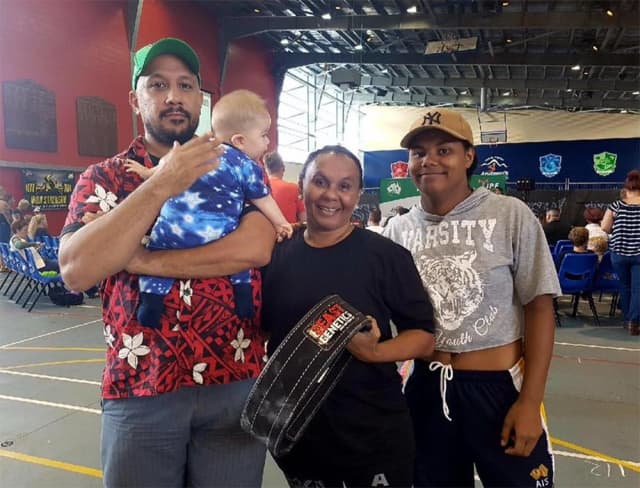 Since then the community response has been very strong and people are inspired by her and keep sending many congratulation messages to her parents and family.
Xavier concluded: "For me, when I started this club is was because I wanted to continue my own Judo. I wanted to share the values of Courtesy, Courage, Honesty, Honour, Modesty, Respect, Self-Control and Friendship in the communities of the NPA and was shocked that there was no organised sport in the area at the time, much less anything to do on the holidays. We now have an active group of both competition and recreational players who travel for Judo; around Australia and to Japan. She's a good example for young people everywhere of course, but particularly for young indigenous kids in remote communities around Australia. She has proved that with some commitment, Judo can take you around the world. Our club is currently small, 25-30 players. We have had as many as 46 on the mat in the past. We have good female representation - around 40% and a mix of indigenous and non-indigenous players. We also promote Special Needs judo and are developing a programme with the local school for Special Needs players to do Judo as part of their extra-curricular programme."