In these challenging times we have to come together more than ever, as a mark of solidarity, unity and respect for our sport and we need to share our judo values worldwide. Following the Great8 initiative and the JudoFit Kids Golden League held last year, from today on and in the months to come, we are proud to launch a new and innovative online contest for the whole judo community, called 'Climate Champion.'
In this contest children, parents, clubs, national federations and continental unions from all over the world are invited to visit our platform https://fit.ijf.org, click on 'Climate Champion' and perform our actions/challenges. By doing so, you can help us to perform each one of our IJF Climate Champion actions/challenges, meant to guarantee a cleaner and safer planet for all of us.
By participating in these challenges, our judo community members can set goals and earn green trophies and green cards, together with surprise cards and messages from our champions and climate ambassadors.
We are aiming at the whole judo family, all around the world, being familiar with the issues of global warming, carbon footprints, the theme of reducing and recycling, with a view to addressing them together.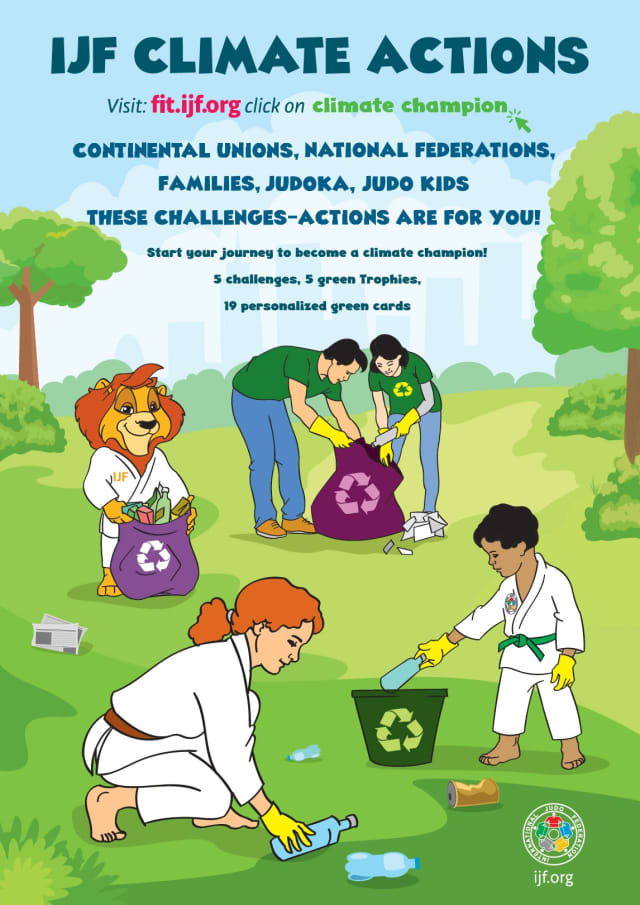 Together we will inspire and motivate the judo family and the world to build a safer and cleaner environment.
Our first challenge is now available, 'Clean your environment' is the first action you can do to become a Climate Champion! Look what young Uzbek judoka did in Tashkent. Can you do the same?
For more information about how to participate - CLICK HERE
#judoclimatechampion #judoclimate #judoactions #judogreen #strongertogether hashtags.