To everyone's benefit, it was a hot summer in front of our TV screens following the exploits of the athletes at the Tokyo 2020 Olympic and Paralympic Games and seeing the results of our judo champions. However, this should not make us forget that the season was also very hot on Earth, as a whole, with our planet suffering from the consequences of a runaway climate.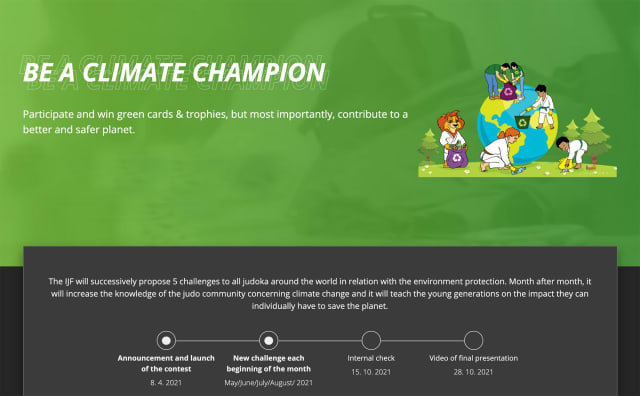 This is why, for months, the International Judo Federation has been mobilising to educate the judo family and especially the youth about the preservation of our environment. Supported by the astronaut of the European Space Agency, Thomas Pesquet, we have proposed five challenges which are now all online.
Today you have the chance to contribute to saving our planet by:  1 - Cleaning your environment 2 - Planting trees 3 - Share because you care 4 - Choosing clean transport 5 - Recycle, Reuse, Reduce 
All challenges are online: https://fit.ijf.org/
Hurry to complete your challenges so you can be included in our Climate Champion World Ranking and you'll have the opportunity to win personalised cards from our 2021 judo world champions.
You have the possibility to do the five challenges alone as well as with your best friend, with your judo class, with your family, or all of you together. While you are participating, you just need to film yourself, in a one-minute video in which you are wearing your judogi and your belt. 
Since we launched our challenges, 14 countries already participated and Canada is leading the ranking with 31 participants.
We can do much better and we are counting on you.
Are you the next Climate Champion? We are waiting for you.