On the last day of the individual Asia and Oceania Judo Championships we watched the heavyweights compete. Passionate, strong judoka in the -78kg, +78kg, -90kg, -100kg and +100kg categories were prepared to show outstanding judo today in Bishkek.
IJF President Mr Marius L Vizer visited the competition to support all in attendance. Mr Vizer was also presented with a special award by the JUA President Mr Obaid Al Anzi, recognising his contribution to the development of judo around the world and particularly in Asia.
Korea secured the top position on the medal table, with 1 more gold today, won by Yoon Hyunnji at -78kg. After 6 minutes of the final Yoon managed to overcome Ma Zhenzhao of China, to win maximum points and the cheers of her team.
In the -90kg category, Düsseldorf Grand Slam 2020 winner, Davlat Bobonov (UZB) performed an amazing uchi-mata to topple Mukai Shoichiro (JPN) and win a third gold medal for Uzbekistan at the event.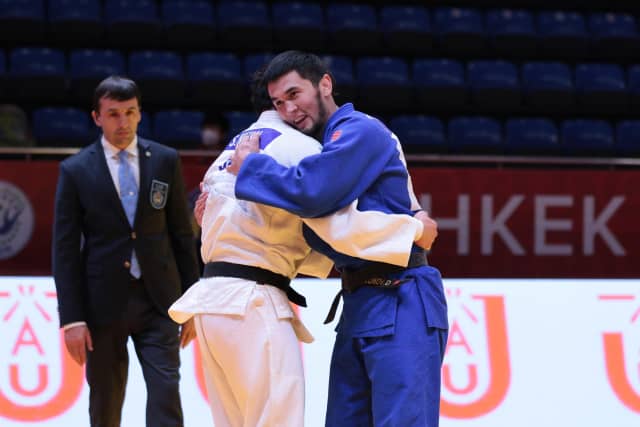 Two gold medals went to the Japanese team, with victories at -100kg and +100kg. Wolf Aaron won the final of the -100kg group, beating Mukhammadkarim Khurramov (UZB) and it was Harasawa Hisayoshi who beat a Korean adversary, Kim Minjong, in the +100kg final.
An all Chinese final in the +78kg category brought gold and silver medals to Xu Shiyan and Wang Yan, respectively.
The final medal table of the competition shows diversity and a continued commitment to the Olympic qualifying campaign:
Although the individual competition of the Asia and Oceania Championships is over, tomorrow we will be treated to a ringside seat at the mixed team event. Six teams will be taking part in this exciting day, all looking for ranking points for the first ever Olympic mixed team competition, to be held in Tokyo in the summer: Korea, Uzbekistan, Turkmenistan, China, Kazakhstan and Kyrgyzstan.
-90 kg final results
1. BOBONOV, Davlat UZB
2. MUKAI, Shoichiro JPN
3. GWAK, Donghan KOR
3. USTOPIRIYON, Komronshokh TJK
5. SHEROV, Erlan KGZ
5. BU, Hebilige CHN
7. BOZBAYEV, Islam KAZ
7. SEFAN, Salih JOR
-100 kg final results
1. WOLF, Aaron JPN
2. KHURRAMOV, Mukhammadkarim UZB
3. TUROBOYEV, Muzaffarbek UZB
3. ERIHEMUBATU CHN
5. REMARENCO, Ivan UAE
5. OZCICEK-TAKAGI, Kayhan AUS
7. SHAH, Hussain Shah PAK
7. SERIKBAYEV, Aibek KAZ
+100 kg final results
1. HARASAWA, Hisayoshi JPN
2. KIM, Minjong KOR
3. KIM, Sungmin KOR
3. RAKHIMOV, Temur TJK
5. TOKTOGONOV, Bekbolot KGZ
5. KAZHYBAYEV, Yerassyl KAZ
7. KRAKOVETSKII, Iurii KGZ
7. YUSUPOV, Alisher UZB
-78 kg final results
1. YOON, Hyunji KOR
2. MA, Zhenzhao CHN
3. LEE, Jeongyun KOR
3. CHEN, Fei CHN
5. HSU WANG, Shu Huei TPE
5. SHIH, Liu Li-Ling TPE
7. NURMEDOVA, Ogulgerek TKM
7. KURBANBAEVA, Iriskhon UZB
+78 kg final results
1. XU, Shiyan CHN
2. WANG, Yan CHN
3. HAN, Mi Jin KOR
3. KIM, Hayun KOR
5. TSAI, Jia Wen TPE
5. BERLIKASH, Kamila KAZ
7. ILMATOVA, Rinata UZB
7. SARBASHOVA, Nagira KGZ
Pictures provided by the Judo Federation of Kyrgyzstan