People struggle to buy a car, pay taxes, and feed the family. This is life, better or worse, like it or not, but when we have to fight before we begin to live, we enter another dimension, then we enter the orbit of Clarisse Agbegnenou.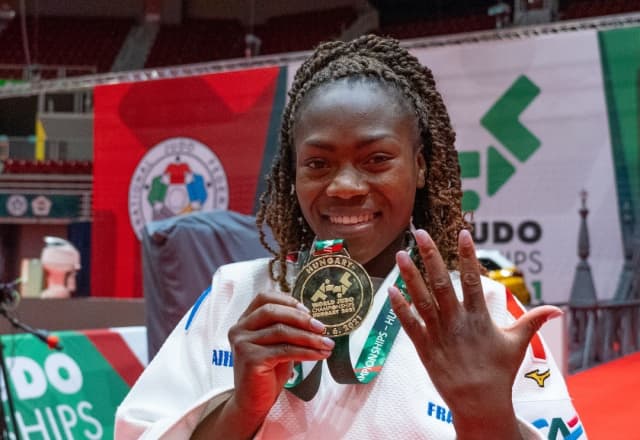 Clarisse is always available. The Frenchwoman has just won the world title for a fifth time, the last four in a row. Between European, world and Olympic medals, Clarisse's resumé looks like a work of art about to receive the final brush strokes. 
There are many champions who fail to digest the glory or misunderstand it. In general they are young people, little prepared for the transition from anonymity to stardom. Then the problems begin. 
There are also top-level athletes who take on their new status calmly and naturally. Finally, there is another category, smaller, in which, those who put their fame and glory at the service of others, move. Clarisse belongs to this group. 
To better understand it, we just observe the French judoka between the moment of receiving her gold medal and her last interview with the media, who are awaiting the arrival of the champion impatiently and bombarding her with questions of all kinds. 
Between the podium and the mixed zone there are 200 metres to be walked. Clarisse moves slowly because volunteers, mostly teenagers, but also journalists, fans, even athletes and coaches, want a photo, a hug, an exchange of words. Everyone sighs for a look from Clarisse and this athlete tends to everyone. Not a single grimace of frustration, nor a gesture of impatience. She is tired but calm, she responds to everyone with politeness and a smile. That is why people respect and love this judoka. 
This past year, of course, provided her with the challenges so many athletes experienced, adding a year to her planned Olympic cycle and carrying the pressure and expectation of her country, but even more so herself, was a heavy weight to endure. Something separates the greats from the greatest though and Clarisse is the latter. One more year it's tough but it is also a gift she was able to turn round, to spin it on its head.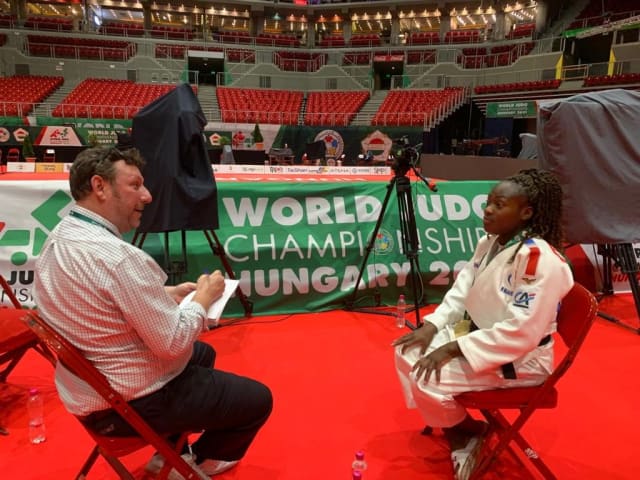 She set to work making it count and became fitter, stronger and more relaxed and took the time to spend some very special days with her family, that she was not due to have. So the runway to the Games became longer but somehow it also became smoother and it was her who made it that way. She smoothed her own take-off and eliminated any and all turbulence. Yes, Clarisse is tired, who wouldn't be at her level and in a unique 5 year cycle? Clarisse is also ready. 
She has done the job in Budapest! Now the time has come to talk about other matters, to forget about the sporting aspect and delve into Clarisse's life. We do it because to understand the woman we have to analyse her life, a true life odyssey that began when she was not yet born. 
"I was a premature baby," she explains. "I was born early and I was in a coma for a month." For her first breaths in life, an intensive care unit. They are things that affirm a character, a very special way of looking at what comes next. 
"At school my teachers told me that I would have no future because I was a bad student." 
Judo crossed her path and nothing was the same again. It is not the most relaxed discipline, but it promotes values and education. With such a past, we understand that for Clarisse, judo has been a lifeline. 
28 years of struggle, sacrifice and effort have passed. Today Clarisse is the undisputed queen of her category, a social model, an example of survival and success. Her notoriety encourages sponsors. All of this is normal and even necessary, but behind it there is much more. Clarisse has put her personal experience and her image at the service of social causes. 
This is interesting because Clarisse chooses with care the projects in which she is involved. What Clarisse wants is to feel identified because associating her image with any cause is easy, but if you really want to help you have to speak with knowledge. Clarisse speaks that language. 
"I am patron of SOS Préma, an association that fights so that all children have the best opportunity to grow well. My experience helps me to understand what it feels like and to help where it is needed." 
There are more projects, more associations, more events in which she is deeply involved. "I am the patron of a school in the 15th arrondissement of Paris, I participate in numerous events, almost always with children. All these projects touch on problems that have affected me, having lived them." 
She is also the patron of the Man-Woman operation. There are numerous projects, but all of them scrupulously selected because for Clarisse it is her life's mission. 
In July Clarisse will publish a children's book in which she portrays her childhood and adolescence, when things were not going quite well, when few believed in her potential, in her ability to become the woman she is today. 
"It is not an ordinary autobiography, it is a tool for those most in need to understand that there are always solutions, that you have to fight for what you want, not give up, because life is worth living. I tell everyone that you have to fight to be yourself." 
If she likes an idea she answers affirmatively and even goes beyond the request, into other territories. For example, she recently joined a company that manufactures underwear for sportswomen. She explains it with exquisite finesse. 
"The women all have something in common once a month. For sport it is not the most pleasant thing to manage and that's why we have to adapt. I like to wear boxers when doing judo, so we have designed and produced underwear that is comfortable and effective for women. I have even designed my own line. Also more elegant models and thongs, because, with or without menstruation, we do not stop being women and we want to be beautiful and feel feminine." 
It must be said that Clarisse chooses French projects. It is not a matter of strict patriotism but geographical proximity, the same language, the same culture. The expansion will come with time and since she does not do things by halves, she will soon travel to the other side of the planet. Clarisse is interested in scheduling a tour of Oceania in the near future, to meet children, ones always in need of support and advice. 
In case it has not been clear, to understand Clarisse it is enough to take a look at the associations that enjoy her company and support, the events she attends, her future projects. She has no qualms about explaining it, but neither does she proclaim it from the rooftops. It is continuous and efficient work, a task that captures all the episodes of a life full of obstacles. 
The next step is the Olympics. There Clarisse will be a favourite, as she has been throughout the last four years. 
"Of course I will try to win the gold medal, but whatever happens, after Tokyo I will take a break of at least a year. I am exhausted, mentally empty. I need a break to come back stronger and with or without victory in Japan, I will hang up the judogi for good after the Paris Olympics." 
Ok, and after that? 
"Later I will dedicate myself to the same thing: helping people, but as a professional. I want to be a life coach." 
Winning titles and medals is the goal of any athlete. They are medals that inspire, that unite a city or a country and that feed the history books. 
Helping those most in need is something else. Seeing those who have no luck or opportunity grow has to do with personal, solid and non-negotiable values. The gratitude of these children and their families constitutes a moral medal as beautiful, if not more, than any other. 
It is clear to us that Clarisse was not born to win. She was actually born to make others win.