We are in the last stages of the Olympic qualification period. Only a few competitions are left and judoka are giving it all!
Are strong kumi-kata and a good strategy helping to score at the end of the contest? 
Let's start with the -48kg category and 27 year old Milani of Italy. She is proof that the postponement of the Olympic Games can be difficult for some athletes, but for others it gives extra hope. Milani was not yet at the level to make Olympic qualification work for her, until now, which means that if the Olympics would have happened last year, she wouldn't have even had the chance to think about it.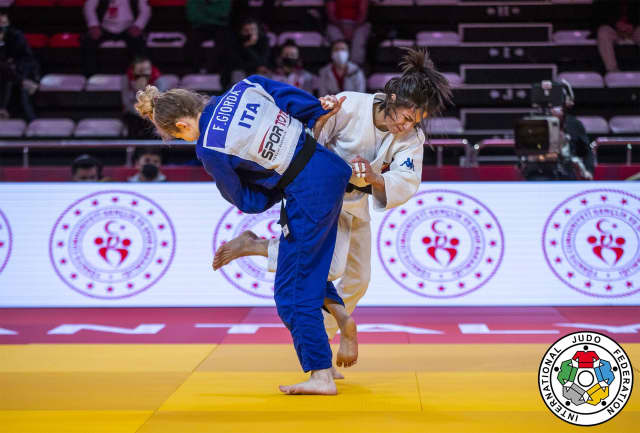 Now the story has changed and Milani is here. She's making her way with style, with 2 grand slam gold medals in less than 2 weeks. This means 2,000 points and an entry into the Olympic quota. She's not a young athlete, not old either, but she now has enough experience to begin every match applying that magical touch that leads to victory. 
We can compare her to the French judoka Shirine BOUKLI, with a similar style of kumi-kata, right handed. She grabs the sleeve and a strong arm over the head of the opponent and from there it begins, the rain of shido for the opponent. After two shido it becomes very difficult to avoid the third one. You need to be very experienced not to make any mistakes and not be thrown. Actually, this is exactly what happened during the first day of competition in Antalya. 
It you take a close look at Milani vs. Pareto, we have to say that Paula Pareto is an experienced competitor as she has won all titles a judoka can dream of in a lifetime, but still Milani did it with strong kumi-kata and tight control. She pushed the Argentinian to be penalised twice before the game really got going. Pareto started to attack more but with less precision. Milani took a shido but that didn't matter. The strong kumi-kata was enough for her to enter golden scrore and launch an extraordinary harai-goshi to score waza-ari. The match was over. The Olympic champion was out, defeated by Milani who was at that time still outside of the top 30 on the ranking list. This is the beauty of judo, anyone can win. 
Watch it again here: https://judobase.ijf.org/#/competition/contest/gs_tur2021_w_0048_0025
Also at -52kg, the winner of the category, Diyora KELDIYOROVA (UZB), surprised everyone. We have seen that women's judo is growing in Uzbekistan and women are taking their place on the stage, sharing the spotlights with the men's team. On day 1 she was the only one winning a medal for her country and it was gold. She was unstoppable, ippon from the first round, right through to the final. She needed only 23 seconds to score ippon against Estrella LOPEZ SHERIFF (ESP) and what an ippon! If you are a fan of sode-tsuri-komi-goshi, you better watch this match again: 
Click here: https://judobase.ijf.org/#/competition/contest/gs_tur2021_w_0052_0035
Christa DEGUCHI (CAN) Continues the Right Way!
So this is not news to anybody! We already mentioned that Canada will decide the selection for the Olympic Games in the -57kg category out of three matches. On day 1 of the Antalya Grand Slam the referee's arm signalled Christa again, after a long match. It was maybe not the most exciting one to watch because the two judoka know each other so well and it is always difficult to create throwing opportunities at such a level. We saw a parade of shido but still, tactically speaking, it was really interesting.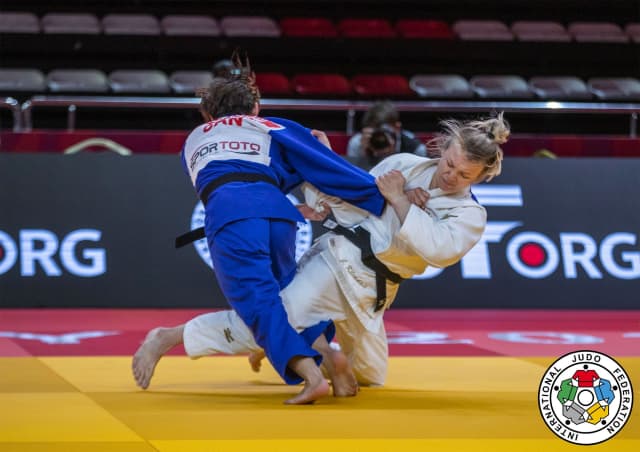 After 12 minutes of this final, after dozens of drop seoi-nage by Jessica, her tokui-waza, she seemed to have no other technical solution to throw Christa. Close to the end of the match, she tried to combine this with a ko-uchi-gari, but still we could see that Christa was prepared to avoid both threats: the seoi-nage and the combination. We can draw two conclusions from this match. The first is that Jessica attacks non-stop and that on each occasion Christa was ready to control the situation. We noticed that for every attack, Christa had both hands on her opponent and Jessica would jump on her knees for an attack that would not be successful. The second conclusion is that Deguchi is calm and she only attacked when she meant it. She imposed her o-uchi-gari and worked on the ashi-waza. This attitude and calmness took her to the top of the medal podium. 
One thing for sure is that the three matches will be a tough occasion for both athletes. There is only one ending; a smile and tears of joy on the one hand and tears of disappointment on the other. At the Olympics we wonder how it will end for the Canadian who will ultimately be qualified. Will the country make the right choice? Let's see. 
Click here to see the parade of shido: https://judobase.ijf.org/#/competition/contest/gs_tur2021_w_0057_0035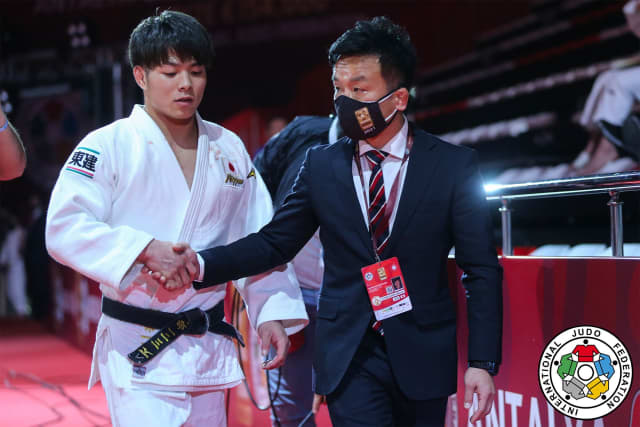 Talking about choices, as we all know, Japan has an amazing group of athletes in each category who are capable of winning each world title. At -66kg ABE was here and didn't deliver the best show, the one we are used to seeing from him. Some of our experts may say that this is normal. The Antalya Grand Slam is still part of the global preparation for the Olympics and ABE doesn't need to be in his best shape already. This can be discussed ad infinitum.
If we take a look at the draw, not all the biggest names of the category were here and Abe's matches didn't last so long, apart from the final, but still we know that at the Olympics every match will be a hard one and a lot of good physical, mental and tactical preparation needs to be in place for that day. ABE had five contests here in Antalya. In the first round he won against Mukhriddin TILOVOV (UZB), 42nd on the world ranking list, by 3 penalties.
Did Japan make the right choice by choosing ABE over technician MARUYAMA Joshiro, ranked 4 in the Olympic qualification? Well, we will only get the answer in Tokyo during the summer rendezvous.
A special mention to Spanish judoka Alberto GAITERO MARTIN who collected points to maybe be seeded in the top 8. He is very tactical and physically strong, without fearing going to the ground to work with ABE, when we all know how the Japanese are experts in the ne-waza. 
Click here if you want to see ABE vs TILOVOV Mukhriddin https://judobase.ijf.org/#/competition/contest/gs_tur2021_m_0066_0033
At -60kg Jorre VERSTRAETEN is a young Belgian and on day 1 he proved to be one of the interesting names of the category. Dynamic and very tactical, the Belgian had enough maturity to wait for his time during the final against the hurricane of Walide KHYAR (FRA). The Frenchman stepped on the tatami maybe be with too much confidence. Walide KHYAR is an athlete who loves body to body judo, such as ura-nage, but his opponent was a rival ready for that. Jorre's judo focuses on what is needed and the Belgian produced one the finest combinations of o-uchi-gari and uchi-mata we have seen in Turkey. What a lovely way to start the men's finals it was! Great judo! 
Check the combination here: https://judobase.ijf.org/#/competition/contest/gs_tur2021_m_0060_0067