On the Occasion of the World Refugee Day, discover the story of Fabien Kutama Musuyu and Beaugus Bonianga. They are old friends, a friendship born on the dusty tatami of Zaire – this was the name of the Democratic Republic of Congo when the two judoka were part of the Zairean National team.
Fabien has been the captain of the national team from '89 to '96 and along with the team has participated in 2 Olympic Games (Barcelona and Atlanta).
"We used to train on home made tatami – plastic cover and sawdust - and my best memory is training hard together, sweating together". A long smile appears on Fabien's face when he talks about his uchi-mata, his wins and defeats on the tatami.
"Our life has been judo, thanks to judo we have learned life, thanks to judo we have created bonds that last forever" adds Beaugus.
The two judo stars have not yet grown tired of training and thanks to the help of judo materials provided by the IJF (in collaboration with UNHCR) they have started a brand new club in Kempton Park, Johannesburg.
The club – with the fame of these judo stars - attracts many of the Congolese migrants and refugees who live in the area: "We want our people to be part of South Africa, train with people of South Africa and compete with them. Sport is the way of integration as only through the teaching of judo we can create champions in life!"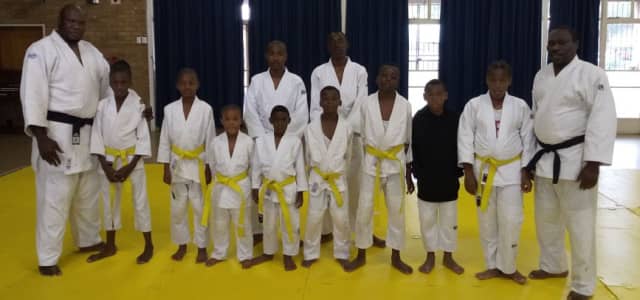 Maybe it is premature but from the hard training and experience transmitted from these coaches we can expect something big coming out from this newborn dojo. Be ready South Africa. A new generation of judokas has come and new champions are in the making!