Three women, three men, a flag, a tatami. The individual contests are over, it's time to compete for a country. It's time for Mixed Teams World Championships.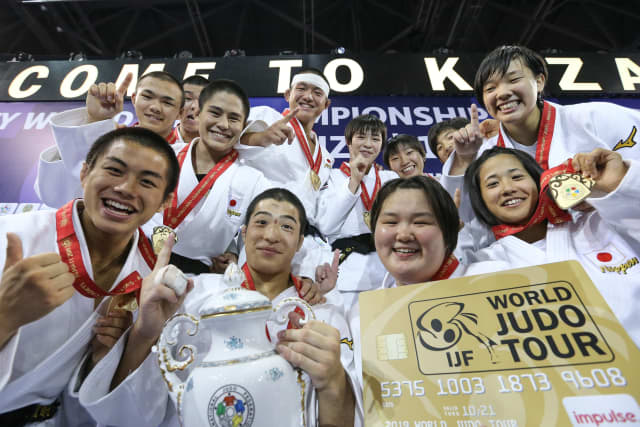 After a week of classic tournament, the cadets who went to Almaty said goodbye in the best possible way, together, fighting for a common cause.
Everything is different, starting with the entry of athletes, the six teams debuting the tournament parade until their respective tatamis, supported by the public. It is a collective greeting. There is emotion, the show is beautiful. And serious business begins.
On tatami 3 the Germans have a hard nut to crack, Japan team. The Japanese do not waste time and win 4-0.
Things are much tighter in the other two tatamis. On 1 the host team, Kazakhstan, is tied 1-1 with Mongolia. Each contest is very hard, nobody wants to disappoint the teammates. The same happens on tatami 2, where France and Uzbekistan lead forces. The first victory is for the Uzbeks judoka. France answer comes immediately after with a winning ippon. It is too early to glimpse a winner among these four countries.
France draws 2-2. Kenny Liveze, World champion in the -90kg category the day before, comes under the spotlights. He shows no signs of fatigue, he is galvanized by the force transmitted by his peers and wants to assert his new status. In less than thirty seconds he gets a waza-ari, synonymous with victory. 3-2 for France.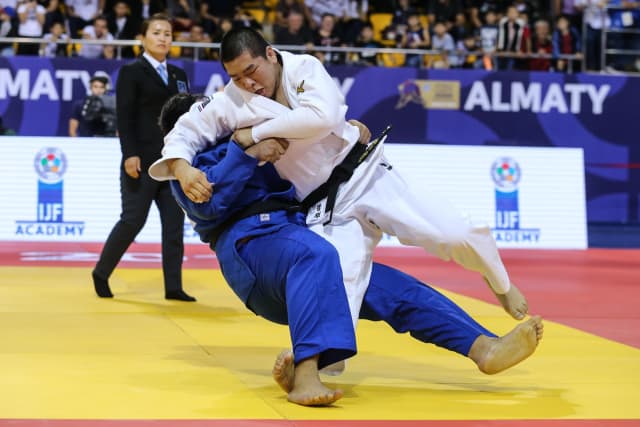 Tatami 1 is a carbon copy of 2. Kazakhstan and Mongolia are tied at 2. In the -81kg match Rauan Nazymkhanov and Khuderchuluun Bayartsengel reach the golden score with two shidos each. Ten seconds later Bayartsengel gets a waza-ari and passes Mongolia on the scoreboard.
This is the good thing about this event. There is room for error and opportunities to reverse the trend. A defeat does not mean direct elimination. That's why it's so much fun to watch.
On 1 there is also another golden score. Sarantuya Delgersaikhan and Aruzhan Yerezhepova give their best. The survival of the organizing country in the tournament now depends on the Kazakh. However, fifty seconds later, Delgersaikhan wins with osae komi and qualifies Mongolia.
On 2 the emotion reaches paroxysm with the victory of Yerezhepova. There will be definitive match, there will be a golden score contest. The draw dictates that it will be the -81kg judoka who decide the fate of both countries. Uzbekistan Jakhongir Mamatrakhinov against France Arnaud Aregba. In less than fifty seconds Mamatrakhinov expelled France from the tournament by ippon.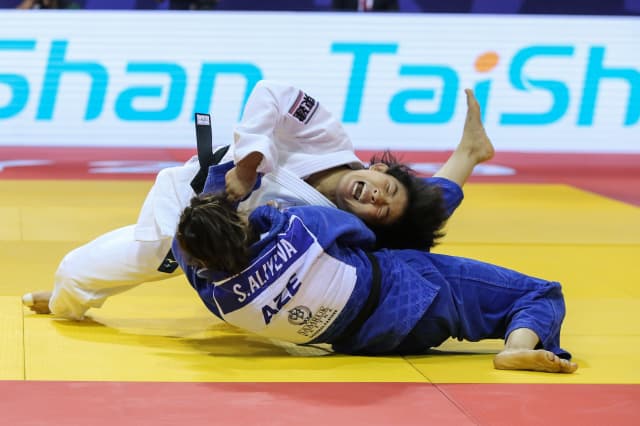 With no time to breathe, Chinese Taipei and Azerbaijan enter the scene, and dispute the victory in the golden score contest. Azerbaijan wins with Sabina Aliyeva.
Brazil eliminates Kyrgyzstan. We are already in quarterfinals, the World Championships progress at full speed.
Turkey, first seeded, fights against Mongolia on the tatami. Russia vs Brazil looks like a very exciting confrontation.
On tatami 1 Uzbekistan fights against Japan. Yazawa Airi, silver medallist a few days ago, defeats Farangiz Redjepova with osae komi in the -63kg match.
Turkey confirms its good form. It has in its ranks the two new world champions and quickly eliminates Mongolia 4-0.
Japan advances at cruising speed and also eliminates Uzbekistan without disheveled.
That is when we appreciate an increase in quality. In the match between Russia and Brazil, both teams raise the level of their judo. They are tougher battles with two opponents at their best. They have to offer their best repertoires to achieve each victory. The score indicates 1-1. It is time for the +70kg. It's time for the new World champion, Anna Santos. She faces Aleksandra Zagirova. It could be an individual final. Santos is inspired and scores ippon in less than thirty seconds.
It is the turn of the men's heavyweight. Nodar Onoprienko, bronze the day before, against Bernardo Rosa. The Russian wins by ippon. 2-2.
On tatami 1 Australia faces Azerbaijan. Azerbaijan continues the dynamics of its previous contests and advances quickly on the scoreboard.
On tatami 2 Brazil adds three wins for two losses. Russia is close to an end. The world number one in -60kg, Andarbek Arsunukaev, faces Caio Kiwada. Both start as furies in search of ippon. The Russian gets a waza-ari a minute and a half from the end, and another shortly after. This means oxygen for Russia and 3-3 on the scoreboard. They have to dispute a sudden death.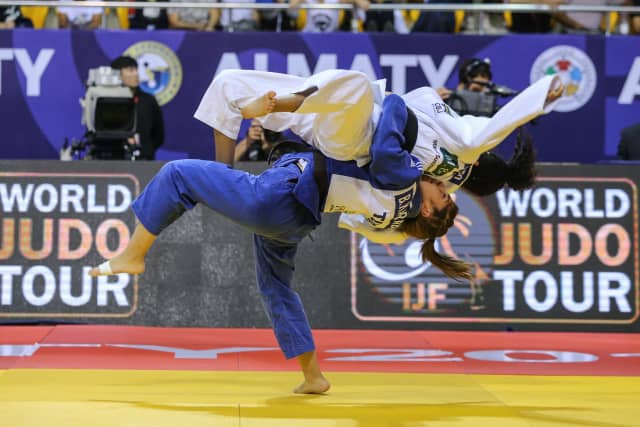 The draw smiles at Russia, Onoprienko returns to the tatami. He won a few minutes ago, therefore he has a psychological advantage. But the good thing about judo is that you never know what can happen. They reach the golden score, they are exhausted. One more effort. Onoprienko chooses to execute the same move as in his first match against Rosa, a sukui nage that means ippon. Russia eliminates Brazil.
And Azerbaijan does the same with Australia.
We have the semifinalists. Turkey against Japan, which constitutes a final ahead of time. And Russia, which appears as a clear favorite against Azerbaijan.
On mat 1 Japan takes a quick lead 2-0. Turkey comes back. 2-1. On the mat Yoshioka Hikari faces Buketnur Karabulut and scores ippon with uchimata. 3-1. Turkey must win the -60kg match. Mohammed Demirel vs Sato Yuma. Ten seconds after hajime, Demirel scores waza-ari. He knows the future of his team depends on him. He is performing at top level and scores ippon. 3-2. Habibe Afyonlu, new World champion, comes on the mat where Yazawa Airi is waiting in a remake of the final a few days ago. Afyonlu scores waza-ari, crowd gets crazy. It is pure offensive judo, a gift for the eyes.
Afyonlu does it again, waza-ari, ippon and 3-3. The draw choses +81kg category for the golden score contest. Munir Ertug versus Sugawara Mitsuki, bronze medallist on Saturday. On the bench both teams are very nervous. And Sugawara scores and qualifies Japan for the final after an extraordinary confrontation.
On mat 2 Russia starts really strong and gets three wins in a row. But Azerbaijan comes back, 3-2. Russia Iana Radchenko is facing Aytaj Gardashkhanli in the -63kg contest. Both scores waza-ari. The azeri scores ippon. 3-3. We are trying to avoid the heart attack. Golden score contest goes then to -48kg. Azerbaijan Sabina Aliyeva could again be the savior of the team. She fights against Zakharova Daria. And Aliyeva, once again, saves Azerbaijan, eliminates Russia and qualifies her team for the final.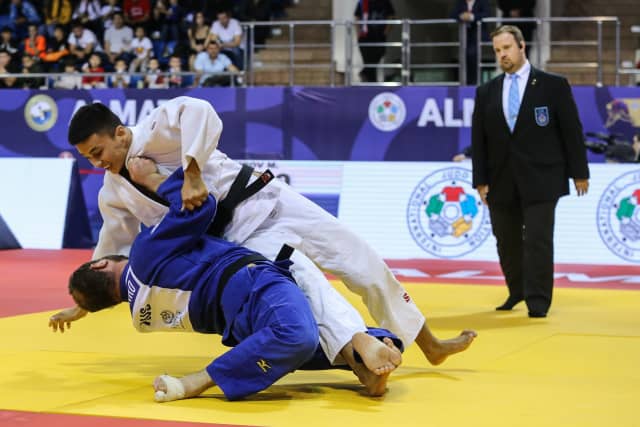 Russia was disappointed but managed to get the first bronze medal by defeating Uzbekistan 4-0.
The second bronze medal flew to Turkey after defeating Brazil in a contest which could also have been a final. Brazil took advantage of the break much better than Turkey and took an early lead 3-0. But Turkey came back thanks to Demirel, Afyonlu and Simsek. So, we had another golden score contest and Demirel had to compete again against Felipe Lima in a -60kg match. In the end the bronze medal went to Turkey.
As for the final, Japan was the defending champion. Exhausted after such a crazy semifinal, Azerbaijan lost 4-1. It was the epic end of a competition where all contenders participated with passion and determination. The trophy for the team champion, the Herend Porcelain Cup, was given by International Judo Federation Education and Coaching Director Mohammed Meridja.
We had something in mind from the very first contest. We wanted to know what is more difficult between being on the tatami and cheering teammates. Russia Aleksandra Zagirova said that for her it was "harder to be on the bench because when you are on the mat you focus on the match. On the bench you just want to get into the tatami and help your teammates".
Her colleague Aina Moiseeva had mixed feelings. "It is equally tough. On the bench you get very nervous but, on the mat, you just don't want to lose, so it is also really stressful". When asked if they will do it again, both smiled and said yes. "We love this competition format".
For others such as Turkey Mohammed Demirel, the worse part is to be on the tatami because "all teammates eyes are on you and there is no way to fail. Today I am happy, I did not fail", he concluded.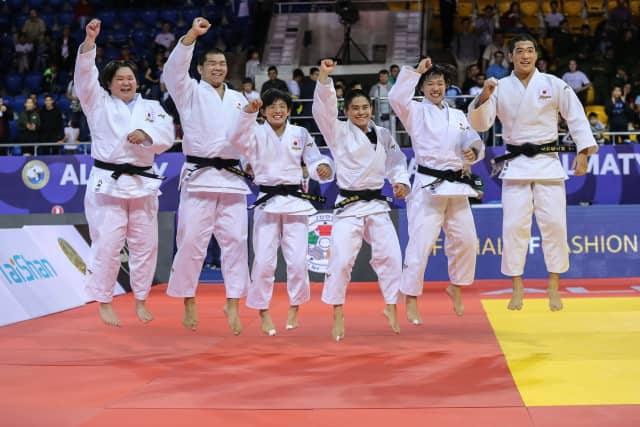 FINAL
JAPAN VS AZERBAIJAN
BRONZE MEDAL CONTESTS
UZBEKISTAN VS RUSSIA
BRAZIL VS TURKEY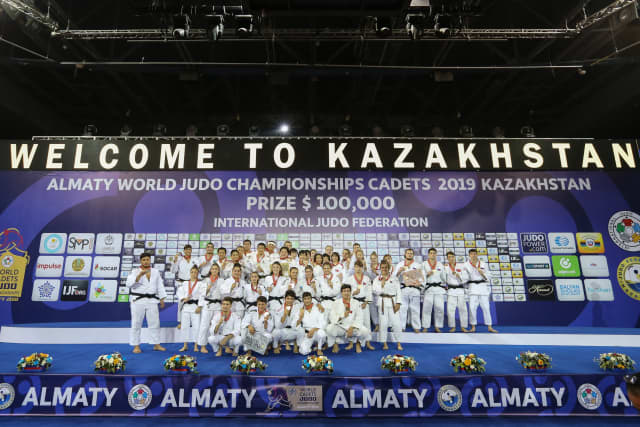 FINAL RESULTS
1. Japan (JPN)
2. Azerbaijan (AZE)
3. Russia (RUS)
3. Turkey (TUR)
5. Uzbekistan (UZB)
5. Brazil (BRA)
7. Mongolia (MGL)
7. Australia (AUS)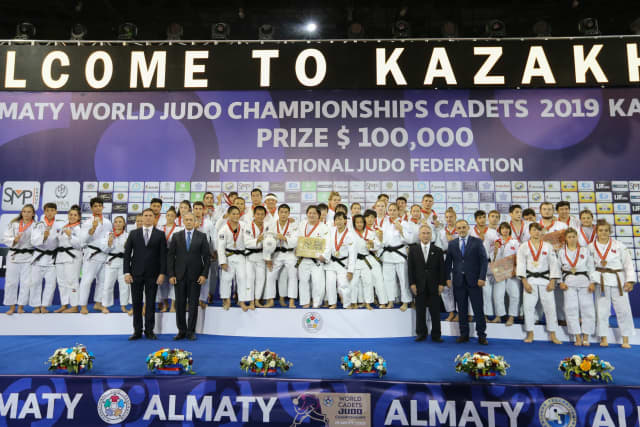 It has been a roller coaster event full of great ippons, intensity, comebacks and surprises from this young generation that will lead the elite in the upcoming years. It has been entertaining, breathtaking and thrilling. It has been judo.