The IJF's man behind the replays, video reviews and right hand man for the IJF Referee Commission in Brasilia, Saso Sindic, shared his expert breakdown of the third and final day of the Brasilia Grand Slam.
Everything was very exciting today. Of course there was a lot of expectation on the shoulders on Teddy Riner who was not seeded here. He had to fight the best and had a tough draw and that's good for him and good for the fans.
He came through every test once again and showed why he is such a great champion. This was the main point of the day. Teddy proved that he's still the best. He's been winning for so many years and still has the desire to be the best. He was also able to beat Krpalek more impressively than last time.
Teddy really showed us all how special a champion he is.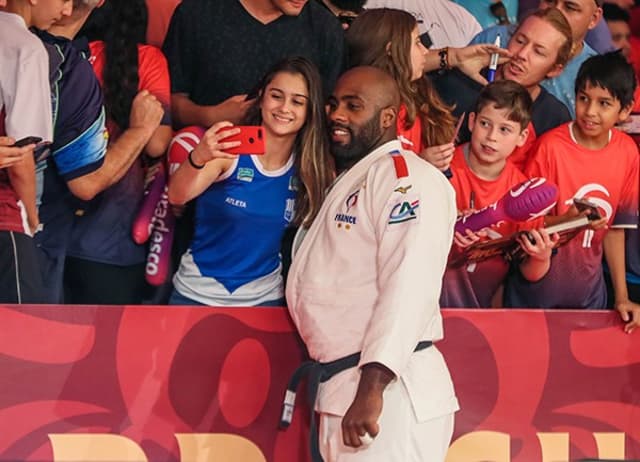 In the shadow of that, the -90 and -100kg categories were very strong. All the -90kg medallists were world medallists so that showed that quality of the judoka in that weight in Brasilia.
At -100kg Rafael Buzacarini (BRA) did very well. He and Iida Kentaro (JPN) both stood out in the preliminaries and contested a very interesting final.
Iida for me is an exceptional judoka. He has a very strong uchi-mata and seoi-nage, like Inoue who was coaching him. I like watching him a lot. I'm interested to see how he fares at the Osaka Grand Slam next month.
Technically I think he's brilliant. He has perfect technique, he just needs to gain more power and then he will be one of the leading judoka in the category with his amazing, throwing judo.
The -78kg category was very open as usual. The Cuban Kaliema Antomarchi is strong and it was not too surprising to see her claim her first Grand Slam medal here. Her opponent Natalie Powell (GBR) was throwing well in the preliminaries and had a good day.
The +78kg category belonged to Brazil as they contested the final and their former judoka Rochele Nunes, now of Portugal, also won a bronze medal. Brazil are always a force in this category and today it was refreshing to see the youngster Souza beat the more experienced Altheman for the gold medal.
I think this will influence their Olympic pick. It was a good contest and it was exciting for the home fans.
It was a strong competition and I have to say that the organisation was very good. It's good for judo to be here in Brazil again for a major event
Ippon of The Day: IIDA Kentaro (JPN) vs Rafael BUZACARINI (BRA) -100kg final, morote-seoi-nage.
Man of The Day: IIDA Kentaro (JPN)
Women of The Day: Beatriz SOUZA (BRA)
IJF IT team member Saso Sindic is a 5th Dan from Slovenia who has been involved in judo for 40 years. Former Slovenian Judo Federation Vice President and now President of the Slovenian Judo Federation Referee Commission, the passionate judoka is also an international IJF A qualified referee.