The Tashkent Grand Slam 2023 came to close today and with the quality of the judo improving with each day the Uzbekistan crowd were spoiled with great judo from the heavyweights, who brought everything they had to the table and then some. Here we take a deep dive into some of the technical highlights from a superb day of competition.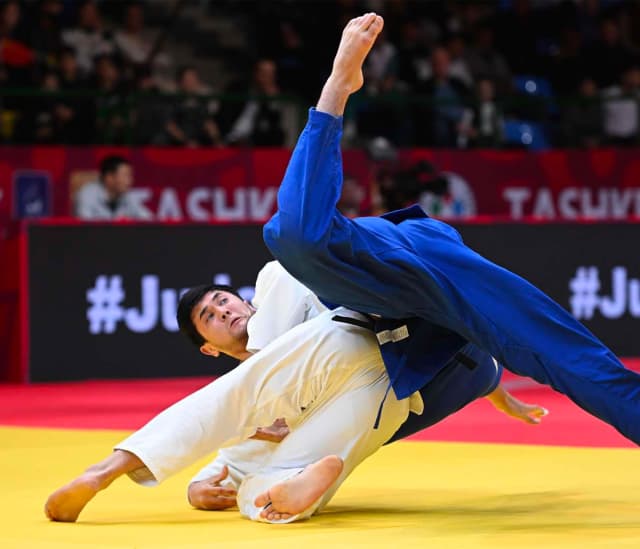 World champion in Tashkent, now world number 1 and therefore top seed, Davlat Bobonov (UZB) gave the home crowd several ippons to cheer for as he took a brilliant gold medal in the -90kg category. Bobonov began slowly but gradually became more animated through the day. He needed nearly the full 4 minutes to dispatch 169th-ranked Arapov (KAZ) in his first match but did so with a huge o-goshi under pressure from the Kazakh.
In his quarter-final, Bobonov went a waza-ari down to a controlled hikikomi-gaeshi from Sagaipov (LBN), but this seemed to awaken something in the Uzbek, who chased his opponent down, eventually catching him with a massive uchi-mata from two hands on the belt. The noise level in the arena escalated then but it was nothing compared to the noise after his semi-final with Toth (HUN), where he produced arguably the throw of the tournament; a perfectly executed harai-tsurikomi-ashi after only 34 seconds.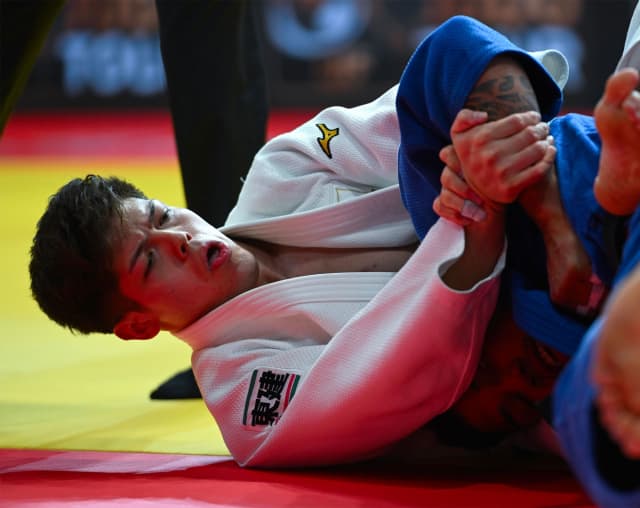 Bobonov's opponent in the final was Jerusalem Masters champion Sanshiro Murao (JPN), who continued the technical trend from day 2, throwing all of his opponents with his renowned repertoire of ashi-waza techniques. Murao is a great example of a judo player who has mastered techniques suited to his body type; rather than try to grapple with the more physically powerful players in the category, he manages the distance expertly and attacks his opponents with his reaching legs.
While the favoured ashi-waza combination from day 2 was uchi-mata to o-uchi-gari, Murao used the opposite order to score ippon against Grigorian (UAE) in round 1. Using ko-soto-gake, o-uchi-gari twice and o-soto-gari, he threw his way past Mosakhlishvili (ESP), Mamatrakhimov (UZB) and Ferreira (BRA) to set up a final showdown with Bobonov, which unfortunately for the Japanese ended in disqualification by 3 penalties.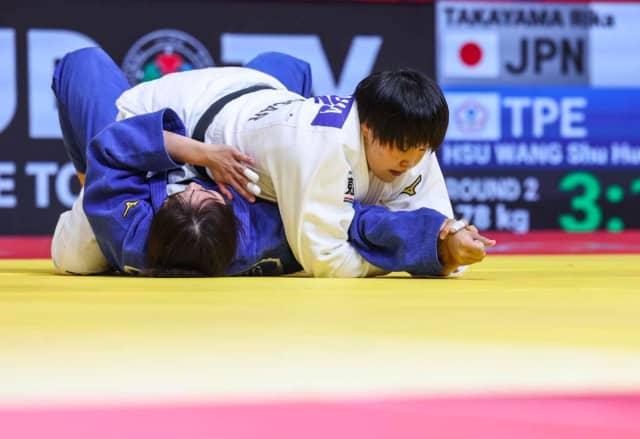 Some of the best judo at -78kg came from eventual gold medallist Rika Takayama (JPN). She produced the best transition of the day, throwing Hsu Wang (TPE) in her first match for waza-ari with hikikomi-gaeshi and continuing the roll straight into tate-shiho-gatame. Not content just to hold her opponent, she also applied ude-garami to the outstretched left arm. She then faced Sampaio (POR) in the quarter-final and performed an extraordinary defensive manoeuvre to turn the tables on the Portuguese player. Sampaio attempted a turnover commonly referred to as the Huizinga roll, after 2000 Olympic champion Mark Huizinga (NED) who popularised it. The turnover uses ashi-gatame-like pressure on uke's arm to roll them over, and is highly effective and often used at the highest level. However, Takayama climbed over Sampaio as she tried to roll, bypassing the technique, and pinned her for ippon; a brilliant piece of groundwork that is likely to be studied by other athletes after this event. 
Takayama finished her day with another strong ude-garami against Stangherlin (ITA) in the final for a well-deserved gold medal.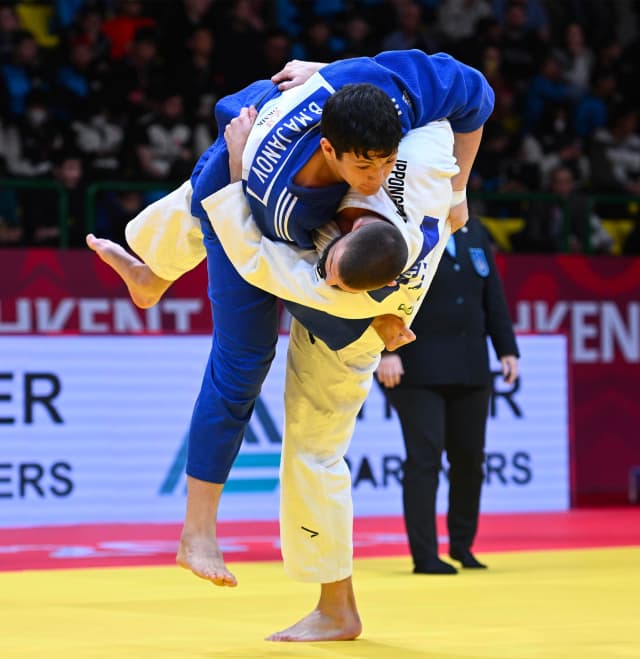 In our technical analysis of day 3 of the Portugal Grand Prix just over a month ago, we noted the powerful throwing capabilities of Aaron Fara (AUT) at -100kg but also that he wasn't able to convert this ability into a podium place on the day. Here in Tashkent, however, the Austrian made absolutely certain that his enormous throws scored him ippon every single time. He blasted his way through the preliminaries, picking up Majanov (TKM), Kumric (CRO) and Saduakas (KAZ), the third of whom had just defeated home world champion Turoboyev. He beat them one after the other with his double-belt-grip uchi-mata, before sending the in-form Kostoev flying in the semi-final, only this time with obi-tori-gaeshi. He left both the crowd and his opponents stunned and did all of this in a total of 2 minutes and 40 seconds of contest time.
Fara met Varlam Liparteliani (GEO) in the final, who was at one time the kingpin of the category. The Georgian legend has had great success in his career with his famous turnover into ura-gatame, which he has fine-tuned to handle almost every possible defence from an opponent, but for a while he hasn't been able to pull off his signature move in competition, as his opponents became wary of it. Nonetheless, today he used it twice to great effect, first against Goncalves (BRA), who was ready to cause an upset after taking silver in Tel Aviv last week.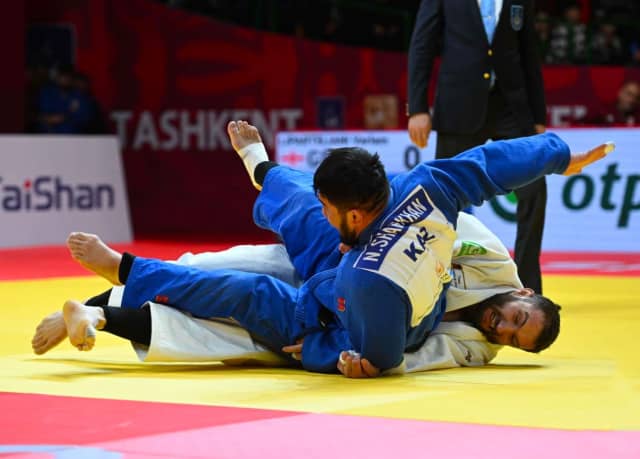 The Brazilian spent almost a minute working on the ground to try to secure osae-komi on the Georgian and came so close, but Liparteliani backward-rolled out of the hold and into the perfect position to start his own turnover. There was no way out for Goncalves after that. 
The Georgian also saved his semi-final against up-and-coming Japanese player Ueoka, with his trusty turnover, as he was struggling to deal with the 22-year-old's repeated seoi-nage attacks. In the final, Liparteliani survived the onslaught from Fara to throw him with a kata-guruma and hold him in kuzure-kesa-gatame to take gold.
The finalists at +78kg also displayed the best techniques in their category, which included several fast transitions. Shiyan Xu (CHN) used a combination of seoi-otoshi and kata-te-jime to finish off Santos (BRA) in round 2 and then o-soto-gari into kesa-gatame against Somkhishvili (GEO) in their semi-final. Wakaba Tomita (JPN) went two shidos down against Xu's teammate Su in their semi-final but she weathered the storm and threw her with a perfect ko-soto-gari, holding her down with yoko-shiho-gatame to finish the contest.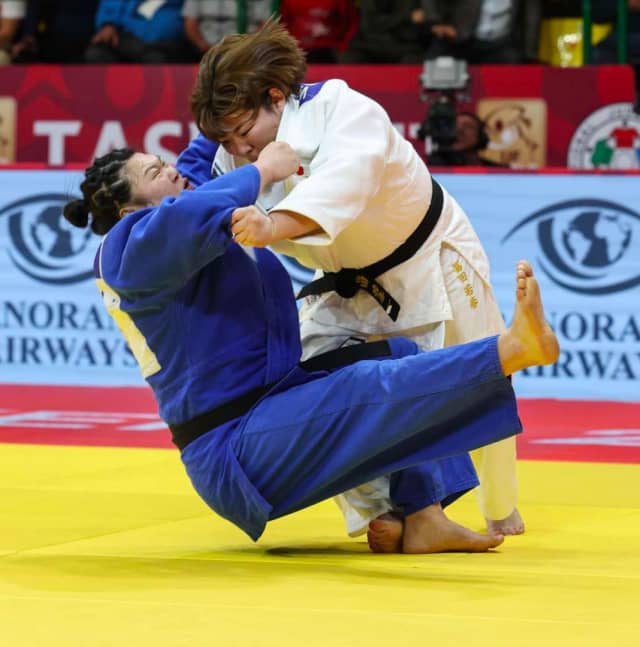 At +100kg, world silver medallist Tatsuru Saito (JPN) preferred to use ne-waza on his way to the final. Like many great Japanese heavyweights of old, his ground techniques are very simple but highly effective against similar-sized opponents. Saito used his single-lapel turnover to roll both Orazbayev (KAZ) and later Bakhtiyorov (UZB) into kuzure-kami-shiho-gatame and hold them for ippon. 
Saito's fortunes on the ground changed in the final though, as Yusupov (UZB) held him down after countering an uchi-mata attempt, to ensure the host nation finished strongly and the crowd went home with beaming smiles on their faces.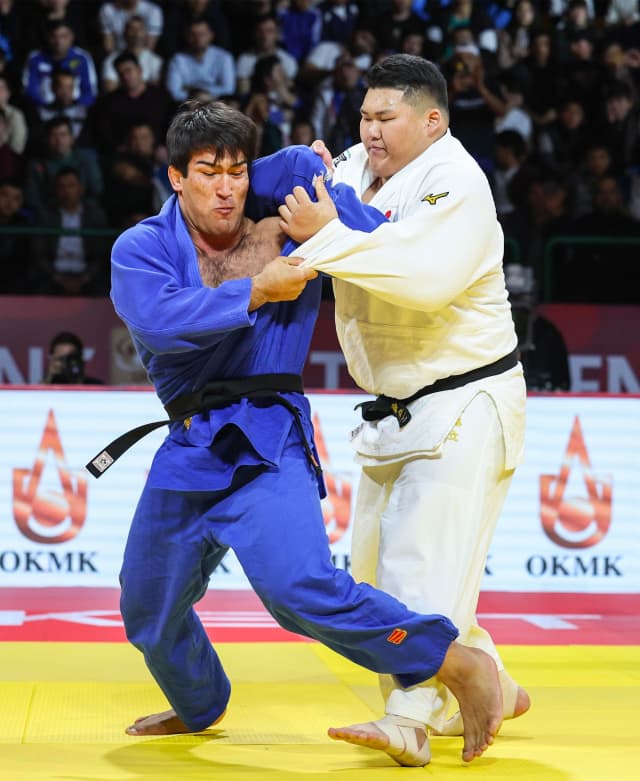 The athletes provided top-notch entertainment on the final day of the Tashkent Grand Slam. We were treated to thunderous throws, rapid transitions and technical turnovers. The vast majority of the players wanted only to score with positive actions, rather than take tactical victories, which made for a thrilling day of judo. This grand slam may be over but we won't have to wait long for the next one, as we head to Tbilisi in less than three weeks' time. Join us at live.ijf.org to see more of the best players in the world battling it out for more medals and more vital Olympic ranking points.