After the success of the World Judo Championships - Doha 2023, the first day of the Upper Austria Grand Prix 2023, for the very first edition of the event, was eagerly awaited. It delivered its verdict in front of an enthusiastic Austrian public who came to support local athletes as well as those from travelling delegations.
In the end, five categories were contested, with five countries sharing the gold medals. Spain for now is positioned at the top of the standings, with a medal of each colour, while Japan is right behind with an additional bronze medal, but no silver medal yet. Finally, Slovenia and France each won one of the titles at stake. In total, twelve countries have already reached the podium, demonstrating once again the universality of judo.
This first day of judo in Linz was marked by strong emotional moments, with the participation of Sabrina Filzmoser who, at the end of the day, had the honour of presenting the prizes to the athletes of her category. The circle has been completed in the most beautiful way for the Austrian champion who can now enter another phase of her exciting life.
We have also happily followed the journey of Mohammad Rashnonezhad, of the IJF Refugee Team, who has completed a great competition and who proves that judo builds bridges between communities and cultures, promoting unity, friendship and peace.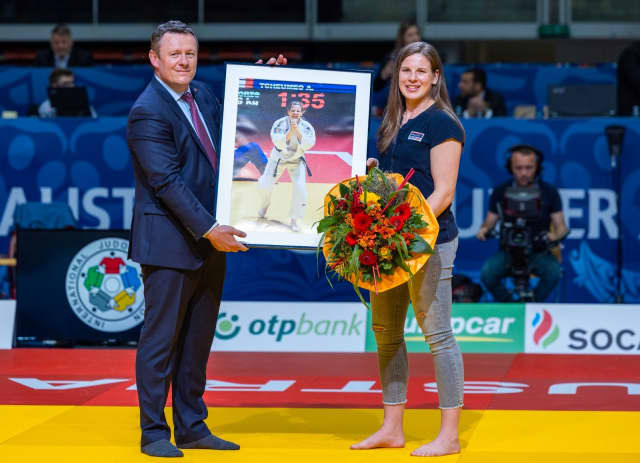 Just before the start of the first final block, the Austrian Judo Federation paid tribute to Bernadette Graf, silver medallist of the World Judo Masters 2016, 18 times on the podia of the World Judo Tour and three times a continental medallist, who is also retiring from her international career.
For the second day of competition, four new categories will come into play. You can follow the elimination phases from 10:00 a.m. on https://judotv.com/