Her story began in Svaneti, a mountainous region of Georgia around 400km from its capital Tbilisi. 8 year old Eteri Liparteliani was a restless child looking for something to channel her excess energy into. As a big fan of judo, this martial art was her top choice. Unfortunately, however, she had some barriers in her way.
"I encountered very big obstacles in this sport, my relatives were against me doing judo, including my mother. She considered it a hard sport and was doing everything to make me quit but my father and uncle did their best to create a situation for me to stay in judo." 
Eteri began her judo career in a club in Svaneti. As the only girl among 100 boys, she found the training to be very challenging and eventually found herself wanting to move to Tbilisi. At the young age of 10, she made the brave decision to leave her family, her comfort zone, in the hopes of growing in her sport. 
"I was 10 years old when my uncle took me to Tbilisi. It was an extremely difficult time for me. I had to leave my family, to be far away from my parents and my siblings. I missed them a lot as I was not able to visit them back in Svaneti very often. I was feeling bitter and I used to cry a lot but I never gave up.
My love of judo was so immense that I was doing everything to achieve success. I was constantly telling myself that although today I am having difficulties, although I miss my family, tomorrow is going to be a much brighter day and when I become successful, the feeling of joy will overshadow everything."
So her journey began. At first, Eteri described having an advantage over her new female training partners, "The process of joining a group of girls went quite smoothly because having trained with boys for several years, it had made me physically stronger." She even competed in and won some boys' tournaments. 
This advantage did not last long, however, as she eventually had to adapt to her judo style. She worked hand-in-hand with her coach to create a "completely different Eteri." She explained that her coach taught her "all the throws in a different manner so that I could keep up with women's judo. For example, as male and female judo differ from each other in some ways, my grips, my techniques were different."
Not only did Eteri manage to adapt her judo but she made history in the process.
"Georgian women's judo had never won a gold medal at any big tournaments up to that point and I managed to write history by winning gold medals at both junior world and European championships as well as at the U23 European championships.
All of that gave me huge motivation and I started winning grand slam and grand prix medals at senior level. I transformed into a serious judoka. In the past, if there was joy amongst our opponents when seeing a Georgian surname on the draw sheets, today I do not think there is the same joyous mood when they discover us as possible rivals."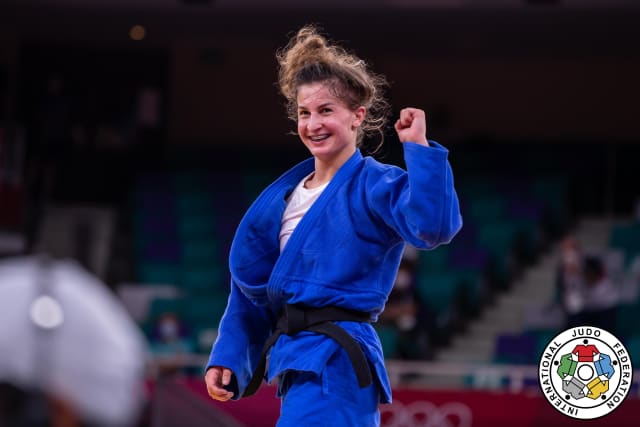 Her successes, along with her true judo character, have shaped her into a pioneer of judo in Georgia. In addition to her competitive achievements, she is recognised for breaking down barriers for women in Georgian judo and inspiring future generations of female athletes in the country. "Of course this is a huge motivation for me as I am paving the way for the next generation," she explained. "I will do my best to be successful, thus giving the next generation an opportunity to grow beyond my results and achievements, but this is a big challenge." 
Looking towards the future, Eteri is hopeful for Georgian women's judo. She is particularly optimistic about the possibility of a strong Georgian mixed team in the upcoming world championships and Olympic Games.
"Georgians are great warriors, unyielding, doing their best to never give up. I am sure our boys are going to be represented with the strongest line-up in Paris 2024 and we, the Georgian women, will do everything to stand next to our boys as a united team and to win the best quality medals in the team event.
In my opinion, an ideal future for Georgian judo would be winning a team gold medal at the Paris 2024 Olympics."
So watch out mixed teams, team Georgia is coming your way! 
Stay tuned to witness the next generation of Georgian judokas, inspired by Eteri's legacy, take to the mat this weekend at Tbilisi Grand Slam in Georgia.