The door opens and Distria Krasniqi appears. She has travelled all night to Baku and she is fresh as a daisy. We've shared a flight and we're desperately looking for coffee, which says a lot about her fitness and maybe ours.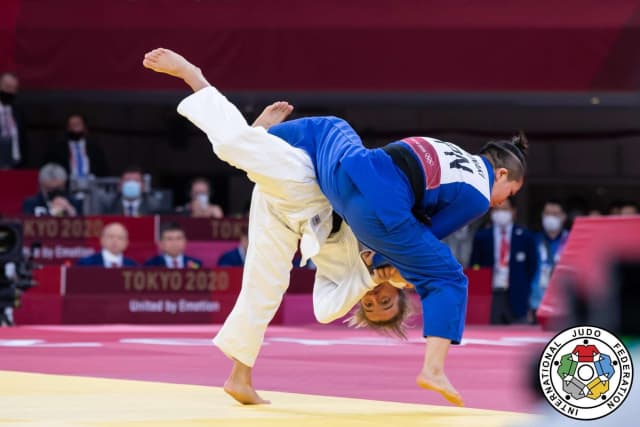 Dystria has no dark circles, no appearance of not having slept, no signs of fatigue. She waits calmly for her turn to take a pcr test. We take the opportunity to carry out an express interview, because the coffee is having its effect. It's something like a Nespresso interview.
The surprise was ours, because we had not seen her name on the entry list. "It was my decision, I wanted to come here to test the waters," she says. What water? Test what? Another coffee, please and a little history.
Distria is Olympic champion at -48kg. Tokyo was her consecration and the confirmation that there will be a Kosovar school for a while. She is the world number one and apparently there is practically no-one who can overshadow her, but that was before; in just three months things have changed.
"I have come to compete at -52kg." Well, well, that is a change but nothing new because Distria has already participated with some assiduity in that category. In fact, she has even won gold medals at grand slams and grand prix, "It is the category that best corresponds to me." So what was she doing at -48kg? "It was kind of like a commando operation, a short-term strategy to win Olympic gold." In other words, in addition to working very hard, in Kosovo they are also disciples of Carl Von Clausewitz.
So, then, if the plan has worked, why change it now? "Because maintaining the weight is the most difficult, so much so that I did not enjoy judo." That is a problem; if the conditions imposed and the physical limits make you doubt a vocation, the best thing is to change. Distria is intelligent and as she already has Olympic gold for life, she can afford to rectify things. "At -52kg I like to do what I do; I like to train and compete again. That is what is important and that is why I have made the change."
Distria had a month of vacation after Tokyo. Complete rest. In September she resumed training. She has come to Baku alone, the rest of the first team preferring to wait for 2022. She doesn't, she wants to see where she is after three months without competing and more than a year and a half without taking on the -52kg women. She is an Olympic champion, they certainly look at her differently. "I still can't believe it, the Olympic title is still like a dream." It is a reality, as it is undoubtedly also true that their adversaries will not take it lightly. At the Baku Grand Slam the British judoka Chelsie Giles and the Hungarian Reka Pupp will have to be watched especially. They sure are watching Distria already. Our coffee is now cold.