Who doesn't know Teddy Riner? He's ten times world champion, two times Olympic champion, with five Olympic medals in total. He is a sporting legend. As Paris 2024 is looming on the horizon, the champion is stepping into a new world, launching his new brand, Fightart.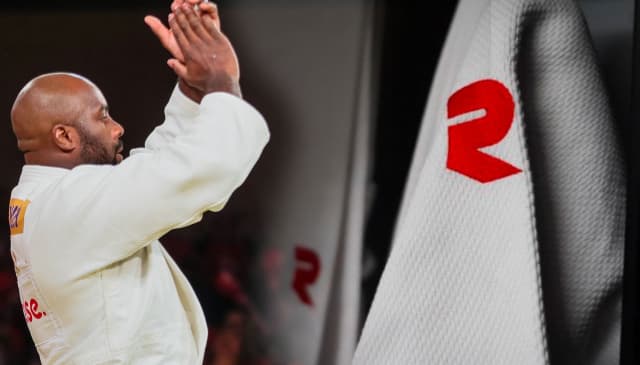 Everyone has certainly noticed. During the 2020 Olympic Games, Teddy Riner appeared on the tatami wearing a judogi embroidered with a stylised 'R' on the left sleeve; an enigmatic logo obviously recalling his name 'Riner' and raising many questions in the world of sport. The mystery is now solved. Teddy Riner is officially launching his brand, called Fightart. It aims to be accessible to all, with design that is respectful of the environment and is ethical too.
The first products are now available for sale at https://www.fight-art.fr/fr
Wanted by Teddy Riner, Fightart owes its name to the art of fighting, a notion particular to all martial arts and combat sports. "It is also a reminder of the design and special care that is given to our different pieces," explains Nicolas Poy-Tardieu, co-founder of the brand with the judoka.
"I have been working in the sports industry since 1994," remembers Poy-Tardieu, a former gymnast who has been converted to combat sports for the last 32 years. "I've done pretty much everything in sports marketing and product development. I've known Teddy for many years and creating his brand is a project he has always carried with him."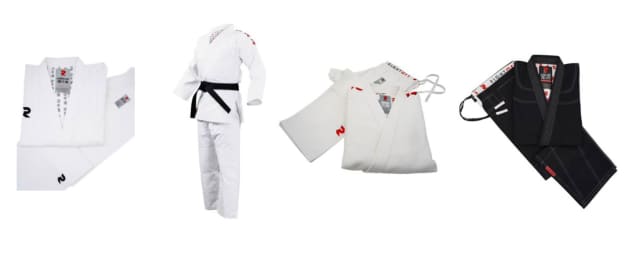 The Desire to Create a Different and Stylish Brand
How did the idea of creating a textile brand, with both technical and leisure aspects, come up? "The brand was born from a simple observation," explains Teddy. "In the world of combat sports and martial arts, there was a real opportunity to create a beautiful brand, engaging and stylish, meeting the expectations of all practitioners, whether they are neophytes or experts. The idea was to create a brand that could be a real performance tool, whatever the level of practice and to deliver accessible products, with an aesthetic touch that is very different from anything you could find on the market before now."
To be usable in competition, Fightart textile products meet specifications imposed by various international bodies. They are also designed according to the Bushido code, the Samurai code of honour. "It is very important to me because it is a way of paying tribute to the ancestral martial arts and their ethics, the values they still convey today in the federations of combat sports," said Teddy.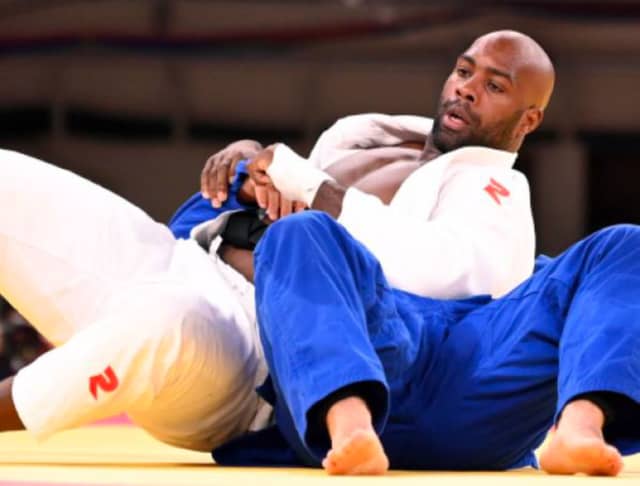 From Uniform to Leggings and Body Protectors
The range of products offered by Fightart is broad and is not limited to martial arts outfits. It includes body protection, training accessories and a technical and leisure textile range designed for all levels of practice. Close-fitting clothing, leggings or long parkas, etc, make up the bulk of the technical textile range. The leisure textile range, much more lifestyle-based, includes organic cotton t-shirts, sweatshirts, trousers, shorts, plus some accessories like caps and sports bags and more.
The brand is meant to be accessible to everyone, with the price point being reasonable and reasoned. "They correspond to the market price. The strength of Teddy and I, along with the dozen or so people who make up the Fightart team, is to know our market well and to be aware of the sporting and social environments in which we are interested. So, our prices are aligned with market prices; they're very competitive," explains Nicolas Poy-Tardieu.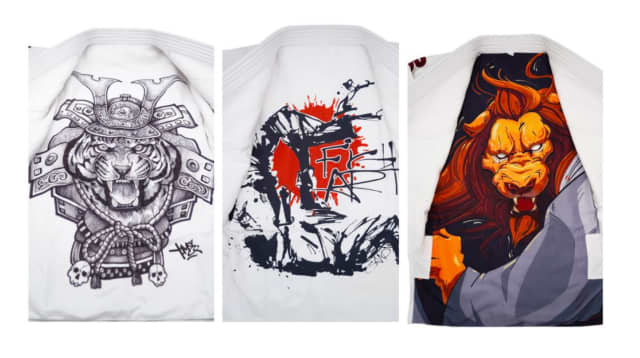 Art as DNA
Art is at the centre of all concerns. Special attention has been paid to aesthetics. Fightart enhances its products by offering pretty labels inside clothing or by combining neat drawstring laces with Japanese ideograms. 
To support this artistic desire, Fightart has decided to go even further by proposing collaborations with renowned artists. "From the very first launch of our products, we will be presenting garments entirely designated by talented illustrators. All the artists who will join us from now on will have a free hand to express their vision of martial arts, Bushido and ancestral Japan," said Poy-Tardieu.
The debit collaborations were with the artist Stéphane Ganneau, a renowned Parisian illustrator, responsible for numerous Roland Garros tournament posters and illustrations of books on physical preparation. There was also the talented tattoo artist Guillaume Coche, nicknamed 'Yome' and DPA (David Pierre-Arnaud), a cartoonist and professor at Beaux-Arts who has distinguished himself in manga creation studios in the north of France. They all have one thing in common: they all practise martial arts and are black belts in their specialism.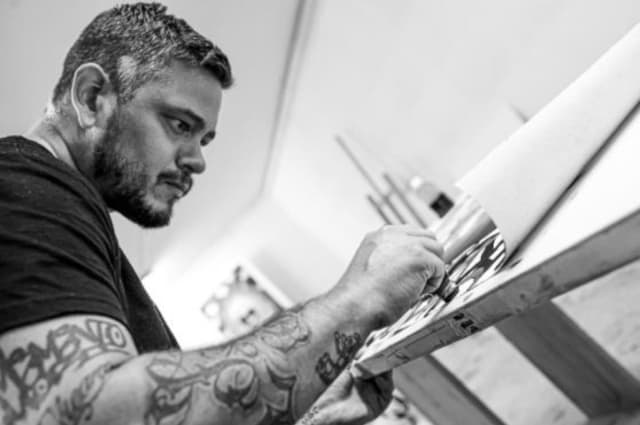 Responsible and Ethical Products
The products are manufactured mainly in Pakistan, China and Taiwan, in ethical and responsible factories that are audited. They meet all the social and environmental standards imposed by international governmental bodies. "We are also the first brand dedicated to martial arts that will offer articles with a real conscience and a strong environmental commitment," underlines Teddy Riner.
He also adds, "Most plastic packaging bags end up in the rubbish. They are shredded and then diluted into micro particles before ending up in rivers and then the ocean. This is a source of pollution that is no longer tolerable today. If they are burned, their carbon footprint is considerable. My brand is young, new and innovative. We had to lead by example, to raise awareness among as many people as possible through concrete actions. I am a father and I want to act for my children. Our first action is therefore to offer non-polluting, compostable, biodegradable or recycled bags. At Fightart, we are proud to have eliminated 98% of all our plastic packaging even though eco-responsible packaging costs 12 to 14 times more than plastic bags, but the health of the planet is priceless!"
A Large Distribution Network & International Ambitions
The Fightart brand will be marketed within a large distribution network. In the medium term, Fightart intends to place its products in more than twenty European countries. "We are also aiming further internationally, of course. Moreover, from the end of 2022, we will be present in South America," concluded Poy-Tardieu.
Being a renowned and successful champion is already a challenge; becoming a successful businessman is another story but we can be sure that Teddy Riner, Nicolas Poy-Tardieu and their team will do everything to grow the interest for martial art products.