The Olympic Refuge Foundation (ORF) and the UN Refugee Agency (UNHCR) recently (14th-15th April) organised the 'Sport for Refugees Coalition Stocktaking Event 2021,' in which the IJF took part and Nicolas Messner, as Judo for Peace Director, was one of the speakers.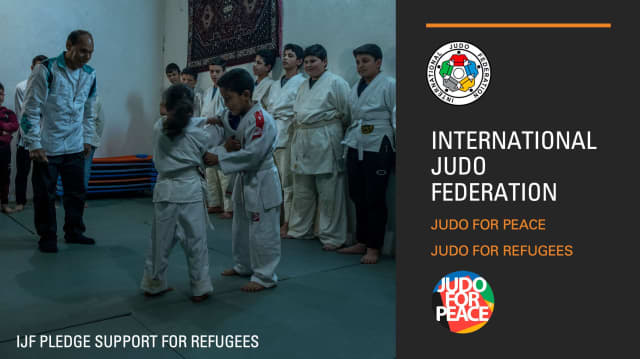 "In this turbulent year, sport has proven itself as vital for us to restore physical and mental health, build resilience and bring solidarity and hope, in particular to forcibly displaced people who have experienced and continue to experience conflict and prolonged uncertainty," said the organisers of the event.
As the two-year mark of the Global Refugee Forum approaches, in 2021, all sport-pledging entities were brought together to re-connect and revitalise the Sport for Refugees Coalition as a whole, to work together in building a better world for refugees, through sport.
During this first virtual event for the Sport for Refugees Coalition, there was very positive reflection on the first year since the Global Refugee Forum (GRF) was conducted and the spotlights were turned towards some of the progress made by members, transferring pledges into concrete and impactful activities.

Nicolas Messner presented the Judo for Peace structure and philosophy to all the participants, while underlining the concrete work done in the field in the different Judo for Refugees programmes, including Turkey, Syria, Jordan, Zambia, Malawi and South Africa.
Back in 2019, the IJF was one of the first organisations to pledge support for refugees ahead of the first ever Global Refugee Forum, held in Geneva in December of that same year (https://www.ijf.org/news/show/ijf-pledge-support-for-refugees-ahead-of-first-ever-global-refugee-forum).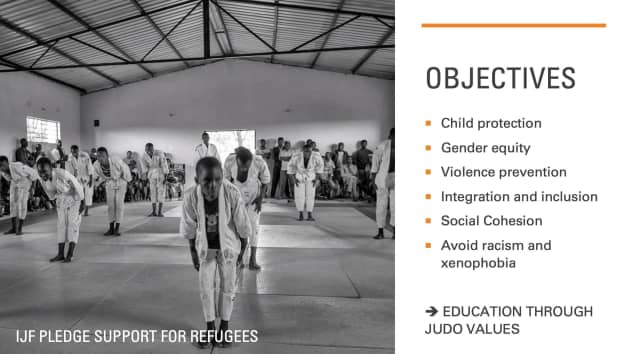 The pledges are as follows:
- To promote and ensure access for all refugees, without distinction of any kind, to safe and inclusive sporting facilities.
- To increase availability and access to organised sports and sport-based initiatives for refugee and hosting communities, actively considering age, gender, ability and other diversity needs.
- To promote and facilitate equal access to and the participation of refugees in sporting events and competitions at all levels.
Sport and judo can provide forcibly displaced people and their hosting communities with a safer place to live and values to grow with. This is what the IJF is doing with its Judo for Peace programme we will continue to work in this way in the future, because being together and united we can really change the world and make it a better place.