In May 2018, the Olympic qualification will start at the Hohhot Grand Prix in China, and it is certain that the whole judo family is waiting for this great launch. In just over two years, we will finally know who will participate in the 2020 Olympic Games in the country where judo was born, Japan. But in the meanwhile, the world judo tour will make many stops that will each have their importance. The most anticipated of the season is with no doubt that of the 2018 World Championships to be held in Baku, Azerbaijan, from 20 to 27 September, which will already count for Olympic qualification. For many years, Baku hosted a Grand Slam in the first half of the season, but because of the individual and team World Championships, the annual meeting of international judo in Azerbaijan will take place in September.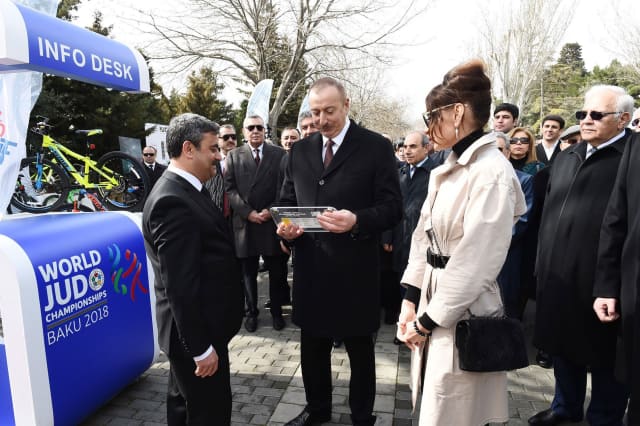 Organizing a Judo World Championship that is a week long is a real challenge that the Azerbaijan Federation is ready to take up. Dozens of delegations from all over the world must be accommodated, and thousands of spectators, knowing that judo is a major sport in the country, as well as the media coming from five continents will be present in Baku. On the occasion of recent national celebrations, the first ticket of the 2018 edition of the World Championships was officially handed over to the President of Azerbaijan Mr. Ilham Aliyev, by the Vice President of the National Judo Federation, Mr. Sadig Sadigov, then young judokas performed a judo demonstration in front of a captivated audience.
In May 2018, the International Judo Federation will be present in Azerbaijan for the shooting of a new episode of the Judo for the World series which will be devoted to Azeri judo. We will meet great champions and we will discover what makes judo a major player in the sport in the country.