France and Japan have shared arguably the strongest and most significant relationship between two countries in the history of judo.
In 2019 that relationship is as strong as ever and while the country's respective national federations are working together on a number of projects - alongside the Kodokan - there are also countless independent examples at the grassroots level.
French outfit ASB Belfort Judo concluded a once-in-a-lifetime trip to Japan by visiting Neo Judo in Yokohama on Tuesday.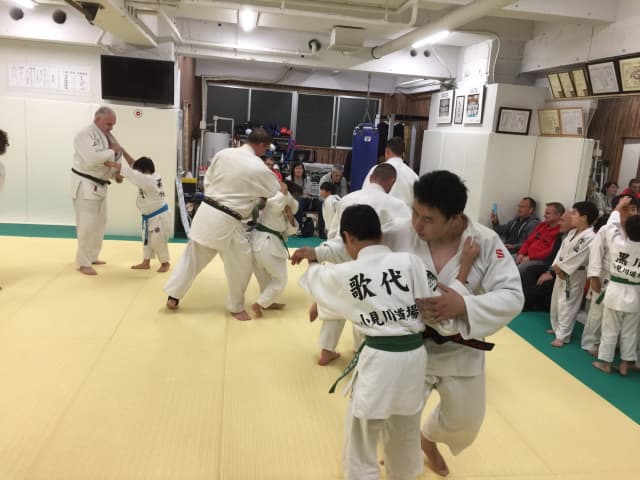 Over 20 members of the club, which is based in Belfort, a city situated between Lyon and Strasbourg and approximately 25 km from the French-Swiss border, joined a special joint training session at Neo Judo (Omigawa dojo) which is led by former Jigoro Kano Cup winner Omigawa Michihiro.
The enthusiastic French visitors, who trained at a number of dojo's in the region including the Kodokan, were joined by young and senior members of Neo Judo who welcomed their guests with typical Japanese hospitality.
The visit came about because Tsukino Takashi, a friend of Omigawa, spent a number of years in France and assisted the group in finding clubs in Japan.
ASB Belfort Judo Club President Christine Powolny hailed the trip and shared some impressive information about her club.
"Everything has been great on this visit, Japanese people are very kind and we appreciate their hospitality.
"We have 630 registered judoka at our club in France and we hope to make connections with club's around the world. Takashi has been to our dojo many times and helped us to come here to Neo Judo.
"We are thankful to Omigawa san and we really like his dojo, the judoka here and the atmosphere. We hope we can host them in France in the future."
Omigawa (above - blue judogi at the 2001 Asian Championships where he took silver) said: "I'm very happy to see many international visitors here from France.
"Neo Judo is open to all judoka all over the world. Judo is more than a sport, it offers many lessons for life and has a set of values which make you a better person.
"You don't have to be a judoka or have a judo background to visit our club. You can start your judo journey here and I'm always happy when people chose to visit this dojo.
"I want everyone to experience Japanese culture through judo and this is our goal. It's not about winning and losing, our sport and our club is about providing people with new skills and experiences and exercising while having fun."
French teenager Andréa Miele, 18, said the trip had been an eye-opener for him.
"The Japanese style of training is very different," said the 1st Dan who previously earned a silver medal in the French Cadet Championships.
"The training in Japan generally is longer and more intense and it's difficult but I think I could adjust and it would be very good for my judo.
"I feel like I've made improvements here and it's been a great experience. The Japanese culture was very surprising for me but it has left me wanting to come and stay longer."