At the beginning of day 3 only Serbia, Mongolia or perhaps Germany or Uzbekistan looked capable of topping the leaderboard in a leapfrog-like takeover gazumping the hosts, but actually with a glance over the draw sheets it was pretty clear that Georgia had the delegation title sewn up.
Their men were particularly strong at the back end of the tournament and the crowd increased their volume to match the size of the medal tally. We could talk ad infinitum about the energy of the Georgian men and their insatiable desire to fight to the bitter end. It's always impressive, always entertaining and always produces drama, outstanding photos and an unrivalled atmosphere. Although Georgian National Day is held on 26th May annually, there was already a celebratory flavour in town today, thanks to the performances of local athletes who, delighted the spectators who had amassed in the Olympic Sport Palace.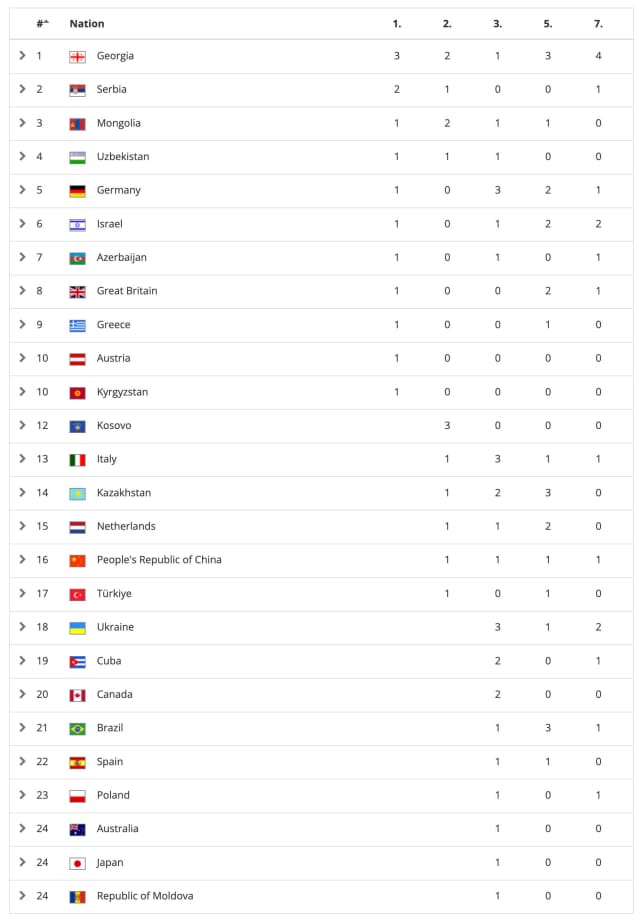 Georgia didn't take all the medals though and some notable performances really stood out, particularly that of Anna-Maria Wagner. A return to grand slam gold for her after quite a lay-off shows how hard she has worked to regain a level that at one point dominated the -78kg category. She was clearly emotional and perhaps deserved to be as she made not one single mistake, looking every inch the champion as she stood above the recently unbeaten Italian.
We can also mark the now clear resurgence of China among the women's categories. They haven't yet found the balance that ensures the medals but their presence is more and more felt and from lightweights through to heavyweights. There is a feeling that the Chinese women will find their feet just in time for the Paris Olympic Games and that will force an interesting dynamic.
As the curtain comes down in Tbilisi and we digest these three magnificent days of judo we can see the emergence of an Olympic fever starting to grip the delegations. There is now risk and benefit in every contest and nothing can be left to chance. The athletes know it, the spectators feel it and the media is reporting it. Paris is only 16 months away and in that time we also have two world championships to enjoy. What a cycle this is turning out to be!