At 2pm on 23rd March 2023, officials from the International Judo Federation and the Georgian Judo Federation met to conduct the draw for the Tbilisi Grand Slam. This is always a galvanising moment, at each event, telling the judo world that the tatami is almost open.
Mohamed Meridja, IJF Education and Coaching Director, opened proceedings with the first welcome speech, "Dear Deputy Minister, President Atabegashvili, judo family, ladies and gentlemen, on behalf of the IJF and Mr Vizer, I welcome you all to the Tiblisi Grand Slam, recognising the excellence involved as this event has transitioned from its first appearances as a grand prix to its current position as one of the most anticipated grand slam tournaments of the calendar. I wish you all a wonderful time at the Tbilisi Grand Slam."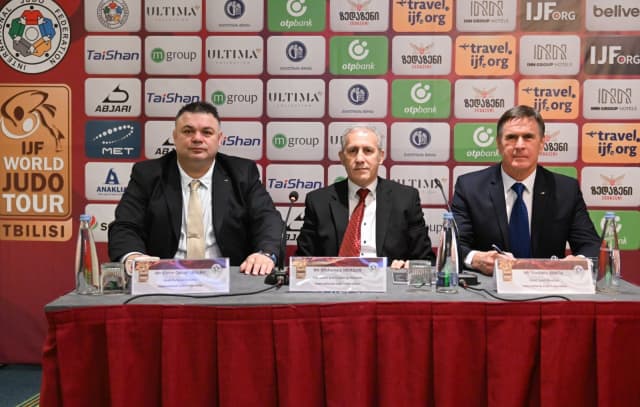 Ioseb Baghaturia, Deputy Minister for the Ministry of Culture, Sport and Youth in Georgia, declared, "I greet you all on behalf of the Ministry of Culture, Sport and youth of Georgia. It is a great honour for me to be present at this important event. I would especially like to welcome our dear guests from the International Judo Federation."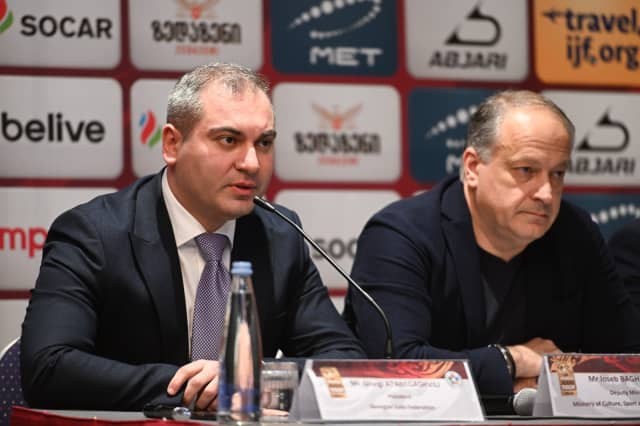 "As you know, judo has a rich tradition in Georgia. Since the 1960s, Georgian judoka have competed successfully on the international stage. The Tbilisi International Judo Tournament itself dates back to 1970. The interest in judo in our country is growing year by year and this is a great credit to the professionals working in the judo federation. The Ministry always supports Georgian judo enthusiastically. I am sure that this year's grand slam will be very interesting and spectacular. I wish success to all the athletes competing in the tournament, especially the Georgian judoka."
Giorgi Atabegashvili, Georgian Judo Federation President, is clear, "I am honoured to welcome you to our beautiful country of Georgia. We are very happy to one more time organise a high level competition. Thanks to Mr Vizer and his best team for giving us this responsibility. Thanks also to the Ministry for their very special support. This will be an unforgettable event."
Florin Daniel Lascau, Head Referee Director, also spoke ahead of the draw itself, "For this special event in Georgia we nominated the best referees from around the world. While we are focussed on the rules, I offer the reminder of the landing of 90 degrees, through the shoulder line of uke. This is one of the elements we will discuss in this evening's mat-based refereeing seminar. With everything in place, we wish everyone a successful event."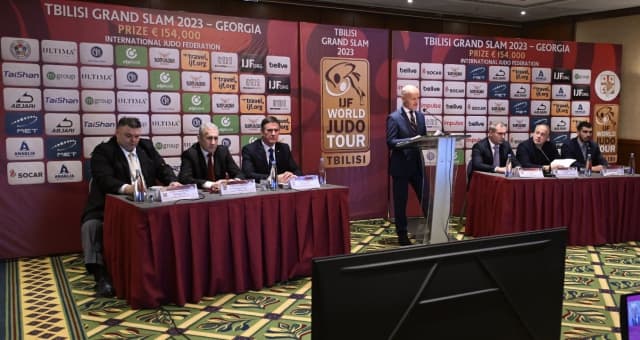 Head Sport Director Mr Vladimir Barta then conducted the draw of each category, noting the 61 countries in attendance.
During the draw, a pause came at -81kg as Tato Grigalashvili, home favourite and world and European champion, was asked to say some words, "Thank you very much for this opportunity. I would like to greet all of you, especially our special guests from the IJF. Thank you for allowing me to participate but this time only at the draw. I wish all my teammates the best competition and although I'm not competing this time, I promise all judo fans I will be back next year to win big medals and results for Georgia."
Sheldon Franco-Rooks then closed the draw, "We will be at the Olympic Sport Palace from 9:30am on day 1, 10am on day 2 and 11am on the last day. The final block will be at 5pm each day. Catch all the action at live.ijf.org. We wish all teams the very best of luck."