Yesterday Gulnoza MATNIYAZOVA made history by being the first woman to win a first grand slam medal on home soil for Uzbekistan. We met the judoka and asked about her feelings after claiming her beautiful bronze medal.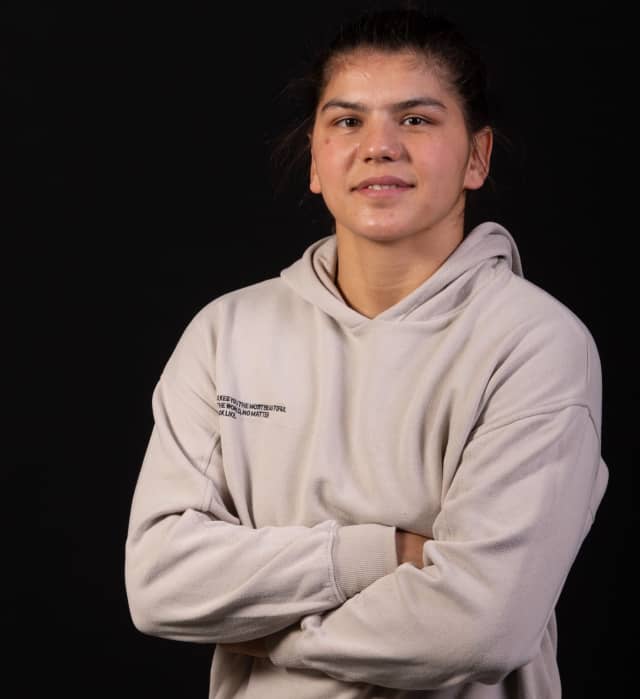 "I've been doing judo since I was 5 years old. I was born in the Khorezm region, in a small village called Pichokchi. 
When I was 5 I started to do judo at home with my brothers and sisters. My father introduced me to it; he is a very sporty person. He's always interested in what happens in sport, so he started to teach me judo, with my siblings. I also wanted to do it because it was such a dynamic sport. The curious thing is that my father didn't play judo before, he was just interested in the sport, like he is with all sports and he knew some basic movements and taught us. His actual sport was handball. 
I have fought before in grand slams, but I never reached the podium. This is my first medal in a grand slam and it is very precious, because it's the first and it has a special taste too, because I did it at home, with all my family watching me and all of my country. I am so happy and proud to have the chance to give this to them. 
Throughout the day I was very confident. I was competing at home and the crowd here made the venue vibrate and made me believe even more in myself. I also had a special supporter here as my dad was with me the whole day. He supported me so much and before every match he helped me to concentrate, he motivated me; it was very helpful. This was an important factor that contributed to my steps through the rounds, maintaining a peaceful and focussed mindset. I was just thinking about one thing: to win. My father and I are very good friends.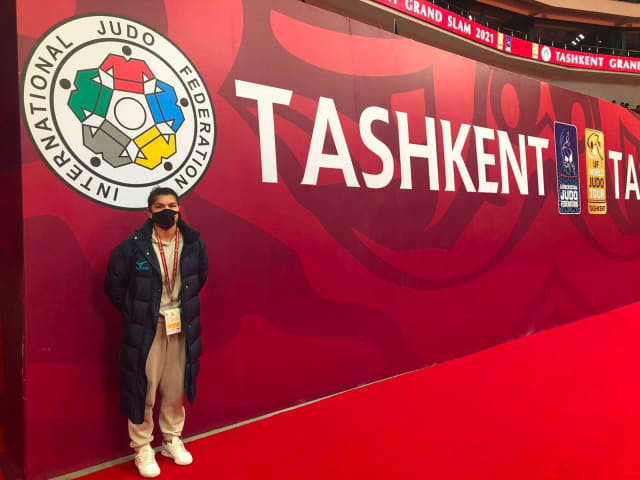 For me family is the most important thing in my life. They are always there for me, when I win, but most importantly when I lose. My dad always has the right wise and supportive words, 'Don't worry, this is sport, the others also train. You will be better next time and your day will come.'
I am very happy to know that I am the first woman in the country to achieve such a result and I know there are also other young girls coming. My hope for the future is that they will become even stronger than me. I want them to win and get medals and they will always have my support. I want to help them to progress and to transmit my experience. I want them to know that they can always count on me. I like to see them working hard towards surpassing my achievements. I believe we have a strong team arriving. 
Where I come from in the Khorezm region, judo is starting to be so popular. A lot of women are going to judo and everyone says, 'I want my daughters to be like Gulnoza.' I do hope that now we will have more girls practising judo and training and coming to competitions. I see it getting big and I wish and hope that in the next Olympic Games we will see more girls qualifying and maybe even getting a medal. Why not a female Olympic champion from Uzbekistan?
I train more with the boys; I like to fight with them. My judo is very similar to theirs. I like generous judo, attacking, body against body, strong kumi-kata. Also, because they are strong and here they don't care if they are fighting with a girl or with a boy, they fight the same, so that allows me to progress and become stronger.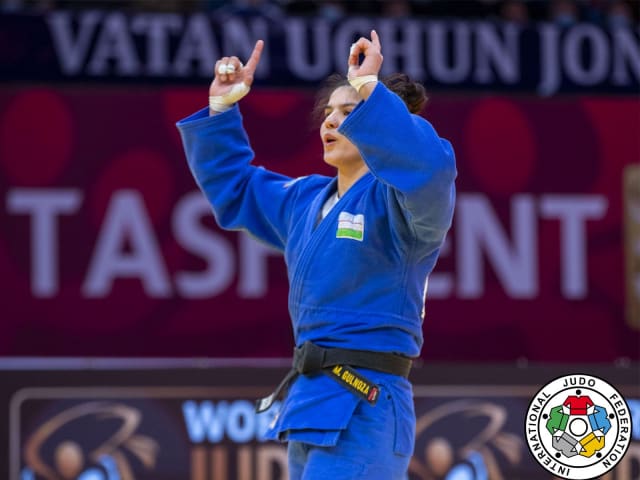 In the bronze medal contest I felt very strong but I couldn't recall exactly what I did until later. When I am in good shape and when I feel confident, I'm not quite conscious on the tatami, because it comes automatically, it's almost instinctive. I didn't choose to do this technique, I just felt it and I threw. I know it sounds funny, but I am sure all judoka know what I am talking about.
I know the crowd was happy, I could hear them and see them celebrating, so I guess it was a spectacular technique and I am very proud of it. I do this technique a lot in training, so I am happy that I did it here too. Next time I hope I will do it, but in the final. 
I was strong enough on the day and I believe the Japanese judoka only defeated me because of her experience and tactics. I was never afraid to face the Japanese, always seeing them as any other opponent. I fought a lot of Japanese already and I won against them. I was not stressed to fight against her. What was difficult for me yesterday was the match against Elvismar RODRIGUEZ (VEN). There are some people that our judo clashes with and she is one of those people for me, so it is not comfortable for me to fight against her.
My future goals are the coming World Judo Tour events before the Olympics, to perform there, get points for the qualification and who knows, maybe raise the UZB flag at the Tokyo Olympics; this is what I dream of every day. My biggest dream is to win gold at the Olympic Games and world championships.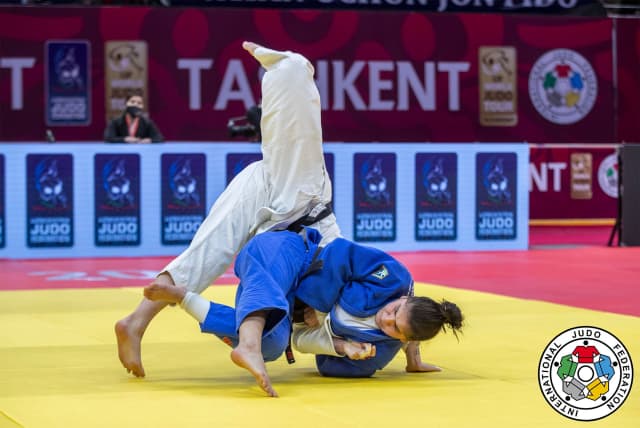 We also have a lot of girls practising judo now, with big potential and I want them to see me winning gold and get inspired by me to dream bigger and reach their own goals. They should tell themselves, 'she won so I can also do it.' I want to be a motivation for all these women. 
I know it's strange, but my two favourite hobbies are completely the opposite of one another. I love dance and music. I really love it and I also love fishing. With one of my hobbies I have all the hustle and bustle and noise of the world and in the other one is the greatest calm and silence. In life it's good to have a little bit of both.
I wish women happiness and that their faces are always with smiles and their eyes shining with of joy. Women, for me, are the key to the family and I want them to be happy in their lives, in their families and for the sporty ones, I want them to be champions, of course.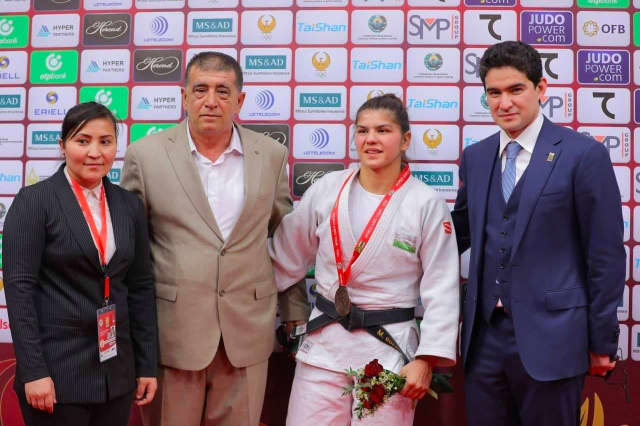 I think that in our life the most important thing is to have a goal. If you don't have a goal you won't achieve anything and you will be a little bit lost. I wish all the youth to have the support of their families. When you have your family behind you, guiding you, you can reach your goals easily. Just have a goal and go for it! You will see at the end of the road, looking back at what was possible and you will see the view clearly as if from the top of the mountain."
We enjoyed hearing Gulnoza talk and what she has to say is definitely interesting and motivating. This is not the last time we'll see her on the circuit and maybe soon she will be accompanied by more athletes from her nation's women's team.