We havent seen Christa DEGUCHI (CAN) on the World Judo Tour since February 2020 and her victory in Paris. In Georgia she spent 40 seconds on the mat in her first match, the time it took to execute an ippon against Jovana ROGIC (SRB). 24 hours later, after a night of rest, the -57kg current world champion is ready to answer our questions.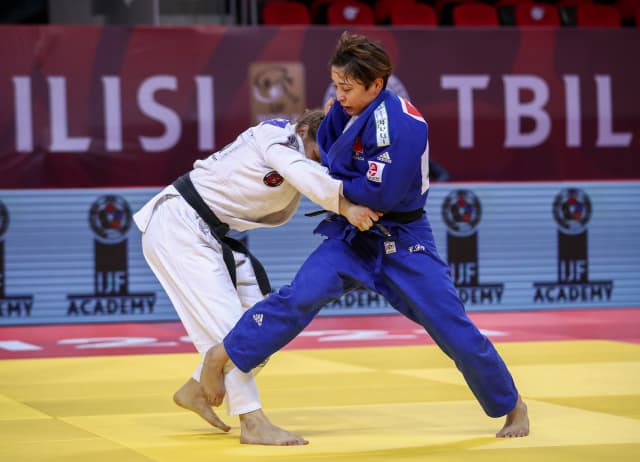 Yesterday you stepped into a competition for the first time since the Paris Grand Slam. What were your feelings when you stepped on to the mat in your first contest?
"I was excited to be back on the mats. I wasn't nervous but I was trying to control my excitement about the upcoming match. I had been away for a long time."
There was a lot of interest and curiosity around observing your current form and we saw that you were for, well and that you were sharper than others. Did you experience it the same way as us?
"I felt good but I can't really tell you about how I felt about my condition before the tournament as this is my first competition since Paris. I can't really tell until I fight. Now I know what I have to work on and improve for the next tournament."
Tell us what happened in the semi-final against Eteri Liparteliani (GEO). You were winning by a waza-ari and your opponent had two shidos and there were 40 seconds to go until the end of the fight. What happened?
"To be honest, I made a mistake. I thought I could do the seoi-nage but I misjudged it and it cost me the match. I know better now."
We now know that you are going to face Jessica Klimkait in a best-of-three matches format, to decide which of you two will go to the Tokyo Olympics. Do you think Georgia has served as preparation before facing Klimkait and how are you going to face that series of contests?
"Yes, it has helped me remember about competition fighting and I feel better prepared for the upcoming tournaments and playoff."
Last year in Paris you told us about your cats, Tuna and Mayo. How are they?
"My cats are doing well but I added one more, 'Sha-ke.' That means salmon in Japanese. I named her that because her fur is almost salmon pink. So now there is Tuna, Mayo and Sha-ke, just like the ingredients for a rice ball."