On the final day, the mixed teams day of the Asia-Oceania Senior Championships 2021, held from 6th-9th April in Bishkek, Kyrgyzstan, the IJF President, Mr Marius Vizer, together with Mr Obaid Al-Anzi, President of the Judo Union of Asia and IJF Vice-President, met with the President of the Kyrgyz Republic, His Excellency Sadyr Japarov.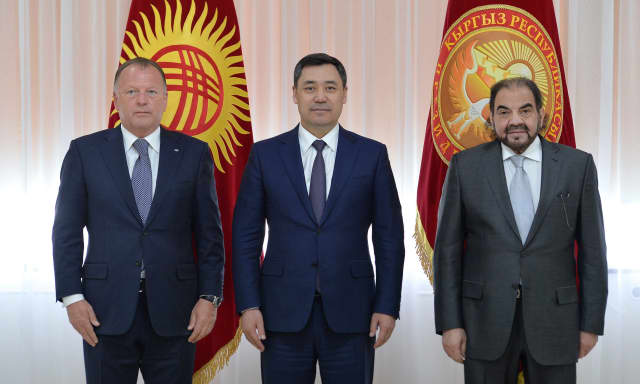 Based on the great potential Kyrgyzstan has, the agenda of the meeting focused on enhancing cooperation between Kyrgyzstan and the International Judo Federation and producing plans and directions for the development of domestic sports.
The fact that the country is keen to move forward with the social importance of sports at its core, was underlined. As an important step, Kyrgyzstan has proved to be able to host a superb, very successful Asia-Oceania Senior Championships, demonstrating that the level of judo in the country is developing rapidly.
The head of state expressed his gratitude to the leadership of the Federation for their trust, thanking them for taking the opportunity to host such a prestigious competition in Kyrgyzstan for the first time. Sadyr Japarov appreciated the smooth, professional organisation of the event, stressing that the championship was held in line with the highest level events from around the world. The President added that he followed the competition closely and noted the many benefits of the sport, which has become a priority among the development of sport in the country.
"We believe that the young generation should be involved with sport and judo is one of prestige, an elite sport to practise. The values that judo teaches are important for life and we are proud that our national judo federation does an incredible job in promoting the sport," said Sadyr Japarov.
Mr Vizer also spoke, "It is a great honour to meet the president of the Kyrgyz Republic, who is supporting the development of a positive sport culture and youth education programme in the country. It is incredible to see how fast judo grows here."
Mr Vizer congratulated Kyrgyzstan on their first gold medal at the Asia-Oceania Senior Championships, wishing it to become a motivation for the younger generation and noted with satisfaction the plans of the Kyrgyz Judo Federation to popularise and develop judo in the country, adding that the IJF will continue to support Kyrgyzstan in this direction. 
In recent years the Kyrgyzstan Judo Federation has been developing a lot, with many new young judoka, who are more and more excited to follow and watch judo. For the first time in the history of the Asia-Oceania Senior Championships, the country won a gold medal, with Vladimir Zoloev in the -81kg category.
At the end of the meeting Mr Vizer expressed his readiness for further fruitful cooperation and he invited His Excellency Sadyr Japarov to visit the World Judo Championships, which is scheduled for June this year in Budapest.