The International Judo Federation and Hungarian Judo Association held a special media event on Thursday in the 2017 World Judo Championships host city of Budapest in Hungary to promote the sport's annual seven-day extravaganza.
With 88 days to go until #JudoWorlds2017, 1000 judoka gathered at Heroes Square in the heart of the city to launch 2017 messages from 2017 homing pigeons in a unique event which inspired the teeming crowd on a sun-soaked day in the capital.
Mr. Marius Vizer, IJF President, and Dr. László Tóth, Hungarian Judo Association President, were present alongside members of the Hungarian national team including Olympic and world medallsits as well as young beginners and veteran and visually impaired judoka.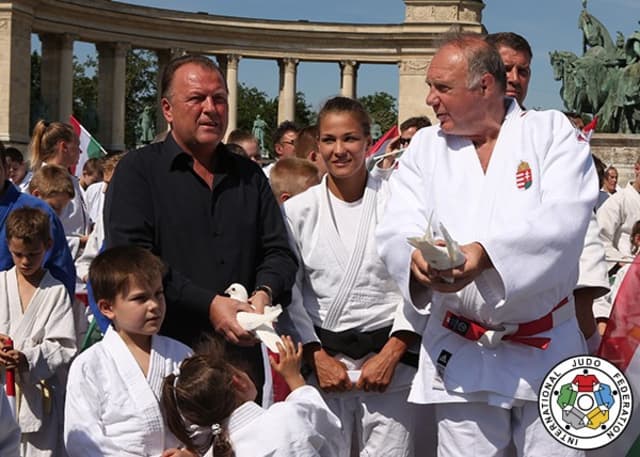 From L-R: Mr. Marius Vizer, IJF President, Rio 2016 Olympian Karakas Hedvig (HUN), Dr. Tóth László, Hungarian Judo Association President
The 2017 homing pigeons featured messages written by Hungarian judoka of all ages and they will travel across the country.
"Judo is my life" read one message.
"Good luck and all the best for the World Championships" said another.
"I wish you good luck, I love judo so much" read one message from a young judoka.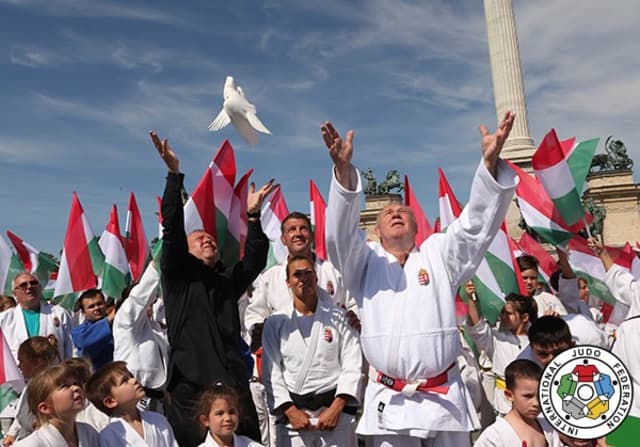 Mr. Marius Vizer and Dr. László Tóth shared a message for peace
Following the special ceremony Mr. Marius Vizer, IJF President, addressed the crowd and promoted a special message of peace.
"Judo is More Than A Sport. Judo is a martial art, an Olympic and Paralympic sport and a way of life, but also has the ability to develop societies and send a message of peace to the world. The values of judo are values for life and by spreading the ideals of Master Jigoro Kano I hope we can we learn to live together with peace and mutual prosperity for all. Today, in all countries and regions, judo spreads a message for peace."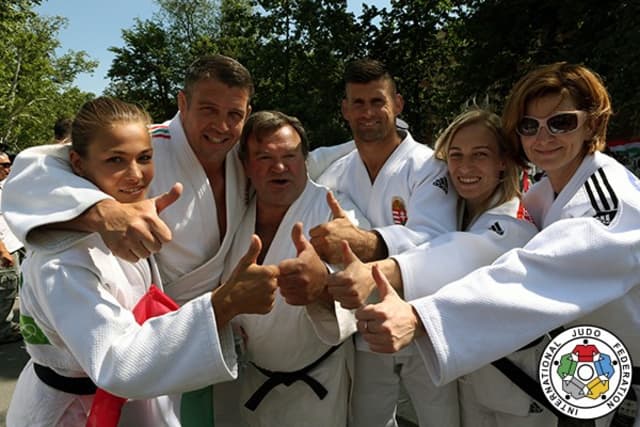 Current and former Hungarian national team members including Olympic and world medallists
Tickets are on sale for #JudoWorlds2017. Click here to purchase tickets.
Stay tuned to the IJF official website for all the build-up to #JudoWorlds2017 which take place in the Hungarian capital from 28 August to 3 September.