If you already knew Linz for its famous Linzer Torte, considered to be the oldest cake in the world, today you must know the capital of the Land of Upper Austria for its ability to organise a grand prix of the World Judo Tour. To tell us about it, as the competition draws to a close, we interviewed Corina Korner, General Secretary of the Austrian Judo Federation, as she is one of the linchpins of the local organising committee.
"First of all, I want to say that we have in Austria a good team of event organisers and even if that was the first ever grand prix, we are used to having big events in the country. This helped a lot even if holding a World Judo Tour competition is something different. It's another level.
In the past, we used to have events such as Oberwart or Leonding and we are regularly organising European events. So we have some experience in venue management, in refereeing and other sectors that are important. We had the base.
When Martin, our President, came with the idea to have a WJT competition in Austria, we all said, yes why not, in the future that would be great. We just didn't know that it would come so quickly. Once we knew that the Upper Austria Grand Prix would take place in 2023, we started to work hard.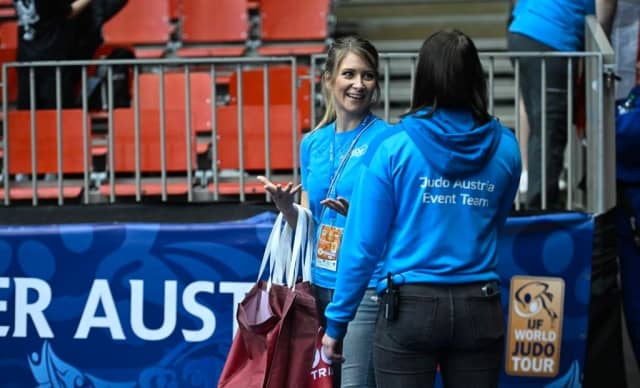 With the support of Mr Manfred Reisinger, the President of Upper Austria Judo, we gathered together a team of volunteers from all the clubs of the area. He was really good at motivating them. He also brought a lot of new people into the system, which is very good, because they can learn and get involved for the future as well.
We still had to face a lot of challenges but with such a good team it was all possible. One of the main challenges is that we had never used the Tips Arena before and the whole hotel system was new for us too. Thanks to the good support of the local authorities and Mr Markus Achleitner, Minister of Sports in Upper Austria, and his team, we could solve everything. For us Linz was obvious for many reasons. One of the them was the capacity to welcome delegations from all over the world and another was that our federation is well established here and we also have our national training centre in Linz, under the leadership of Yvonne Snir-Bönisch.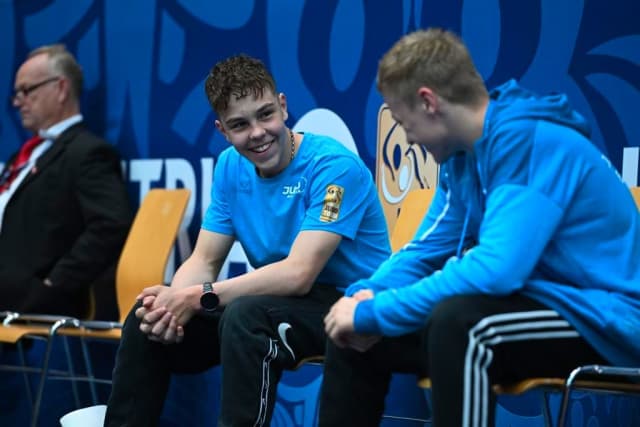 The last weeks were tough as we were getting closer to the event. There was a lot to do but with the 2023 World Championships in Doha, our President and Technical Director were in Qatar and so I had to manage everything here. There was a lot of pressure but I must say that the atmosphere was incredible between all of us. Seeing the smiles of our team members and the volunteers motivated me and everyone. We also had the help of 30 young students between 15 and 18 years old, who helped a lot and were happy to discover the magnitude of such organisation.
The first days, when delegations started to arrive, were also tough. We had to work countless hours but as days passed by, it became easier and easier. On day 2 of the competition, we had many VIPs visiting and they were all amazed by the quality of the organisation. In the evening we also had a dinner with all the volunteers. I took the floor to tell them how proud we are of the job they are doing.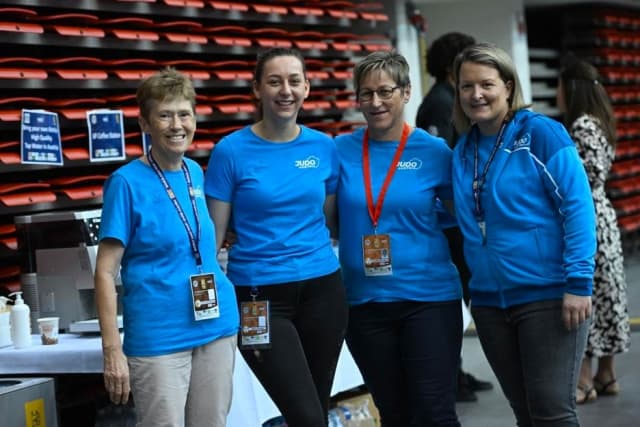 You know, for our volunteers this was all very new. They have their own jobs and are offering their time to work during the grand prix. Some had to do night shifts, to organise the transfers of delegations for instance. There were honestly so many things to do to get ready. We learned a lot and we already know that, with such a team, next year will be easier. I can already say that without any exception, the whole team is ready to organise the next event. On Sunday it will already be the 'before' of the next edition, so we will start working on 2024.
I grew up in judo and in the organising of events as a volunteer. I do believe that being part of such an adventure helps to build people both in the sport and personally. It brings so much emotion. It is not everyday that you can work with more than 70 different nations at the same time. It is so nice to see people coming together around the grand prix. They will go back home with a lot to talk about and get inspired from."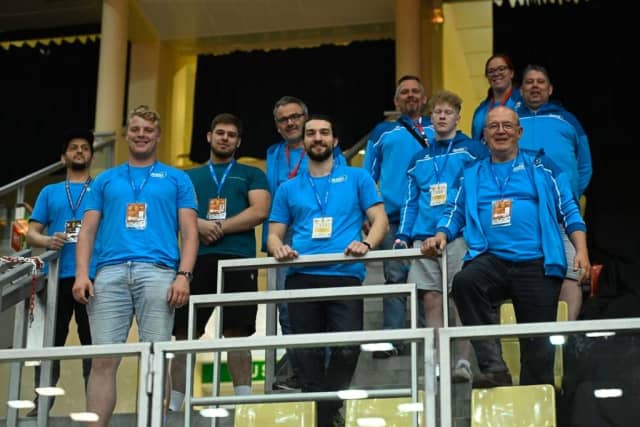 There are still a few hours to go before the lights go off in the Tips Arena. Then the organising committee will have to make sure that everyone will go back home safely. We can be sure that everything will be done perfectly and with a smile because all the volunteers had that in common during the weekend: they were smiling and that makes everything so much easier and  more fun.