You can see them in their black suits on the tatami of the whole world. They are discreet and do everything to be. They are sometimes criticised, not often glorified, yet they are an essential cog in judo competitions, both at the local level and on the world circuit. These are the referees, who, although they like to wear the suit, they like to wear judogi because they are all passionate about the sport.
In Antalya, they are twenty to officiate throughout the weekend. They come from the five continents and have travelled long hours to reach Turkey. If the athletes have to cope with the pressure of the competition, the referees are also subject to the stress of major sporting events, those that give access to the World Championships and the Olympic Games.
If we look more closely, we see more and more faces known to judo fans. In Antalya, Olympic bronze medalist (Beijing 2008) Hesham Mesbah (EGY) is now an international referee. This is also the case of Matthieu Bataille (FRA), individual world bronze medalist and gold medalist at the World Team Championships in 2011. He had then ignited the public of Bercy, while the victory of the France team rested on his broad shoulders.
Having traded the judogi for the suit and tie over a weekend, Matthieu explains: "Without referee, there is no sport. So even if we are sometimes pointed out, we must not forget that we are all judoka and that we are all passionate about what we do. I am coach at Etaples sur Mer and Le Touquet, France. I am on the tatami every day. In addition to the IJF World Judo Tour, I referee at the national level. It is not an easy task and we must all be tolerant."
During his first refereeing experience, the colossus recognises that the sensation was quite strange: "I was not used to being dressed like that. But quickly, I thought it was another way to serve my sport. Obviously, I would have liked to still do a little competition. But one has to be reasonable too. Today I continue to have a lot of fun. It's different, but it's just as exciting."
To be a referee, you have to be ready and sharp: "When we climb on the tatami, we have no right to the error, even if and we know it all, the error is human. We must be ready to face all situations. It takes a lot of preparation and concentration. Judokas are becoming stronger tactically, and we need to be able to analyze matches in real time. We must also be neutral, totally and above all we must make the right decisions. I was a tactical athlete myself, I know what I'm talking about, I feel things and that's what my career at the highest level has brought me."
The experience of the very high level, Roberta Chyurlia (ITA), recognizes that she did not have it: "I was a good judoka, but not of international level. I finished second twice in the Italian Championship, but I love judo, I am passionate about it and I am every week on the tatami of my club to practice. International experience is undeniably a plus, but it's not the only way to know judo and to be able to appreciate and judge it."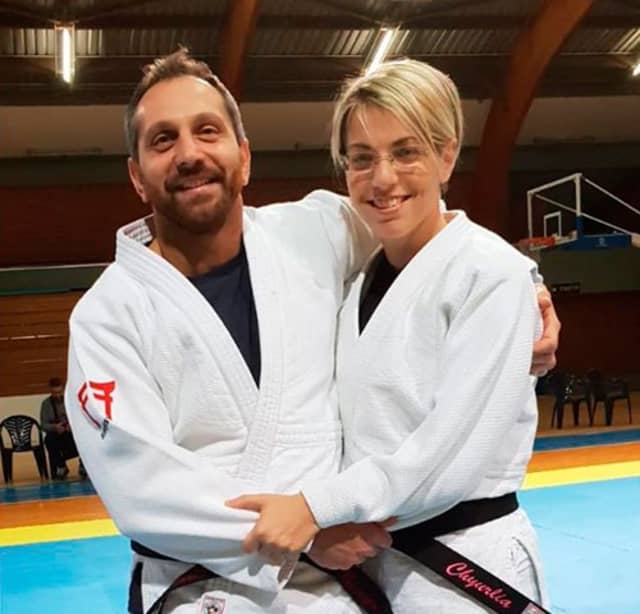 The young woman who is a lawyer in civil life, devotes all her free time to judo and refereeing: "The collaboration with the IJF Academy has been exceptional so that we can know all the possible techniques imaginable that we are supposed to judge in competition. In my region, in Italy, we regularly organize working sessions in which we work with young people to further develop the refereeing competences. I have always dreamed of becoming an international referee. This is the case today and it is quite incredible to be around all these champions, become referees, and all these referees that I used to follow on TV. When I get on the mat, I have only one idea in mind: to do my job, to be fair, to be fast ... I know we are doing everything so that the best wins, with great honesty."
When asked Jan Snijders, IJF Head Referee Director and former champion himself, or Daniel Lascau, Sports Director and World Champion in 1991, their answer is clear: "Being a top judoka is not a guarantee to become a great referee, but it is certain that the thousands of hours spent on the tatami to train brings a technical and tactical knowledge that is useful for judging modern judo. We can guarantee that all our referees know Judo and they know it well. We organize regular training session with them and we believe that they must be on the tatami every week to practice and feel things."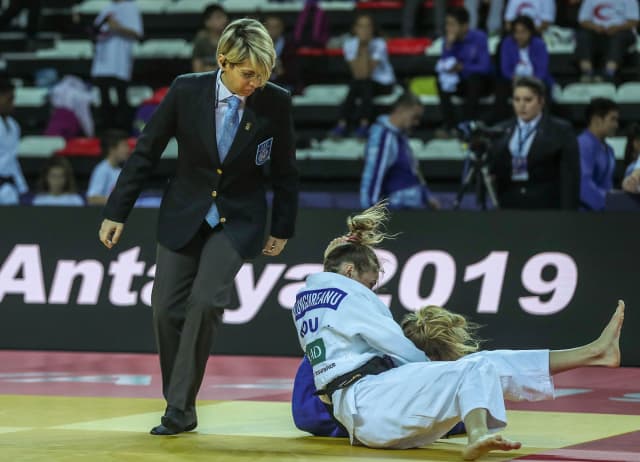 During training in addition to the technical and tactical aspects that are deepened, one of the main criteria that is reinforced is self-confidence in decision-making: "We need consistency and seriousness from the first match to the last", explains Jan Snijders, before concluding:" All the referees do, they do not do it for themselves, but for the athletes, so that they can bloom in a dynamic and spectacular judo."
The technical dimension of judo is undeniable. That's what makes it rich. The referee body is aware of this and if you see men and women in black in the middle of the tatami during judo competitions, never forget that they are all judo enthusiasts and judo fans first and foremost.