Azerbaijan newcomer Alexandra-Larisa FLORIAN (AZE) returned to IJF duty for the first time in a year when she fought at the Marrakech Grand Prix on Friday.
The former Romanian international, 23, who debuted for her new country with a fifth-place at the Prague European Open a week ago, is effectively starting over in her bid to qualify for the Tokyo 2020 Olympics as her number of qualification points has been reset to zero.
World number 180 FLORIAN, who beat Martina CASTAGNOLA (ITA) by ippon in first contest in Marrakech before narrowly falling to world number one Amandine BUCHARD NORDMEYER (FRA) by a waza-ari score, spoke to the IJF about her switch, her time away from competition and the challenges that lay ahead ahead.
Starting from scratch in a new setup at this stage of the Olympic qualification period, which started in May 2018 and closes next May, FLORIAN knows that time is not on her side.
"It will be hard but I think there's enough time for me to qualify for the Olympics," said the 2017 World Judo Masters bronze medallist.
Being away from the circuit during the Olympic qualification period for 12 months took its toll on the -52kg standout.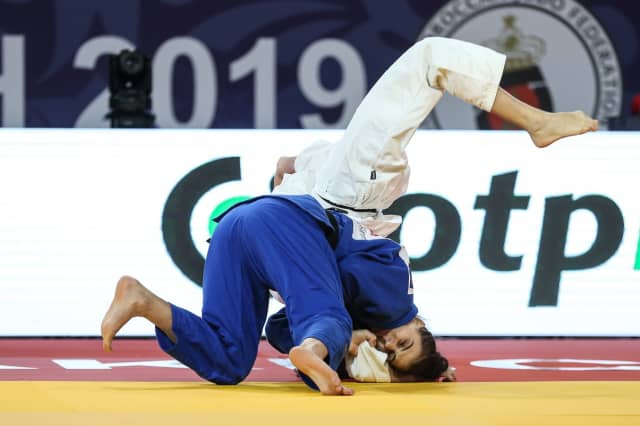 "For my mentality it was really hard because I wanted to compete. It was really hard and sad. I felt ready for competitions in any moment but unfortunately I couldn't t go. But one thing was good, I could focus only on training."
FLORIAN started to discuss a potential switch to Azerbaijan in December and the paperwork was finally completed in the last few weeks to rubber stamp the move to enable her to return to the IJF World Judo Tour with a new country code on her judogi.
"It was unusual at the beginning but now I started to like it because I am so happy to be part of the Azerbaijan judo team."
The logistics of living in Romania and fighting for Azerbaijan mean that the young talent will accumulating extra air miles but sees it all as necessary steps to live out her Olympic dream.
"I will be most of the time in training camps because in Oradea, unfortunately I don't have good sparring partners. The coach made me a good plan for all the year.
"My family is happy for me because now I am really appreciated and sustained and that makes me so motivated, as I have never been before. I'll work hard every day to achieve my dream of going to the Tokyo Olympic Games next year."
FLORIAN will be in action at the Tbilisi Grand Prix later this month (29-31) and the Antalya Grand Prix (5-7 April) a week later.
Watch both events live and free here on the IJF website.