Talking about the state of our planet and the preservation of the environment may seem irrelevant while the eyes of judo fans around the world are on Zagreb, Croatia, for the first post-Olympic Grand Prix. However, Dr Sanda Corak, President of the Croatian Judo Federation and member of the IJF Executive Committee, wants the event to be a real platform to promote a more sustainable and united vision of the future.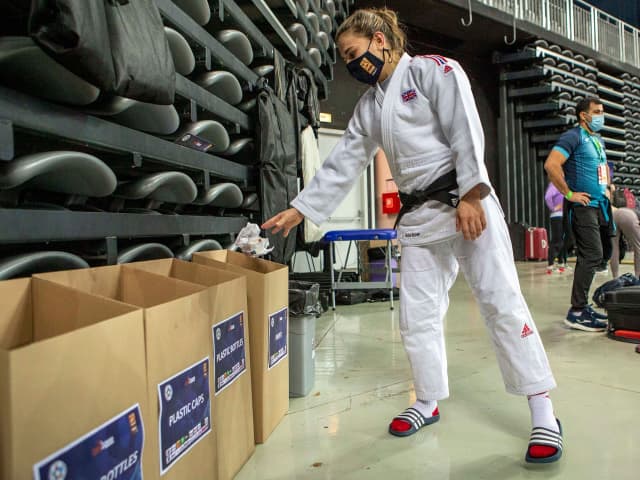 Following the sustainable development policy of the IJF and the IOC, the organising committee of the Zagreb Grand Prix made it an environmentally friendly event, "The question is not trivial, because there are elements for which it is difficult to intervene. For example, to organise such a competition, we have to bring delegations on site and this necessarily has an impact on our carbon footprint. On the other hand, there is also an infinite number of little things we can do that are environmentally friendly, like recycling, not using too much paper or reducing our expenses by using the bare essentials sparingly."
For Sanda Corak there is no doubt that the subject is sensitive and that it deserves our attention, "Ten or fifteen years ago the subject of the environment was not really discussed, but things have changed. Throughout the summer we have been following the news of massive forest fires and devastating floods. Here in Zagreb we suffered several earthquakes a year ago and although we have no real impact on these, all the catastrophes we are seeing are signals sent by our planet that we are actively contributing to its destruction.
In judo we have rules and values that we can apply to environmental and humanist causes. Among our strongest values, there is respect. If we have respect for others, we also have a duty to have respect for nature."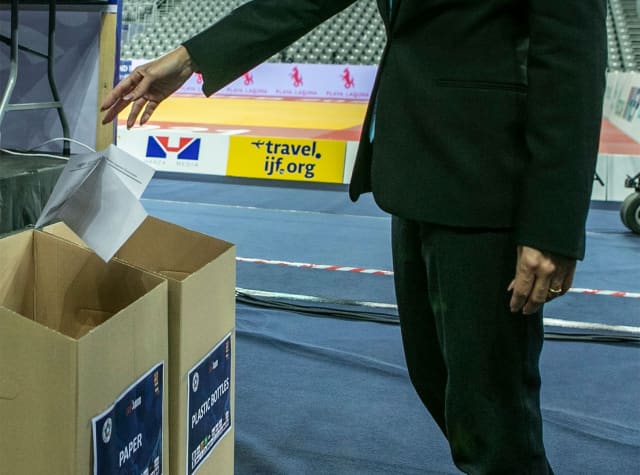 Sanda Corak works in the world of tourism and as such knows perfectly well that a healthy planet is a pledge of tourism development, "There can be no sustainable development without the protection of our environment. When we thought about the organisation of the Zagreb Grand Prix, it came naturally to us that we had to do something. The whole team were involved. At the beginning we didn't really know what to do, but very quickly ideas emerged. We also wanted to combine the environmental planning with a human dimension. This is how with the funds collected through recycling, we will help young judoka without parental care."
So the idea is to create a broad effect, "Every little thing counts. By adding up all the initiatives, we can do great things. When you think about the number of sporting events that take place on the planet each year, this is not negligible. Above all, we said to ourselves, why not in judo? Judo can become a pioneer and can provide the model."
The Croatian Judo Federation's project focuses on the grand prix, at first, but the vision is more global, "It's all about methodology; what can we do and how? The United Nations has set up 17 Development Sustainability Goals. We don't have time to wait for each of these goals to be transformed into clear and precise procedures to be applied in our own events. We have to be proactive. When Jigoro Kano invented judo, the planet was in a better condition than it is now and therefore environmental protection was not a topic of discussion. Today we must adapt our values to the new situation, without forgetting those values which are so dear to us. Our goal in Zagreb is therefore to be practical and concrete."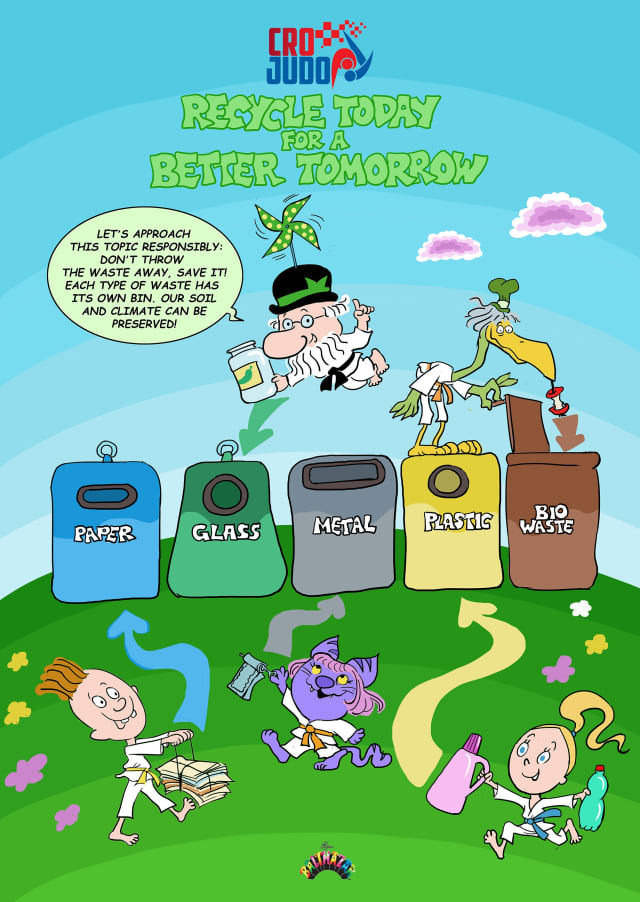 Besides the selective sorting that has been put in place, the environmental project proposed in Croatia goes further, "We have called on a Croatian company specialising in calculating carbon footprints and we are applying it to our event to know what our real impact is, in order to precisely determine the areas to modify or improve."
Vladimir Jelavic is the Head of the Department of Environmental Protection, Sustainable Development and the Department for Atmosphere Protection and Climate of EKONERG. If the title is long, it is because the subject is complex but it also explains perfectly what the goal is here: save our planet!
Furthermore, Vladimir Jelavic is a former judoka and he is happy to contribute to the project, "Judo is an activity which is very much linked with physical and mental development. It is a very social sport and therefore judo is meant for development. In judo we learn to respect and we learn to be adaptable. This general principle should help us to introduce more sustainability in the future within the judo community as well as within society."
"We are setting up a pilot project here. Within 6 months we'll know what is the exact carbon footprint of the Zagreb Grand Prix and then we'll be happy to share our experience with other organisers," explains Sanda Corak.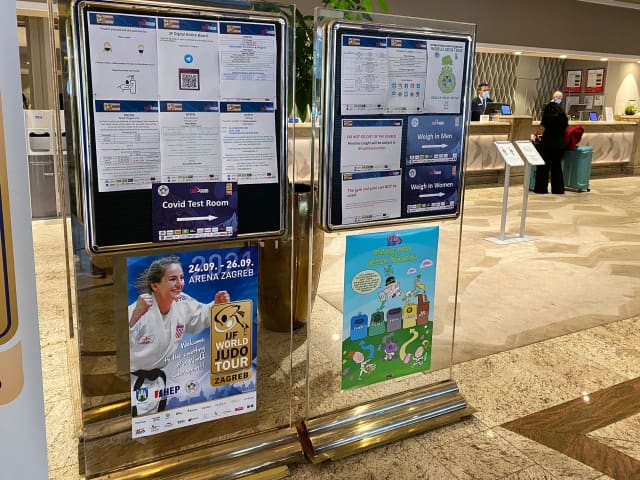 Once again, while we are all following what is happening on the tatami of the Arena Zagreb, this still allows us to think more globally. Because climate change includes global warming driven by human-induced emissions of greenhouse gases and results in large-scale shifts in weather patterns, we have the obligation to educate our community, "We don't have the planet all to ourselves. We are giving it away to our children and we are not really doing a good job right now. Why not recycle when it's possible? Why not consume less? On a personal level, we can have a real impact and as a group, as a judo family, we can bring a greater legacy to the world. This grand prix is like a showroom of what can be done. The IJF initiative to 'Plant a Tree' a few years ago and the 'Climate Champions' challenges are initiatives that are important to educate the youth. Through our events we have the possibility to warn the judo community. We need education and we need to raise awareness about the situation on our planet."
The problem is complex for sure, but the situation is also simple. The Intergovernmental Panel on Climate Change (IPCC - UN body for assessing the science related to climate change) explains, "Strong and sustained reduction in emissions of carbon dioxide (CO2) and other greenhouse gases would limit climate change. Unless there are immediate, rapid and large-scale reductions in greenhouse gases emissions, limiting warming to close to 1.5°C or even 2°C compared with the preindustrial era will be beyond reach."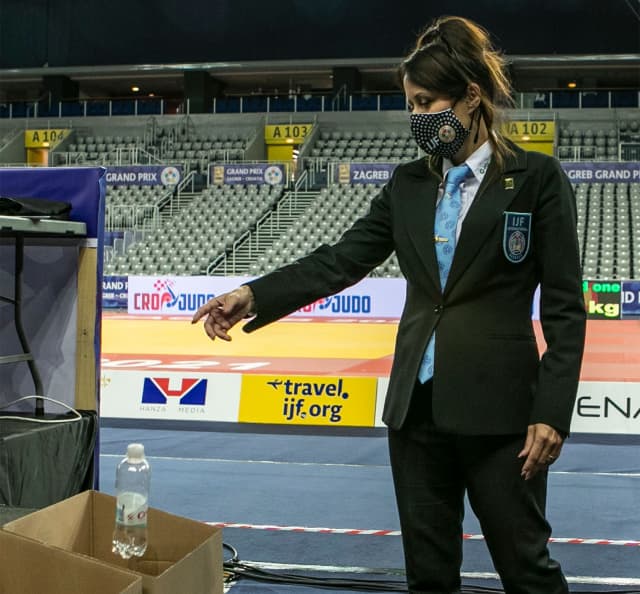 The main actors of the grand prix being the athletes themselves, we asked them what they think of the initiative. Emma Reid (GBR) -78kg, said, "I think it's good to see the effort with recycling, we need lots of it. It's positive. Maybe the big waste bins should be smaller so as to encourage people to use the recycling bins more consistently."
Andreja Leski (SLO) -63kg said, "I noticed the recycling bins. Maybe it's not yet everywhere but I like that we are now thinking about the green side of life and looking after our planet. I hope everyone will do their best with these things."
Even if competitors are obviously focussing on their tournament, they are citizens of the world and they are more and more developing a strong consciousness about their environment. A year ago the IJF appointed two Climate Ambassadors, coming directly from the athlete's world: Sabrina Filzmoser (AUT) and Flavio Canto (BRA). They helped the IJF set up 'Climate Champion' challenges, a programme supported by astronaut and black belt judoka Thomas Pesquet of the European Space Agency. Things are changing and the judo world is becoming a little greener every day.
Recent news about the state of the Earth has been alarming though. Zagreb is just one step. Through the recycling and other initiatives, including the distribution of the remaining food to people in need, a precise carbon footprint calculation will be made, recognising the potential for greenhouse gases reduction and will help to monitor, report and verify the impact of our events. Step by step the judo community will be more educated and will contribute to having a positive impact on the planet, which can only be positive. This is our responsibility.
To participate in the IJF Climate Champion Challenges: CLICK HERE