23rd February brings a very important event in Japan as on this day the birthday of the Emperor is celebrated. To mark this special occasion in Italy, Felice Mariani, a member of the IJF Hall of Fame, had the honour of presenting the Japanese Ambassador in Italy, Satoshi Suzuki, with an IJF gift.
Felice Mariani was born on 8th July 1954 in Rome and he participated in the 1976 Summer Olympics in the lightweight category and won a bronze medal. He was the first Italian to win an Olympic medal in judo. During his career he also won three bronze medals at world championships. After his retirement, he became coach of the Italian national team and led Giulia Quintavalle to a sensational Olympic gold medal at the 2008 Beijing Olympics.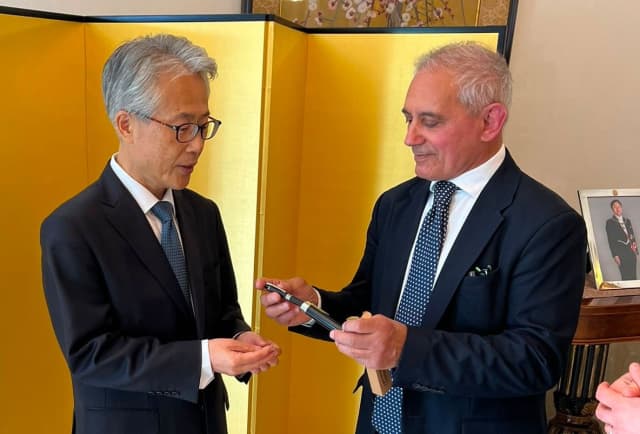 As judo and Japan have always been dear to his heart, it was natural for Felice Mariani to pay tribute to the country where judo was born, through a ceremony organised on 23rd February. The event was attended by illustrious names in Italian politics and culture. The official ceremony, with the national anthems of Japan and Italy, then sealed the 150 years of constant friendship. With the main celebrations taking place in the Imperial Palace in Tokyo, the ceremony that took place in Italy was full of emotion.