The Tashkent Grand Slam 2023 concluded in style today, with tremendous judo from the first contest to the last. The home team delighted their supporters, who themselves reminded us why Tashkent is a favourite stop on the IJF World Tour for many. Here we take a look back at the events of the last 3 days of competition at the Yunusobod Sport Complex.
364 athletes from 49 countries competed over the long weekend and in the end it was Japan who topped the medal table for the first time this year, just ahead of Uzbekistan, with 4 golds, 3 silvers and 2 bronzes. The medals were shared between 22 countries and 30 countries achieved at least one top 8 finish. 12 players achieved their first ever grand slam medal and for half of them this was also their first ever IJF World Tour medal. They will be hoping to use these results to build momentum going forward for the upcoming events.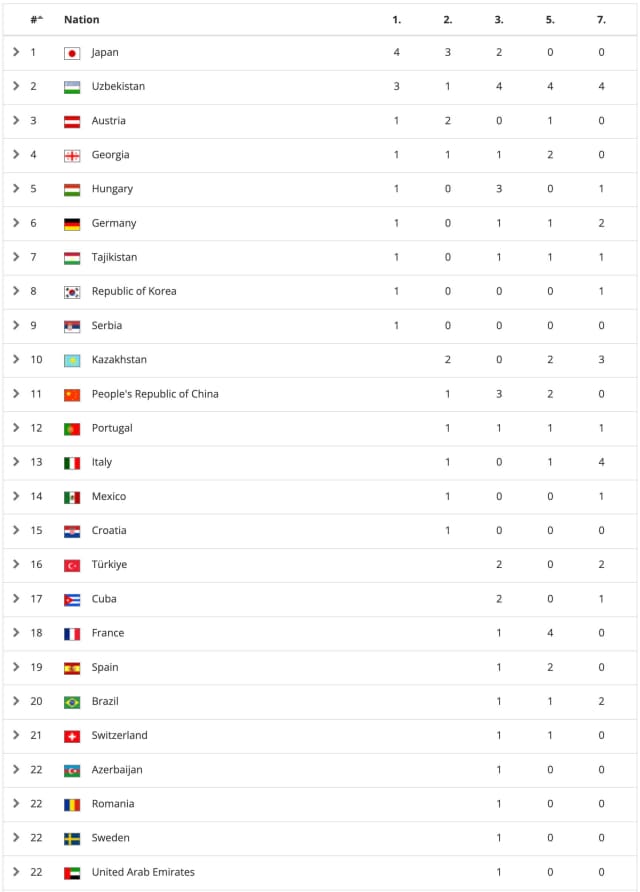 The home team will be delighted with their performance, taking no fewer than 3 golds, 1 silver and 4 bronze medals. The gold medals were won by Murodjon Yuldoshev, Davlat Bobonov and Alisher Yusupov. Yuldoshev was challenged repeatedly throughout the competition, but dealt with everything that was thrown at him and leads the country's internal race for Olympic qualification at -73kg. World champion at -90kg, Bobonov began slowly but became progressively more explosive with each fight and produced one of the throws of the tournament. In the very last contest, Masters and Paris bronze medallist at +100kg, Yusupov, defeated world silver medallist Saito (JPN) with some quick thinking to close out the tournament on a high for his native country.
Sardor Nurillaev took the silver medal for the Uzbeks with a solid performance, only losing out to surprise junior world champion Emomali (TJK) in the final. Their bronze medals were won by Gulnoza Matniyazova, Doston Ruziev, Mukhriddin Tilovov and Muso Sobirov. Matniyazova and Tilovov took their first and second World Tour medals of 2023 respectively and the performances of Ruziev and Sobirov were full of heart, belying their ranking outside the world's top 100. However, there was disappointment for world champion Muzaffarbek Turoboyev, who lost out in his first fight of the day to Saduakas (KAS), so he will be looking to bounce back quickly ahead of this year's World Championships in Doha in May.
Aside from the host nation, there were brilliant performances from the Japanese women's team and also from seeded players Michaela Polleres (AUT), Kim Won Jin (KOR) and Attila Ungvari (HUN). There was a return to form for Andrea Stojadinov (SRB), Varlam Liparteliani (GEO) and Anna Bernholm (SWE). And there were surprise wins from the aforementioned Emomali (TJK), Nurkhanat Serikbayev (KAZ), Giovanni Ferreira (BRA) and Giorgia Stangherlin (ITA).
Great victory of Bobonov at #JudoTashkent! Hosting big judo events is a result of the hard work of the Uzbek government under the leadership of the Prime Minister HE Abdulla Aripov!

We thank the Minister of Youth Policy and Sports Dr Ikramov for his support and dedication! pic.twitter.com/VbzSmboPv8

— Marius Vizer (@MariusVizer) March 5, 2023
Off the tatami, there were celebrations ahead of International Women's Day on 8th March, which was referenced in the official opening ceremony of the grand slam and there have been several stories and testimonials published from representatives of the world judo family, discussing the importance and progression of women in judo and in sport in general. These will continue throughout the week. The IJF also reinforced its willingness to contribute to peace across the planet.
After yet another successful event in Tashkent, we now look ahead with anticipation to the Tbilisi Grand Slam in just under 3 weeks' time, which promises to be another great spectacle to behold. With another passionate and knowledgeable audience and more guaranteed heroics from the host nation to come, we can't wait to go again. Don't miss a second; watch on live.ijf.org.