On November 3, 2016, the Japanese government has published the list of the 2016 "Autumn" decorations. Mr. Jean-Luc Rougé, IJF General Secretary and President of the French Judo Federation was awarded with the Order of the Rising Sun, Gold Rays with Rosette. The Order of the Rising Sun is a Japanese order, established in 1875 by the Emperor of Japan.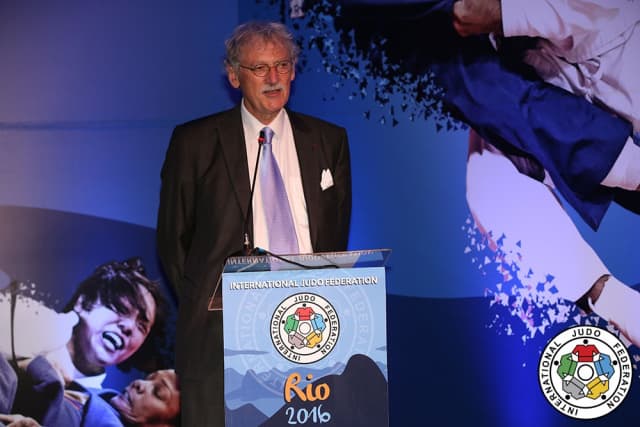 "
It is a great honor for me to receive this medal as a judoka simply at the service of Jigoro Kano's idea: the education of mankind for the improvement of the society.
Jean-Luc Rougé
The order is awarded to those who have made distinguished achievements in the following fields: international relations, promotion of Japanese culture, advancements in their field, development in welfare or preservation of the environment. The awarding of the Order is administered by the Decoration Bureau of Office of the Prime Minister and is awarded in the name of the Emperor. The 2016 Autumn promotion counts 4,029 people including 57 foreigners from 30 countries and territories.
"
I want to congratulate Jean-Luc Rougé for having been awarded with the Order of the Rising Sun, Gold Rays with Rosette and for his contribution to the development of judo worldwide. Mr. Rougé, who was a fantastic champion is today a key person within our organization. It is a pleasure and honor to work with him for the development of our sport.
Marius Vizer, IJF President
Mr. Shoji Muneoka and Mr. Yasuhiro Yamashita, respectively President and Vice President of the All Japan Judo Federation, declared in a letter addressed to the French Judo Federation: "On behalf of the All Japan Judo Federation and Japanese Judo family, we would like to express our sincere congratulations on the awarded decoration of the "Order of the Rising Sun. It was very pleasant to hear that your dedication and devotion for the development of Judo has been rewarded in such an honorable way. The All Japan Judo Federation is proud of our history of collaborating and we look forward to our continued cooperation in promoting Judo properly, globally, and with educational values for years to come."
Jean-Luc Rougé was born on May 30, 1949, in Clichy, Hauts-de-Seine, France. Fighting in the under 93kg and +95kg weight divisions, he was the first French judoka to win a gold medal at the World Judo Championships in 1975 in Vienna. He was again in the final of the World Championships in 1979 in Paris and obtained four gold medals at the European championships. After his sporting career, Mr. Rougé was involved in the development of judo in France, in Europe and in the World. In 2005 he was elected president of the French Judo Federation. On 23 November 2013 Rougé was promoted to the rank of 9th dan. Mr. Rougé is also Vice-President of the French Olympic Committee in charge of the top level.