What better place than Tokyo in Japan to conclude a particularly successful Olympic season for judo! After a busy and amazing year of judo, the best athletes will again be present on the tatami of the Tokyo Metropolitan Gymnasium, from December 2-4, for the last IJF event of the 2016 calendar. Judo, Japan and Tokyo, these three words perfectly link together as the next Olympic and Paralympic Games will take place in the Japanese capital in 2020. But before that, judo will regularly return to its homeland as, in addition to the annual Grand Slam, the All Japan Judo Federation will also organise the World Championships in 2019 in the mythical venue of the Budokan which in 1964 hosted for the first time judo at the Olympic Games.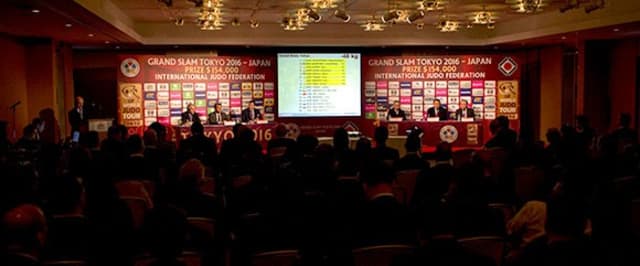 Mr. Naser Al Tamimi, General Treasurer of the International Judo Federation welcomed the delegates of the 41 nations present in Tokyo: "Ladies and gentlemen, dear friends, in the name of the International Judo Federation, I am glad to be in the land of judo. I wish to all of you and to the organisers a successful event. I want to thank to All Japan Judo Federation and everyone who is involved in the organisation of this Grand Slam."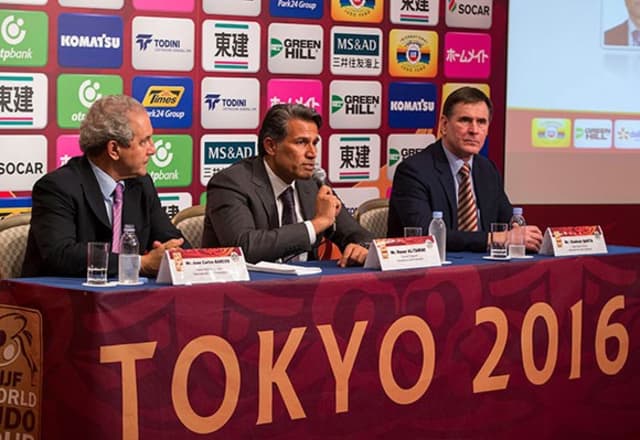 Mr. Yamashita Yasuhiro, Vice-President of the AJJF and IJF Executive Committee Member, said: "I want to address you the warmest welcome to Tokyo. It is an honour to host the Tokyo Grand Slam again and I want to thank everyone who made it possible. Following the fantastic success of judo in Rio, we are ready to organise this event as well as the 2019 World Championships and 2020 Olympic and Paralympic Games. I wish good luck to all participants."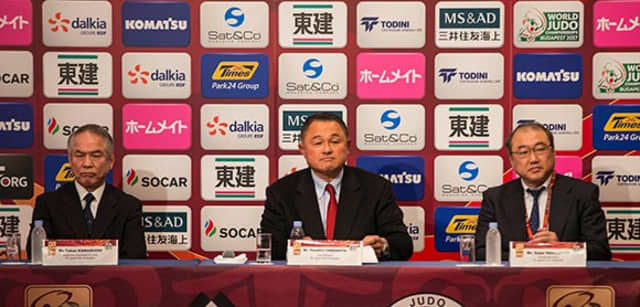 The period immediately following the Olympic Games is always a period of transition between a cycle that ends, which saw the crowning of 14 new Olympic Champions, and a new one that begins. In between the athletes, who are still in the recovery phase, those who want to position themselves in the best way possible for years to come, between the young talents who want to be among the favourites in four years from now and the reigning Olympic Champions who are making their comeback on the international stage, this 2016 Grand Slam of Tokyo promises to be very exciting. As a symbol, while all eyes are now turned towards Tokyo 2020 and as international judo is present in Tokyo for this final event of 2016, which will be the fireworks of the previous Olympic cycle, all judoka want to show that one must count on them in the near future. It is not impossible that some of the medallists of the Tokyo Grand Slam 2016, will again write their names in Golden letters within four years.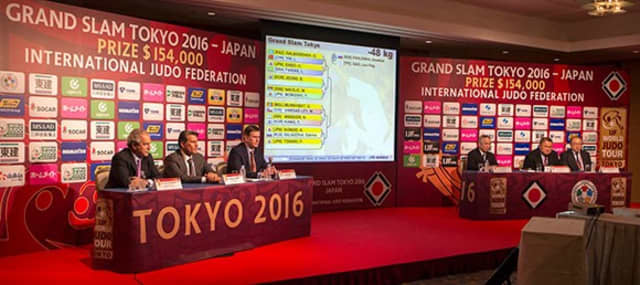 WOMEN
-48kg
Rio 2016 Olympic silver medallist JEONG Bo-Kyeong (KOR) makes her first start since the Games and will be confident of improving on her already impressive haul of three Tokyo Grand Slam bronze medals (2011, 2012, 2014). The 25-year-old world bronze medallist, who lost the Olympic final to Paula PARETO (ARG) on a waza-ari score, will have it all to do as she prepares for a reunion with Rio 2016 Olympic bronze medallists KONDO Ami (JPN) and Otgontsetseg GALBADRAKH (KAZ) while former world champion MUNKHBAT Urantsetseg (MGL) will also be among the top seeds.
-52kg
Tyumen Grand Slam winner SHISHIME Ai (JPN) has medalled at every IJF World Judo Tour event she has competed and her reward is selection for the Tokyo Grand Slam. SHISHIME, 22, in unbeaten in 2016 on the international stage with victories at the Dusseldorf Grand Prix, Asian Championships and in Siberia. Abu Dhabi Grand Slam winner Astride GNETO (FRA) is now finding her feet on the senior stage as older sister Priscilla has vacated the category with her sister in mind and with a set of new goals at -57kg. Astride GNETO, 20, will be joined in action by veteran and London 2012 Olympic bronze medallist Charline VAN SNICK (BEL) who will make her -52kg debut with her new coach.
-57kg
Rio 2016 Olympic silver medallist DORJSUREN Sumiya (MGL), who has had a biopic released in Mongolia since becoming her country's first female Olympic medallist, will step back onto the IJF tatami in Tokyo. World number one DORJSUREN has never won a Grand Slam and could put that right on day one in Japan. Abu Dhabi Grand Slam winner Helene RECEVEAUX (FRA) is joined by World Judo Masters bronze medallist KIM Jan-Di (KOR), defending Tokyo Grand Slam champion YOSHIDA Tsukasa (JPN) and former Tokyo Grand Slam runner-up. Former world champion UDAKA Nae (JPN) is unseeded which is also the case for -57kg newcomer Priscilla GNETO (FRA).
-63kg
Rio 2016 Olympic champion Tina TRSTENJAK (SLO) remarkably kept the -63kg title in Slovenia this summer as the world and European champion became Olympic champion and traded her red backpatch for a gold backpatch. TRSTENJAK currently holds every major honour in the sport and the world number one will be the scalp that every other judoka is aiming to take including Japans four youngsters. Abu Dhabi Grand Slam silver medallist Kathrin UNTERWURZACHER (AUT) and Almaty Grand Prix winner Margaux PINOT (FRA) will be targeting a clash against the returning Slovenian champion.

-70kg
Tyumen Grand Slam winner ARAI Chizuru (JPN) is tasked with winning the -70kg title for the hosts as Olympic champion TACHIMOTO Haruka (JPN) is yet to return and will be a spectator at the Tokyo Metropolitan Gymnasium. ARAI, 23, has won her country's Grand Slam twice and will be put under threat in her title defence by judoka such as World Judo Masters bronze medallist KIM Seong-Yeon (KOR), Abu Dhabi Grand Slam winner Marie Eve GAHIE (FRA) and world and European bronze medallist Fanny Estelle POSVITE (FRA).
-78kg
TAKAYAMA Rika (JPN) won the Qingdao Grand Prix two weeks ago while world champion UMEKI Mami (JPN) is back in action after being one of only two member of Japan's 14-strong team to miss the podium at Rio 2016. Two-time Grand Slam winner SATO Ruika (JPN) is also seeded while Zagreb Grand Prix bronze medallist Sama Hawa CAMARA (FRA) will compete in Japan for the first time.
+78kg
Rio 2016 Olympic bronze medallist YAMABE Kanae (JPN) is the top seed in the +78kg category. Japan will be expected to run away with this category with world bronze medallist YAMABE featuring alongside Tyumen Grand Slam winner INAMORI Nami (JPN) and Jeju Grand Prix winner ASAHINA Sarah (JPN) who won the Kodokan Cup in November.
MEN
-60kg
Rio 2016 Olympic bronze medallist TAKATO Naohisa (JPN) is back in action on Friday as the 23-year-old former world champion will aim to retain his 2015 Tokyo title. Tokai University's TAKATO will have his hands full with former world silver medallist DASHDAVAA Amartuvshin (MGL) among Asia's best while Felipe KITADAI Felipe (BRA) – who produced a sensational flying juji-gatame at this event a year ago – leads the way for the Pan Americas and European champion Walide KHYAR (FRA) will lead the charge for his continent.
-66kg
Rio 2016 Olympic champion Fabio BASILE (ITA) showed moments of brilliance and flair before the Games but few expected what came next as he had one of the greatest days in the history of Olympic judo. Unseeded Italian BASILE, 22, has never won an IJF event and yet won four of his five contests in Brazil by ippon including the final over world champion AN Baul (KOR). BASILE has deservedly landed numerous endorsement deals and is a hot commodity in the Italian media but his stunning victory has assured that he will be one of the most studied judoka in the competition and fans will be keen to see the Olympic champion in his gold backpatch for the first time. Tyumen Grand Slam winner ABE Hifumi (JPN) is the most talked about teenager in the sport and the Tokyo 2020 candidate will be hopeful of repeating his 2014 win at home if he can overcome judoka such as double world silver medallist Mikhail PULIAEV (RUS) who suffered a second round exit in Rio.
-73kg
Rio 2016 Olympic champion ONO Shohei (JPN) misses his home event with an ankle injury and will need to wait until 2017 to wear his new gold backpatch for the first time. Rio 2016 Olympic bronze medallist Dirk VAN TICHELT (BEL) was one of the big winners in 2016 with an unexpected podium in Brazil as he eliminated world bronze medallist AN Changrim (KOR). The Belgian will be restored to IJF World Judo Tour duty in Japan as World Judo Masters winner and top seed HASHIMOTO Soichi (JPN) is the judoka with the most to gain and should be fighting for a place on the podium.
-81kg
Rio 2016 Olympic bronze medallist NAGASE Takanori (JPN) looks set to vie for top spot in Tokyo. World champion NAGASE is the number one seed and will be confident of reclaiming the title he won in 2013 and 2014. A lot was expected of European bronze medallist and IJF supported Ivaylo IVANOV (BUL) and he gave his all to finish seventh on his Olympic debut. The 22-year-old could be a totally different force in this city in 2020 and will be eager to make an impression on his Japanese debut.
-90kg
Rio 2016 Olympic bronze medallist GWAK Donghan (KOR) is the number one seed in the -90kg category. The Olympics did not go as planned for South Korea but world champion GWAK again showed that he is a big stage performer and will need to be at the same level to shine at the Tokyo Grand Slam. Abu Dhabi Grand Slam silver medaliist Axel CLERGET (FRA) missed out on selection for Rio 2016 but is the top-ranked Frenchman at this weight and fittingly starts his Tokyo 2020 quest in the same city. Paris Grand Slam winner NISHIYAMA Daiki (JPN) will be a major contender at home and will fight along with World Judo Masters silver medallist Khusen KHALMURZAEV (RUS).
-100kg
Rio 2016 Olympic bronze medallist Cyrille MARET (FRA) could dictate the -100kg category on Sunday. Three-time Grand Slam winner MARET will aim to tower over the world-class opposition on the last day of IJF World Judo Tour action for 2016. Qingdao Grand Prix winner Kirill DENISOV (RUS) eased into his new weight category two weeks ago in China and will be there or thereabouts at the fifth Grand Slam of the year as his power looks set to transfer into the -100kg category with immediate effect.
+100kg
Top heavyweight seed SHICHINOHE Ryu (JPN) needs to win to re-establish himself as Japan's number one heavyweight having twice lost in World finals to RINER and therefore was overlooked for the Olympics in favour of the injured HARASAWA Hisayoshi who fought the Frenchman for the first time in the Rio 2016 heavyweight final. Russian great Alexander MIKHAYLIN (RUS) has shocked judo fans by announcing a comeback for the Tokyo Grand Slam having retired in 2014. The three-time world champion and London 2012 Olympic silver medallist, 37, feels he is still ahead of Russia's current crop of +100kg judoka and is as well-placed as anyone to challenge RINER. MIKHAYLIN won the Russian Championships on his return in September and will now be a fascinating opponent for Japan's top heavyweights in Tokyo.
COMPETITION PROGRAMME
Friday
10:30 Preliminaries on three mats
17:00 Final block on one mat
Women: -48kg, -52kg, -57kg
Men: -60kg, -66kg
Saturday
10:30 Preliminaries on three mats
15:30 Opening ceremony
16:00 Final block on one mat
Women: -63kg, -70kg
Men: -73kg, -81kg
Sunday
10:30 Preliminaries on three mats
16:00 Final block on one mat
Women: -78kg, +78kg
Men: -90kg, -100kg, +100kg
Location
Tokyo Metropolitan Gymnasium