We present the first of our new Judo Dream Chasers series with the first edition of Canada's Christa Deguchi.
Opportunity.
noun
'a time or set of circumstances that makes it possible to do something'
If an athlete possesses the greatest set of skills they are not enough to guaranteed even a modicum of success. They are redundant if an opportunity to test these skills on the appropriate stage does not present itself.
Talent creates chances but there are many factors to landing the opportunity your talent merits and that you crave so much.
Judo, itself, offers a world of opportunities to all practitioners at all levels. At the national and international level, the national federation handles the selection of judoka for competitions and each country has a varying pool of talent and resources.
If you happen to hail from judo's homeland of Japan then opportunities at the elite level may be scarce.
Christa Deguchi, 22, has been through the Japanese system, winning Grand Prix, Glam and Junior World Championships medals for Japan.
"I started when I was three years old," said Deguchi before detailing a typically family-oriented reasoning for pursuing The Gentle Way from an early age.
"My grandmother is a barber and one of her regular customers was a local judo sensei, Murayama-sensei. He recommended to my grandmother and parents that I should join judo. My mother and father also wanted me to do some kind of martial art. It was a good opportunity so I joined."
There is a video clip from her first year in judo which has being doing the rounds on social media.
Deguchi, then four, had her first match in the dojo and it was against a boy who was older, much more experienced and substantially outsized her.
"I had no idea what I was doing, all I knew was that I had to grab and try to throw him. The boy was two years older than me and he was already on the elementary school team. It was a small tournament being held in my dojo." What stands out from the video, which has 42,000 views on Twitter, is that immediately after being powerfully thrown for ippon, a young Deguchi picks herself right back up and wants to carry on fighting.
At this age Deguchi took challenges and challengers on without hesitation regardless of any obvious factors that went against her.
"I was just learning so I didn't realise that I had lost and wanted to continue fighting. Then the sensei stopped me and tried to show me how to bow and exit the mat in the correct manner.
"I think the boy retired from judo after high school. For me judo was fun because I could run around and move and play with the older kids. The sensei would let me throw them a few times and I though it was great." Judo started to take on extra significance during her high school years as domestic accolades began to amass.
"When I was in high school and trying to decide on which University to attend was really when I began to realise there was a possibility that judo could become my full-time career."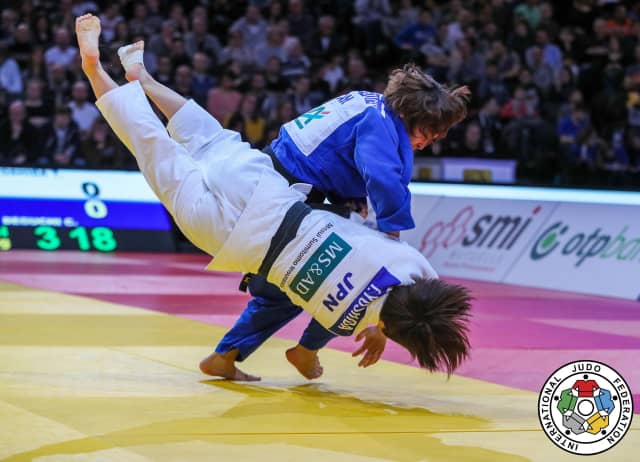 Like any young athlete, Deguchi had doubts.
"I wasn't sure that I would be strong enough to win," Deguchi passionately conceded.
Natural and understandable as those feelings were, they washed away with one of the most memorable debuts on the IJF World Judo Tour of all time as the reigning world champion and now Olympic champion felt the full force of the new teenager who has a habit of confronting all those who stand against her with dogged determination.
At the Tokyo Grand Slam 2013, this unknown teenager shocked the world. The stars of the -57kg category were disposed with round after round. Deguchi defeated the world-class operator Kim Jandi (KOR) and then world bronze medallist Miryam Roper (GER) before being submitted by Olympic bronze medallist Marti Malloy (USA).
Deguchi had led by a waza-ari against Malloy but the American star worked her way out of a holddown with one second left. Malloy countered a dropping technique and applied an juji-gatame for ippon.
The day did not end there for Deguchi as she came back out in the final block on her senior IJF debut to defeat world champion Rafaela Silva (BRA) for bronze.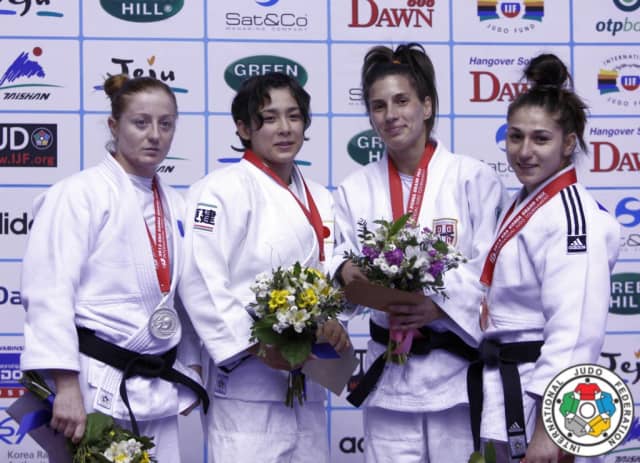 An unknown Japanese youngster excelling on their first start on the circuit is not a new phenomenon. It is a standard sight on the IJF World Judo Tour. However, the way Deguchi upstaged world medallists with such exhilarating judo and was fearless while debuting at home, at one of the marquee events in the sport, all made sure that fans, media and fellow judoka remembered their first introduction to Christa Deguchi.
"It was my first big tournament. I tried not to think about it too much and to keep it as normal as possible. I wasn't really nervous but I kept reminding myself to just focus on the next match in front of me."
That mindset has clearly been instilled for life. Just as it looked like the young -57kg starlet was making her mark in the sport it quickly became apparent that her career was reaching a critical juncture.
Deguchi made a handful of international appearances in 2014 for Japan and had a decision to make. One which would change the course of her career forever but could lead her a route to achieving her dreams in the sport. Deguchi's father is from Winnipeg, Manitoba and her mother is from Shiojiri, Nagano. The option and idea of potentially representing her father's native Canada was motivated not by missing out on Rio 2016 but by her desire to compete at the Tokyo 2020 Olympics.
"It all happened really fast but it wasn't my goal to be selected for Rio. I knew that I wasn't ready for the Olympics and that I needed more training and international experience. With that in mind, my goal was to focus on Tokyo 2020.
"It was always in the back of my mind that there was a possibility to represent Canada probably back in 2013 but didn't meet with Team Canada representatives until 2017. After meeting with representatives from Judo Canada, I seriously considered making the switch."
Olympic gold. That is what the switch came down to. That is the goal of Deguchi and in order to accomplish that feat the young star needed more opportunities to compete at the highest level.
"My goal is to win an Olympic gold and it seemed that Canada would provide me with the best chance to do so. Tokyo 2020 is coming up fast, it was the perfect time to change and work towards that goal."
Deguchi could not compete internationally in 2015 and 2016 as she waited international clearance to start competing for Canada.
Sitting on the sidelines while the world's best took the sport forward at World Championships and Olympic Games was difficult to endure.
"It was tough," Deguchi said.
"I was having trouble winning big tournaments in Japan and it was a little bit discouraging. I just kept training at my University club and put all my energy into the team trying to help them win University level championships.
"I really think it was my University team mates and coaches that helped keep my judo levels high and pushed me to train harder."
Deguchi opened up on her first interactions when she linked up with the Canadian team and how her nerves were soon offset by the coaches and her new teammates.
"I was nervous in the beginning. I first met (national team coach) Sasha Mehmedovic in Tokyo and he outlined Judo Canada's proposal. It was a good first meeting and Sasha made me feel less nervous about joining Team Canada. But then I was nervous again when I met the team for the first time in Montreal later that year for a training camp. I was mostly worried about my English ability and if I would be able to understand them and to be understood.
"At the first training camp, everyone made me feel welcome. They were so friendly and my nervousness soon went away. Because of their kindness, I feel like I am a part of the team now."
In October 2017, Deguchi finally returned to international competition as a member of the Canadian team. The Canadian flag on her judogi was a new sight and experience but her focus was purely on being back on the mat and resuming her elite level career.
"I tried not to think about which country I was representing and tried to focus on the match coming up. It was my first time fighting internationally in three years so I was more concerned about that. I had a tough first match and it showed me how much I needed to improve if I wanted to be successful for Canada."
Deguchi lost to world champion Dorjsuren Sumiya (MGL) in her first contest but had forced the Mongolian into golden score as she gave the world number one her toughest contest of the day.
Next up was a return to the Tokyo Grand Slam in 2017. Deguchi, who still lives in Japan, walked into the Tokyo Metropolitan Gymnasium wearing a Canadian team tracksuit and felt the pressure of having extra attention on her.
"It felt a little strange, a lot of people knew I had changed teams and there was a little bit of pressure from that. I was a bit more nervous than usual. Again, I tried to concentrate on the match and do the best I could."
Deguchi slipped to defeat in her first contest against Anastasiia Konkina (RUS) who recently won bronze at the European Championships in 2018. Since suffering those back-to-back defeats in her return to action, Deguchi, 22, is undefeated.
Deguchi was always going to become a key member for the Canadian team who could offer her opportunities in abundance and has build a lot of momentum at exactly the right time.
Canada welcomed a world-class judoka to their ranks and in 2018 have reaped the rewards as Deguchi has won the Portugal Open, Paris Grand Slam and Pan American Championships.
Deguchi is riding a 14-fight winning-streak and all 14 victories have come by way of ippon.
"I am extremely happy with how things are going," said the world number 20.
"After winning in Portugal and Paris, I began to realise that I was able to compete at this high level and be able to have an impact for Canada." Unseeded Deguchi defeated former teammate and world silver medallist Yoshida Tsukasa (JPN) to win in Paris to strike gold for the first time at the Grand Slam level.
Living in Japan and fighting for Canada presents a number of challenges for both fighter and federation but the results speak for themselves.
"The biggest challenge is keeping the Team Canada staff up to date with how I am training in Japan and getting advice from them to help me with my training. We communicate by email a fair amount and talk a lot when we meet at training camps or international competitions.
"I am in charge of my current training schedule with the help of my old University coaches."
Now back where she belongs among the -57kg elite, Deguchi, can afford to look forward and think about realising her goals.
There is only one target.
"Tokyo 2020 gold is on my mind right now. It's not going to be an easy road but I want to work hard and do the best I can!"
Deguchi, who will be part of a 12-strong Canadian team fighting at the Hohhot Grand Prix – the first Tokyo 2020 Olympic qualification event – will be expected to make her World Championships debut in September in Baku, Azerbaijan and to feature in the mixed team event which debuted last year. "I think the mixed team event is a great idea," said Deguchi.
"In Japan we had mixed team events in elementary school and then women's team events through junior high school, senior high school and University. I am very familiar with team fighting. So it will be really exciting to fight in this type of mixed team contest again. I think Canada has a good chance of getting on the podium in Baku!"
Deguchi is driven by individual success but the frankness and clarity with which she speaks gives about the teams performance gives a clear indication of what it means to her to be part of the Canadian team and that there are team goals that she aspires to play a part in.
The opening of qualification for the Tokyo 2020 Olympics is a date that all international judoka have marked off on their calendars and Deguchi has a greater sense of the anticipation and build-up for the next Olympiad by being based in Japan.
"Japan is the home of judo and this is a very exciting and special time! Everyone in Japan is starting to get Olympic fever and I think preparations for the event are going well."
Deguchi has come into the Canadian team at a time when they have a major presence on the IJF World Judo Tour and are enjoying widespread success. "They are a strong team and getting stronger with every tournament leading up to Tokyo 2020. There are a lot of possibilities for them to medal at the next Olympics and I am excited to be a part of it all!"
When asked about her main rivals in the -57kg category, Deguchi has an ominous answer that shows her desire.
"Everyone! The -57kg category is such a strong field that everyone is a potential rival. There are no weak judoka in this category and that is why I have to work twice as hard to make sure I am able to compete with these other judoka.
"My focus right now is to train, compete in and medal in as many competitions as possible in the run up to Tokyo 2020. Of course the ultimate goal is an Olympic gold medal.
"I owe a lot to my coaches and family! Without their knowledge, advice, love and support I would not be the judoka that I am today. I want to thank them all by winning an Olympic gold!"
Deguchi is part of bumper entry for the Hohhot Grand Prix and outlined her ambitions for the second edition of Inner Mongolia's three-day event.
"While a gold would be nice, I am not going to think about it too much and keep focused on the overall plan to get to Tokyo 2020. I'm going to keep training and competing to the best of my ability as each competition comes up. It's going to be a tough road but I have the opportunity and I can do it."