We didn't talk since 2022, so I hope that everyone is filled with new resolutions and goals. In the last article, I was on my way to India. I was coming from Nepal with a heavy heart as I had experienced many tough situations. The fact is that India gave me even more.
The first thing that hit me was the thick haze that seemed to hang in the air. The pollution was palpable and it was hard to ignore the feeling of discomfort that it brought. I arrived in one of the worst times of the year for the famous smog.
In contrast with that terrible pollution, I've met Ashish, a smiley man who took me to his family home, a bit away from Delhi. It took us 3h to just drive 25km. Ashish is from the family of Yashpal Solanki, the man who made all of this Indian part possible.
When I arrived, I noticed they were living in a very modern apartment, totally different from what I saw everywhere around me on the way. They had a guest room just for me. I was a bit worry about the mosquitos and the diseases they can carry. Ashish told me that we were living on the 16th floor and that mosquitos at this level aren't dangerous. I was above the sky, watching the people below going about their daily lives.
I had nice days with Ashish and enjoyed amazing food as we had a cook just for us. I discovered their life, just how I to learn about everywhere and everyone I meet. I was taking care to help the youngest boy with his French lessons; it was truly amazing to with their family. Yashpal's wife was among the first Indian women to attempt a life in elite judo from the country.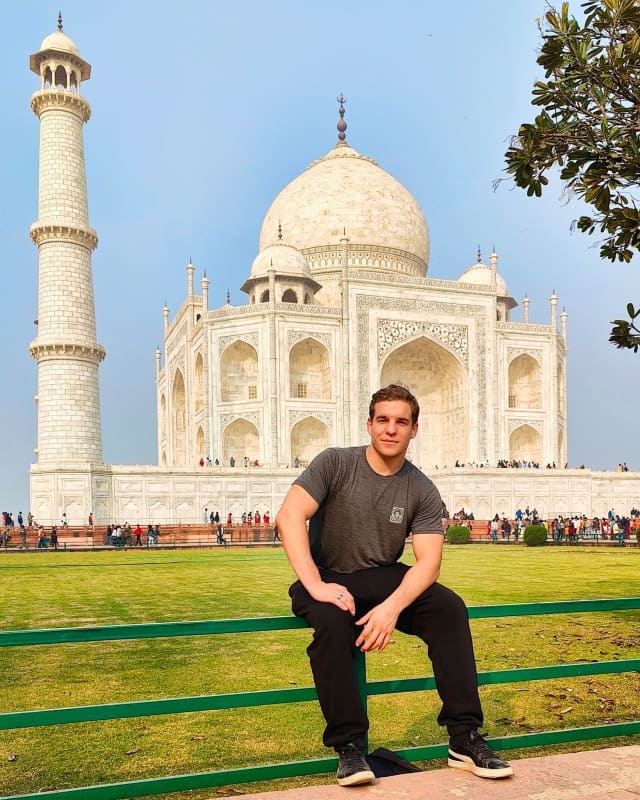 I gave a class in the dojo of AFACS Club. It was my first experience to do judo with Indian judoka, all full of respect. Every child called me 'sir' and many of them greeted is by touching our feet. For them and in their culture, it's the right way. I had to get accustomed to it.
During the first days, I visited Delhi a bit and to be honest it was not easy for me. The pollution was already something terrible but the misery was unbearable for me to watch. There were a few times I had to stop to see if some people were still breathing or not. There were some extremely poor living conditions and I couldn't avoid thinking about all the pollution they were breathing in, all the dust and dioxyde from the cars that passed so close to them. It was such a strange feeling and it stood out even more when contrasted with the amazing kindness of my host, all along my Indian tour.
Yashpal booked me train tickets and accomodation to go to Agra and discover the great Taj Mahal and Jaipur, where I enjoyed some more judo training. Then I went to Bhopal to meet the national team.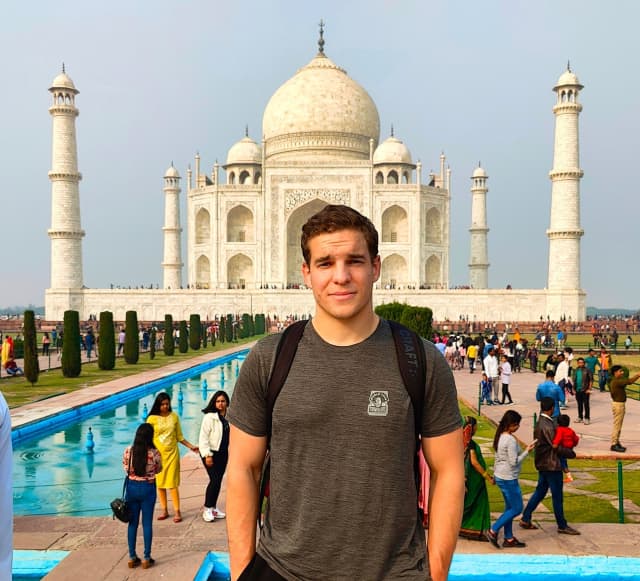 Bhopal is just amazing, like an oasis in India, away from the traffic jams and craziness of the big cities. There is much less pollution and it is located in a very green, jungle-like area. The national sport centre is there. This is the best for judo! This is were I met Yasjpal, who is such an amazing and hard working person. He is so dedicated to his work, making India great in the judo world. This is the kind of person that sleeps 4h a day and looks like he does not need more.
He explained all of his projects for Indian judo and I'm pretty sure they'll work. He could get funding from the government in order to offer a very comfortable situation to his athletes. Indian judo just needs some time to grow and increase the popularity of the sport. His goal is to get world and Olympic medals from 2028 onwards. I took a full week to join in with the coaching of the team and to relax. I could also take care of myself and do some morning running without pollution. On one occasion I was chased by ten dogs, though, when I got lost!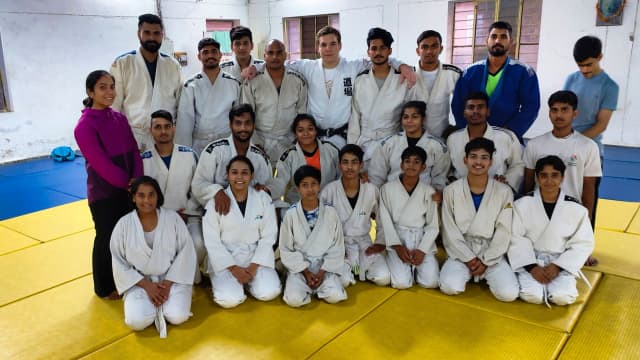 After that week, Yashpal organised my journey to Mumbai and I entered the south part of India. I met Cawas, who participated in the Olympic Games, a heavyweight. He took care of my accommodation and transportation.
I visited many places in Mumbai; everyday brought a new dojo, sometimes very early in the morning. I had to wake up around 6:00am and then finish with evening classes, always ending with a dinner together.
In Mumbai, I went to the Podar dojo as well as Mr Ravi's club. I discovered a new sport, something close to a mix of pole dance and taiso; the name is Mallakhamb. I have tried it and it is very hard! You can see here, in one of my videos! (https://www.youtube.com/@Thejudonomad)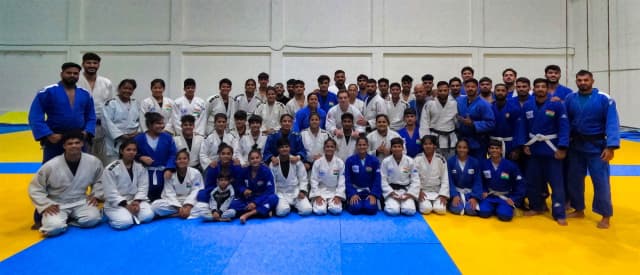 Before leaving Mumbai I visited a last dojo, the United Judo Academy. I had the pleasure to meet with a veteran in his 60s who started judo a few years ago and is now competing in veterans world championships. This proved to me again that judo is a sport for people of all ages. I met the young Ishaan Kanojia as well, who spent the last months training abroad. He won a bronze medal at the national championship. The team decided to help me with my project and participate financially. I am very thankful to meet amazing people everywhere I stop!
I took a night bus to teach in the last city of my Indian journey, Goa. This place is famous for its beach life and the parties. I wanted to go there to take some rest and have time to work on my computer as I had been so busy in Mumbai. I did judo as well and started at another national centre. I was hosted by Shivkaran in his hostel, another incredible person. He is a former judoka, with a big heart, always helping everybody.
I promised to all of those incredible people that someday I'll be back and I truly hope I will. I could not visit all of India, the east part is still unknown to me, so I might be back there someday!
India is really different from any other country in the world. I loved it but it was hard at the same time. What I can say is that I will miss it for sure!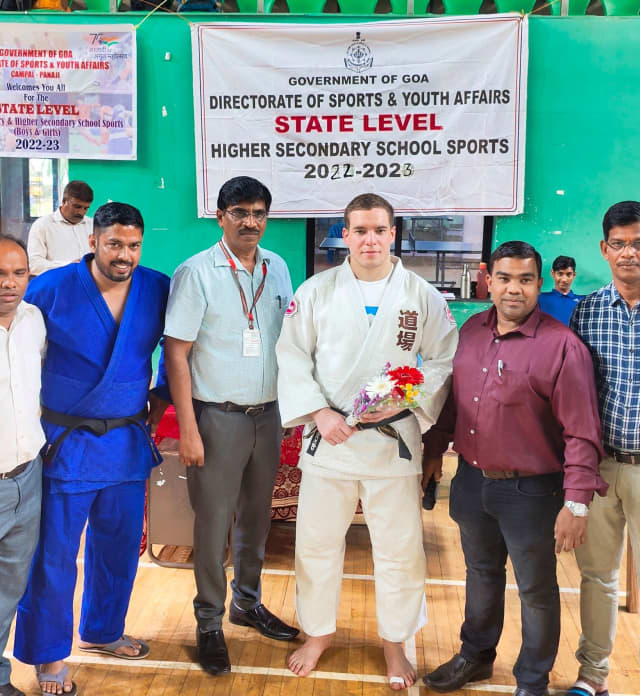 I had to move on and reach Bangladesh as soon as possible as the national championship was about to begin. I had no other choice but to fly again because the visa would not allow me to enter the country over land. I'll tell you more about it next time.
Until next time dear judo readers!
Remember that you can discover more about my journey on every social network, @Thejudonomad. I want to address a special thank you to everyone who is helping me with the 'Buy Me a Coffee' strategy (price of a coffee every month). In a bit more than one month it went from $149 per month to $380 so we will soon reach our target of $850 per month and the project will be safe, thanks to all of you!