For the 11th episode of my journey around the world, I'll take you to Bangladesh, which is the 29th country I am visiting.
This trip wasn't the easiest to plan; the country isn't very touristic and the paper work to enter is a bit of a struggle but I was lucky enough to get a lot of help from Bangladesh Judo, thanks to Farzana, Executive Committee member of Judo Federation and Kamrun Nahar Hiru General secretary. They offered me all the help needed to make it possible. It took some time to get my visa but I was not allowed to enter by land for security reasons.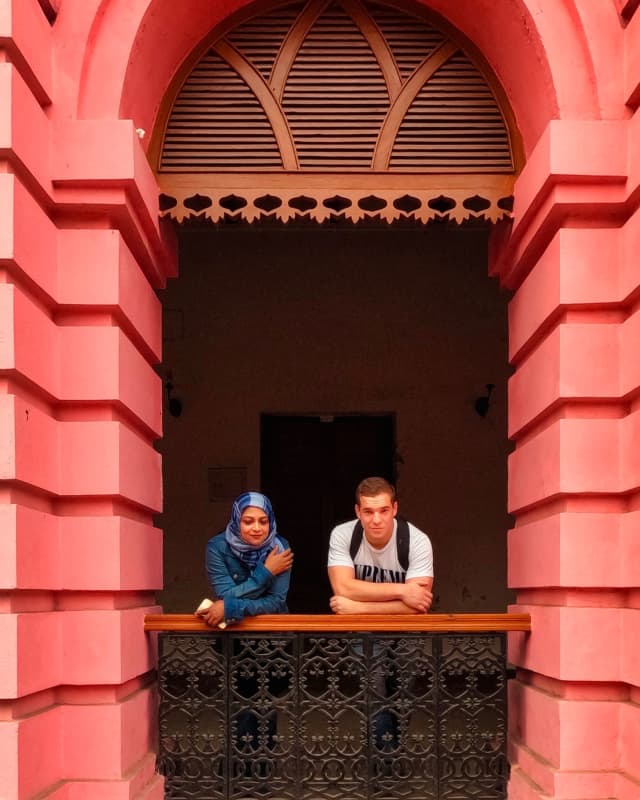 Akib also helped me with many things. He is a young judoka, still a student at university but totally dedicated to judo. He is an assistant coach to the national team. He virtually paused his life to be able to give me all I needed for a full week. He stayed with me in the sports centre, where I slept for eight days.
The people in Bangladesh are known for their incredible generosity and authenticity. Despite facing numerous challenges, they have always been ready to lend a helping hand to those in need. Whether during natural disasters, such as floods and cyclones, or simply in their everyday lives, Bangladeshis are renowned for their hospitality and kindness towards others. Their sincerity is reflected in their culture, which values honesty and humility. Bangladeshis are proud of their heritage and traditions and they are always eager to share them. From their delicious cuisine to colourful festivals and customs, there is always something to learn and appreciate about Bangladesh. In summary, the people there are truly one of a kind.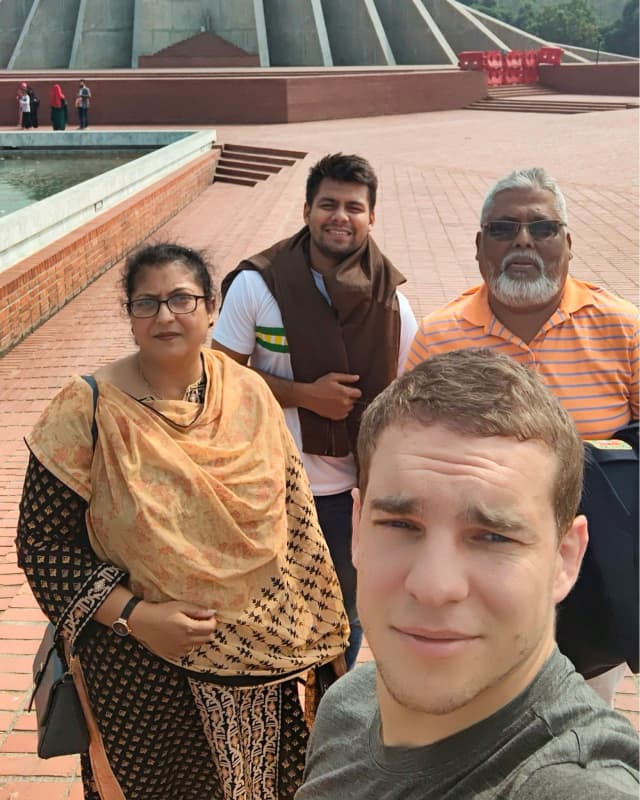 First I was invited to the national championship as a special guest and then we organised a training camp with many of the judoka. Sometimes during the competition I was asked to help with refereeing decisions and to give my global opinion about the organisation of the championship.
The first thing nice to see was the number of women. I was not expecting to see so many but they were close to 50/50 at that competition. The second is their enthusiasm, from all staff and athletes. Everybody is so eager to learn things and to improve.
Money is one of the major issues to face. This year they were lucky to find a sponsor to help organise the competition and so they even made a junior championship. There are now about 7 national competitions a year while it used to be only one or two. The new staff of the federation are very motivated.

Another problem is the lack of experience of referees and coaches. They are mostly beginners and would like to have certification but there are not many people who go to Bangladesh and this is another reason why they were so happy to welcome me. They even prepared a big flyer with my name on for the training camp. I had a really lovely time with all of them.
During the event they had a break of 2 hours for lunch and the 'Namaz' or 'Salat' in arabic. This is the muslim prayer. I was privileged to be able to go in the mosque with them and see and film it. During that short moment, I saw hundreds of smiles and friendly faces. I really liked being there.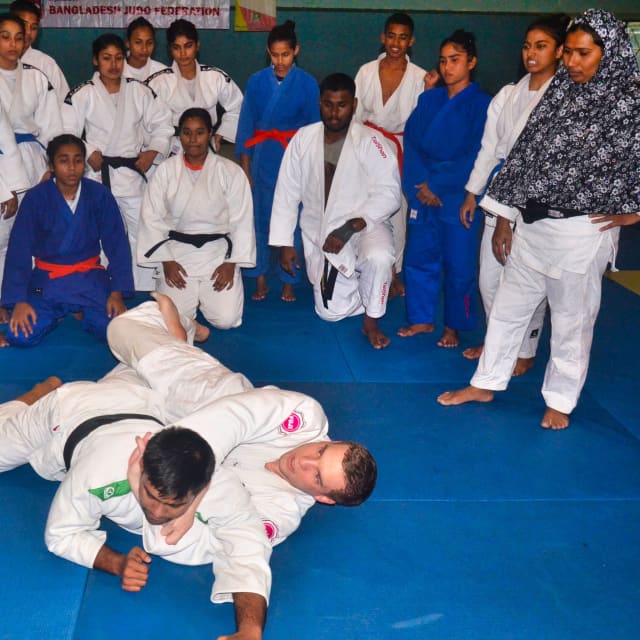 After the competition, I went to the BKSP school, which is the biggest sport school of Bangladesh and is for all sports. The students are dedicated and stay for weeks without going back home. While at the school there is no phone, it is only about study and sport. They all become part of the military and that's one of the only ways to keep doing judo as an adult after graduation. They can receive a small pension and keep practising.
The overall level was basic but I was pleased to see some judoka with very surprising techniques and skills. There is a lot of potential. One had an uchi-mata that looked very much like Shohei Ono's style, so I interviewed him.
This 17 year old man learned mostly from his teacher but he also spent hours watching videos of his favourite judoka and learned from them and obviously it works. If you are a famous international athlete and you read those lines, remember that you are the role models to so many of us around the world.  
After, I went to the university of Dhaka for a very interesting exercise for my project. First I taught judo as usual, with different athletes from beginner to more experienced ones, both judoka and jujutsuka. However, I also had two missions. For the first one, I went into a class to speak to the students about judo. Since the sport is not very popular in the country, many people didn't know what it was and one girl thought it was a sport for men only. So I shared the story of my country, France, which I believe has the strongest female team in the world. In France judo is a sport where girls are the leaders.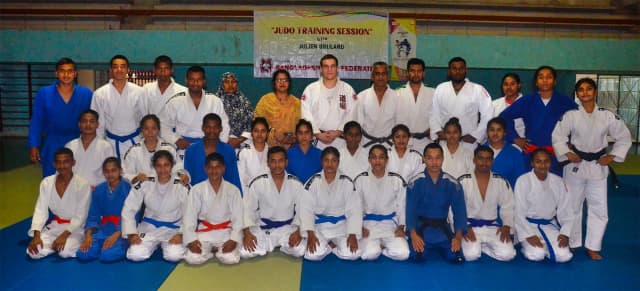 For the second mission, I went to speak with the important members of the university, like the dean. My point was to try to convince them to help judo grow more by, for instance, offering scholarships for judoka in the national team and planning their studies so they can study and train at the same time. Maybe these ideas can help in the future.


The federation members took some time to show me around. They knew it was good for my YouTube channel to make videos about different places but it was already time for me to leave. I spent the last day with Farzana, Akib and Munia who is also an executive member of federation. In total I only stayed a few days but there was a very strong connection, especially with Akib, who was with me 24/7. The Myanmar borders are closed so I couldn't go by land anywhere. I decided to go to Thailand instead. I could have chosen to fly to Myanmar but I preferred to skip it for the moment and wait for possible open borders someday. It is also expensive and although my budget is getting better, now at €450 per month thanks to all the contributors, I still can't handle travelling that way.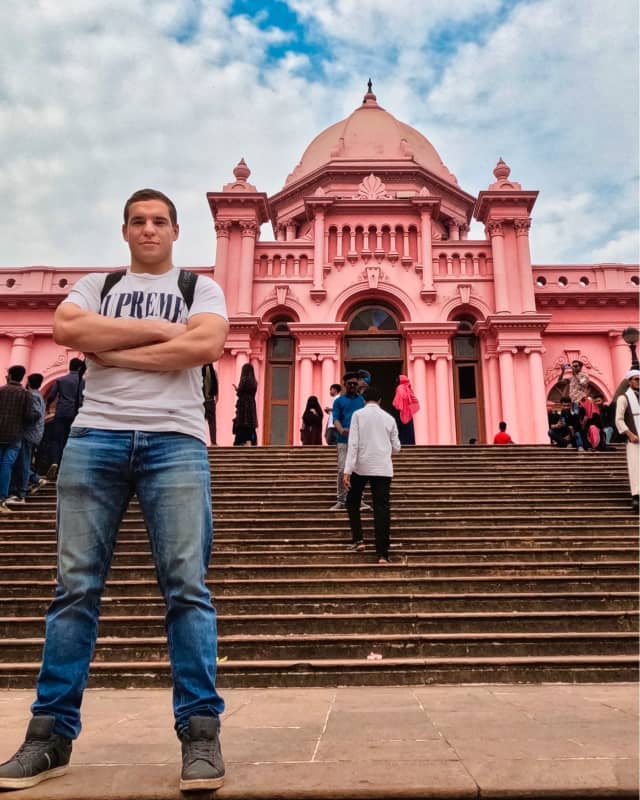 I arrived in Thailand and took one week off from judo to try to update all my videos and posts on social media.
Bangladesh was amazing, a country that people don't really know. There isn't massive tourism and everything is very real. I think I'll be back there one day as I promised. I need to see the south part as well.
Tales from Thailand will come soon but until next time, thanks for reading.