I have a confession to make. In this project, I promised myself that I would take my time to discover places. So, for the past two years, I have been travelling across the globe, at the slowest pace possible, but when my mum told me that she would be joining me in Thailand in just over a month, I made a difficult decision. I decided to speed up a bit and to travel through Southeast Asia, covering Laos, Vietnam and Cambodia within a few weeks.
I crossed the Thai-Laos border and met an amazing new friend from Canada. Together with his girlfriend, they started an eco-friendly t-shirt company called Lost and Found. I decided to support them and I offered some of his t-shirts to my supporters.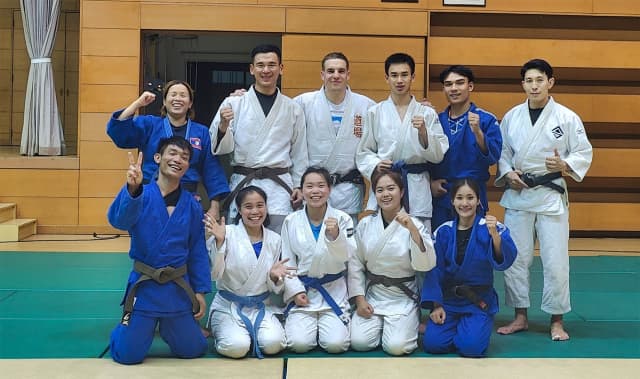 Then I visited the capital, Vientiane and the Lao Judo Budo Center where I met Kazuki, a Japanese judo teacher who came to Laos to train and teach young judoka. Kazuki reminded me of Kotaro Sasaki, a judo missionary who I met in Poland. Kazuki created the Kon Dojo in Thailand with his partner, Mo and the place has become one of the best places for judo in the country. He was focusing on Laos, aiming to develop judo there with the main target event of the 2023 SEA Games in Cambodia.
I moved to Luang Prabang, a beautiful destination along the Mekong river, where I took a few days off before taking a 30-hour bus ride to Vietnam. The Judo Cau Giay, a big judo club in Hanoi, was waiting for me. They got me a room at the last-minute and I had two fantastic nights there.
I spent a full week exploring the Judo Cau Giay club and the city. This club is one of the most developed I have seen in Southeast Asia, welcoming visitors from Japan and Korea. The atmosphere was amazing and everyone was so happy to learn. They organised a seminar with other clubs for the special occasion. I also got to explore the city and its culture which resonated with my country, France. Vietnam has two popular food delicacies, Ban mi and egg coffee, that are somehow similar to some French ones. Both are a result of the French presence during the Indochina era. Watch my video on YouTube if you want to learn more!
I decided to split my journey to Ho Chi Minh City, a 30-hour train ride away, into two parts. I first went to Hoi An, a beach city known as the Vietnamese Venice, before arriving in Ho Chi Minh City for some training with students. The coach used to study at the Paris University. She is also a journalist, so she could speak perfect French, which was very helpful!
It was time for another chapter in my world tour of judo! Next stop: Cambodia! Things didn't start off as smoothly as I had hoped. When I arrived in the capital city, I was excited to start training but unfortunately the national team was away at a camp in Japan and the locals were busy preparing for the upcoming SEA Games. I was feeling a little lost and lonely but I decided to make the most of my time in Cambodia and head to the beautiful city of Siem Reap.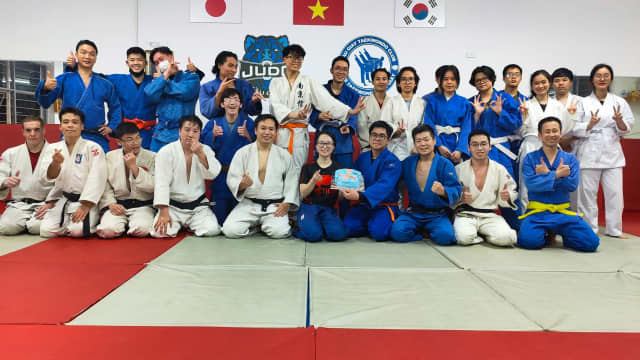 Today, Siem Reap is famous for the temple, Angkor Wat. I wasn't there for the tourist areas, though, I was there for the judo and having found a local judo club, my first mission was to give some self-defence/judo classes at a super touristy hostel called Lub D, in exchange for a room. I had the pleasure of teaching some eager people and even some judoka, who were absolutely top-notch. The real star of the show was Sophea, a truly remarkable woman who is making a huge impact through sports in Cambodia. She's working with the non-profit Kids Play International in a rural village outside Siem Reap, promoting gender equity through sports in genocide-affected countries. It's a cause close to my heart and I was blown away by her passion and dedication. Not only is she an exceptional judo teacher, but she's also a life mentor who has a lot to share. We need more people like her in this world, that's for sure.
Next up is the Angkor Yawara Dojo. This dojo is a Japanese-Cambodian school that immerses its students in Japanese culture. They take judo culture seriously. It's great to see that some foreign dojos are keeping these traditions alive, even abroad!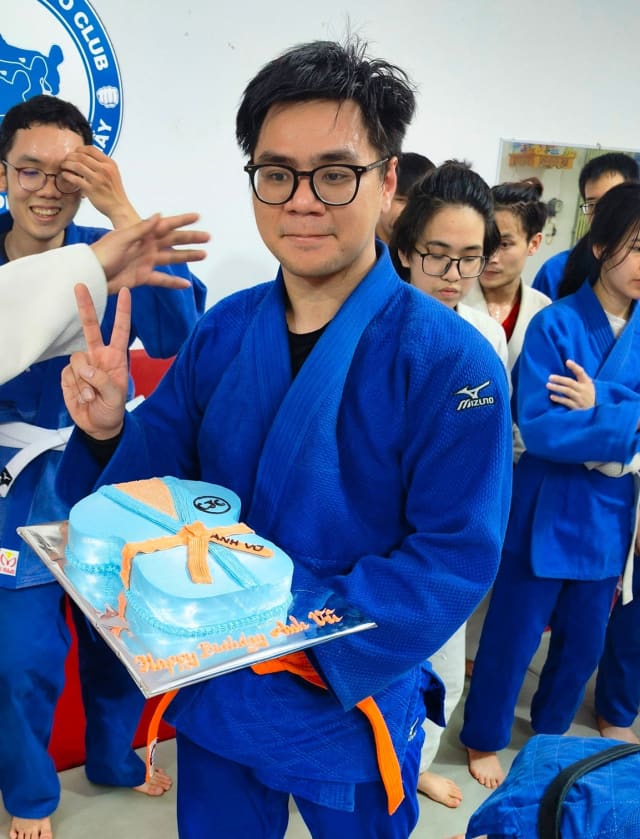 After a few amazing training sessions, it was time for my last mission in Siem Reap. I headed to a newly opened place called Ground Zero, where I introduced some beginners to the world of judo. It was a hit! It also made me realise something, that many people have heard of judo but they don't really understand it or know what lies behind it. Judo is the base of a lot of other modern martial arts but that isn't always known about. 
Being very honest for a minute, as much as I love travelling the world and spreading judo wherever I go, it can be tough being on the road all the time. I mean, I'm constantly on the move, never really settling down. So when my mum and a friend from France planned to visit me for my birthday, I was over the moon! It's nice to have a little company and a proper home base for a while.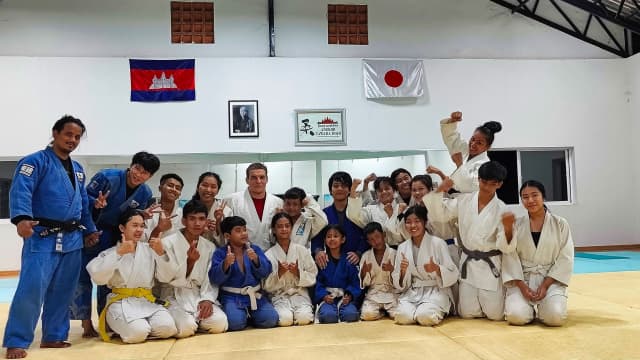 Last time I told you about the original funding strategy of 'Buy Me a Coffee' and I have some exciting updates! The community around this project is growing and the funding has reached an incredible milestone of $500 a month. To celebrate this achievement, I organised a giveaway. Thus, two lucky winners received eco-friendly shirts from the responsible brand Lost and Found. The growth doesn't stop there though. The funding has already reached $600 a month and another giveaway is on its way. However, with more expensive countries, such as Australia, New Zealand, Singapore, Japan, and Korea, on the horizon, there's a need for more funding. The budget can't currently cover these countries, although there's still hope with the search for sponsors. If you have any ideas or advice, feel free to contact me.
The adventure continues! The plan is to stay in Thailand, explore the southern region and try to find some judo there. Then, the journey will take me to Malaysia and I can't wait to tell you all about my new adventures. Stay tuned for more updates!