The idea of my journey was to travel without taking any flights but due to geo-political circumstances, the ongoing pandemic in some countries and due to the fact that I was stuck in a dead-end in Central Asia, I had no choice but to break the rule. It's an exception though and I'll keep travelling, avoiding airports as much as I can.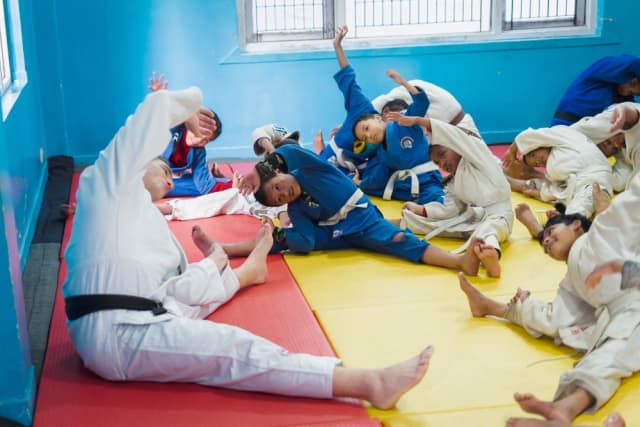 Thus, I flew over Afghanistan to reach Nepal, with high expectations; high expectations because I texted Sabrina Filmozer about my arrival and lucky me, she was there at the same time! She had challenged herself to climb Everest from sea level and she succeeded in May, while sharing judo moments along the way. I wanted to go to visit Everest Judo Club as well but I didn't realise the organisation involved and the financial organisation necessary for it so I postponed that to another time when I'll be more prepared and financially stable!
Anyway, I met Sabrina for the premiere of her 'Forever Everest' documentary, produced by the IJF, and I saw how this adventure changed her forever. Even though I had never met her before, I could feel that she was different, enveloped in Nepal. She is a truly inspiring woman, through her career, her humility and the work she keeps doing after her competitive career.
I was so happy to step foot in Nepal, for a new adventure, a new region. The start was a bit complicated as I had some misunderstandings with some of the people who helped me. I ended up in a guest house with lovely people but with very poor hygienic conditions. I stayed two days as I was too shy to say anything but then I went to a different place to prepare for the beginning of the new adventure.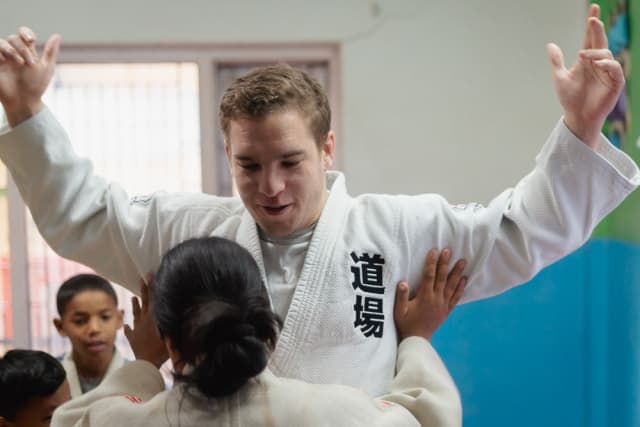 I moved around from one dojo to another, sometimes twice a day. I understood that judo in Nepal was highly linked with social projects such as inclusion in orphanages.
I first went to meet my contact, Surya, who is the coach of PAM Judo. I quickly discovered that those children were not technically orphans. PAM means Prisoner Assistance Mission. While discussing the situation with Bassta, the vice president, he explained that when the parents have no family to take care of their children, then they go to jail with them. That's one of the reasons for the existence of PAM. It takes care of children while their parents are in jail. For me it was shocking. I met lovely, smiley, cute children. How can you imagine them for a single second in jail? Aren't they already in jail with their parents away?
The next day I went with a friend, Mohan Sunuwar, to another dojo. Training is often very early in Nepal, starting at 7am, which was a bit hard for me since I often have to work until very late at night. We went to a dojo away from the city centre. There was a group of children waiting for me and the first thing I noticed was that they didn't have enough space even to proceed with the rei ceremony (the bow).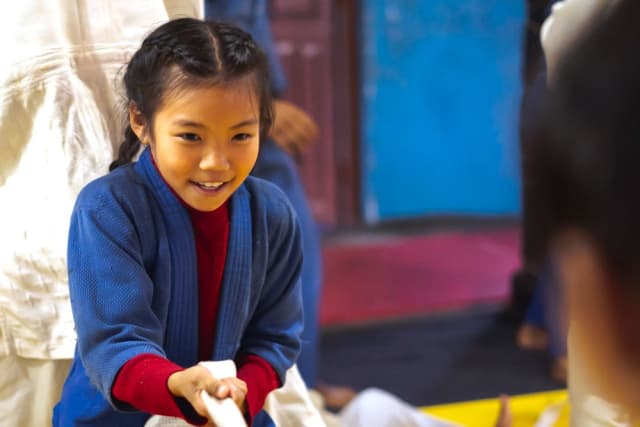 The dojo, called Shankharapur Sports Academy, was an outdoor facility. The mat was full of dust and not all the children had judogi. After the session we went to discover a temple nearby and the astonishing view from there.
I visited several other orphanages in Nepal. Every time, I was covered with gifts during special ceremonies. They always had something for me even though they had so little. Within 3 days I've been to 5 or 6 different places and I ended up where they are taking care of deaf children. They were so excited to meet me, it was crazy. Thanks to Yusuke Furuya, who is helping with many projects in Nepal, we could capture nice photos and videos, which you'll soon see on my channels. At the end of the class they started to dance and kindly engaged me to do the same; it was an amazing moment.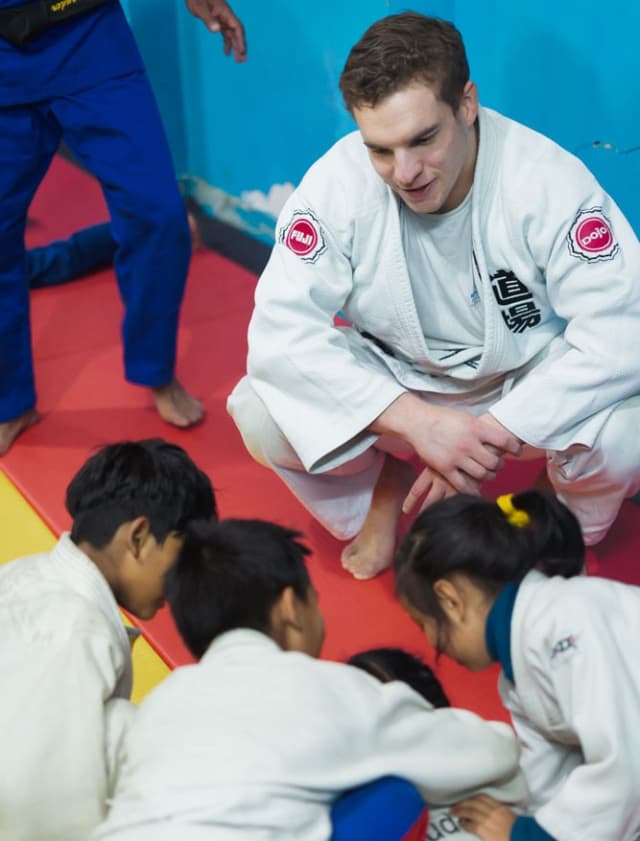 From that day it started to be hard emotionally, seeing those children so happy and yet having such a hard life. The fact that they have handicaps or lose their parents is already very hard but the conditions they are living in are so tough. It was a weird feeling, like I didn't understand how it could be possible to be so happy in their conditions. I have never seen such cheerful judoka in my own country and yet in France people are living in paradise compared to here. I was confused about those feelings. Usually I try to stay strong, do what I can to help and swipe away these kinds of thoughts. I decided to take a little break from this place. The city of Kathmandu is busy, polluted and hectic. I needed to get some fresh air to work on my project and also see some of the beautiful nature of Nepal. I visited one last dojo, though, not knowing that it would be the one that would tear me open.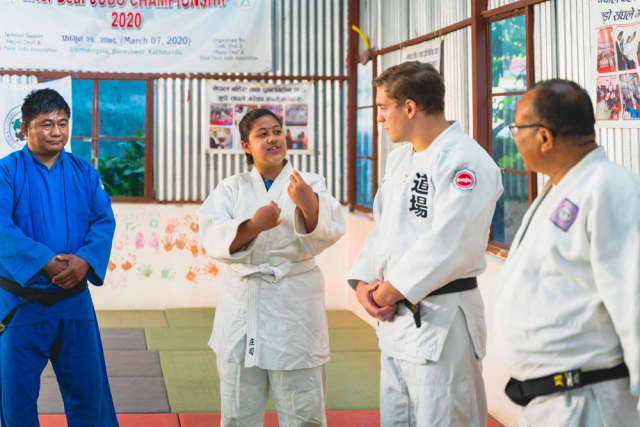 I went to one last orphanage. This one was for children who lost their parents during the 2015 earthquake. It is called Patanjali Judo Club. The particularity here is that they do judo and yoga and from the show they gave me I could see quite a good level! The children kind of initiated me by drawing the Tika on my forehead. They explained that it would help me to see more clearly. Once again they were very enthusiastic and there are no words to describe the happiness they were sharing.
The next day I took a bus to Pokhara, 200km away, a 9-hour journey. It was the most bumpy road I've ever seen and half of the bus passengers were sick. It was not a very pleasant experience.
I had decided to learn more about the earthquake that made those children orphans. Before going to Pokhara I had downloaded a documentary called Aftershock. It explains everything about the earthquake. In 2015 Nepal experienced their worst catastrophe, which killed nearly 9,000 people and left over a million people homeless. Today you can still see the scars in Kathmandu.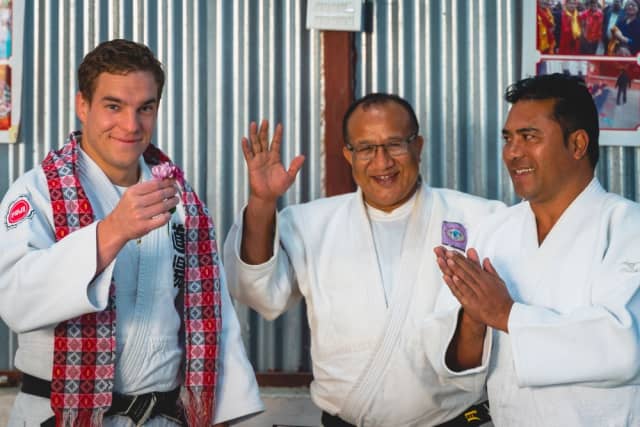 I was alone in the back of the bus, as I was watching the documentary. I couldn't hold myself, thinking of the children I had just met who had to go through something like that. It was about them, the children of prisoners, the other orphans. They have such terrible traumas and yet there is no way you can read it on their happy faces. I hid myself and had to let the tears go while watching the documentary. Coming to Nepal and meeting those children was something very educational.
I'm so happy that I could share those moment with you through the articles published on the IJF homepage. I wish to do so much more, to have the power to take action to help the people I have met along the way.
Nepal is an example of what ecological disaster can do. It's one of the most beautiful countries in the world but the education around ecology seems to be non-existent. In most places there are no rubbish bins in the streets and most of the people just throw their plastics and different things anywhere. On the way, I was watching the scenery of the mountains and beautiful rivers. Talking with one young passenger, we agreed that it was outstandingly beautiful but after finishing his soda he threw the container it in the river.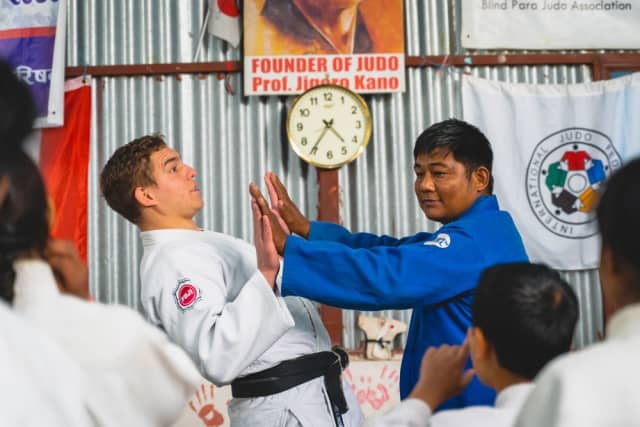 I arrived in Pokhara with a plan to stay there a few days, to edit my videos and do some paperwork before going for a little two day hike. Even though I was working, I took an hour per day to do some running and working out. These exercises were not possible in Kathmandu because of the pollution and not recommended in Dushanbe for the same reasons. Those two cities have some of the worst polluted capitals in the world.
The nature was amazing around Pokhara. I couldn't wait to climb the mountains I could see around me but then me and many people from the hostel became very sick, most likely from food poisoning. I was very sick for 24 hours but still alright compared to some of the others, a few went to hospital. It took me 10 days to get back to normal and because of that I couldn't hike and I had to come back to the capital to be able to travel to India.
In Kathmandu, Dharma Kumar was waiting for me. He helped me along the journey, to plan everything with Mohan and Surya. Dharma combines his job at the federation with two other jobs but still he managed to give me a lot of his time. Thank you to him and the others for that. He took me to the Kathmandu Metropolitan City Martial Arts Center where the national judo team, who are in the military, train. I was surprised to see such a big and clean dojo. Thanks to the collaboration with Japan they had really good infrastructure. I managed to give the last class even with my stomach problems. I was helped by a judo player with whom it was easy to communicate because they were speaking French, English and Japanese.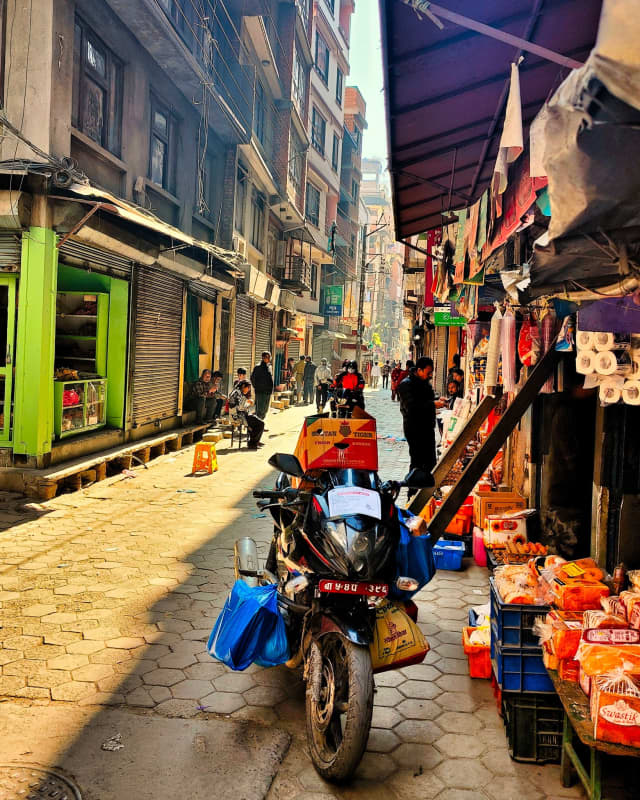 We had a last meal together, just rice for me and then I went to the airport with Dharma. Yes, it was an airport again because this time I couldn't get the land visa to India so I had to get the one year E-visa, meaning I could only fly to India.
In the meantime I lost my main sponsor, Fightscout. They were giving me 500$ a month. That, plus the donations, meant I had around 650$ a month. It was not enough but I didn't have to spend a lot from my own pocket so I was quite comfortable that way.
I made a post on FaceBook explaining the BuyMeACoffeeStrategy where I ask people to donate 1$ a month to this project. Currently my salary is approximately 150$ per month. I need about 800$ to make it work, so there will be updates in 2023 to try to get close to that amount. Meanwhile you can donate on my tipeee website or by directly contacting me if you want to support with 1$ https://linktr.ee/julienbrulard_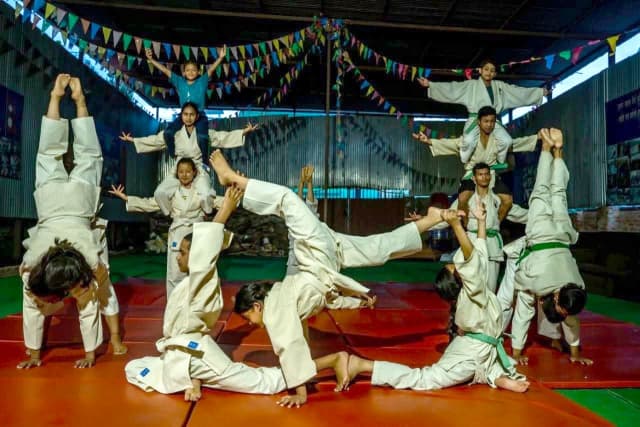 I remind you that I also need contacts everywhere and I enjoy just answering your questions or talking to you!
I felt bad for the Nepalese because of their recent history and seeing the conditions they live in but I had not imagined what was waiting for me in India. It was again another level and I'll tell you about it more in two months time, after my break with my family.
I want to go to Sri Lanka and Bhutan and then I'll keep going east. Sri Lanka is one of those countries that is only reachable by air and so I'll go there only depending on my financial situation.
Tajikistan and Nepal are among the poorest countries I've seen. They are culturally radically different but still I met wonderful people, people who have the most authentic smile and only look for happiness and a better life situation. They all gave so much to me while most of them have barely anything for themselves. Judo is a true escape from the reality of their conditions and we must do all we can to help them to make our sport grow in their countries.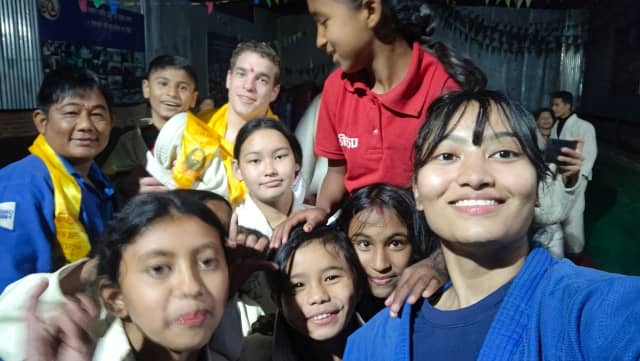 I will be back in France for Christmas to see my family, being there for the 500th day of the project. I need to take a break and from there I will tell you what is coming in 2023.
As I expected I already learned a lot about judo, about people, their history and cultures, about myself and humanity in general. There is that feeling that I did so much, learned so much but at the same time, so little. I don't regret having started this project and I'm always as excited to keep going. My only fear is to stop this because of the finances.
Until next time, dear readers!