LIFT OFF FOR THE HEAVYWEIGHTS AS JAPAN FINISH WITH HALF OF THE GOLD MEDALS
The fourth and final day of Junior World Championships' individual competition produced fireworks in the heavyweight divisions as Russia grabbed their first gold while Azerbaijan added a second and Japan won two more titles at Zagreb's Dom Sportova Arena.

After 12 categories and three days of pulsating judo, it was finally the turn of heavyweights on Saturday who contested the four remaining weight categories (-78kg, +78kg, -100kg and +100kg).
Eight countries were able to break through the pack to win gold in Croatia and eight is also the amount of gold medals attained by Japan. Their 14-medal haul would be inconceivable for every other nation but thus is Japan and they are rampant at all age groups at the moment.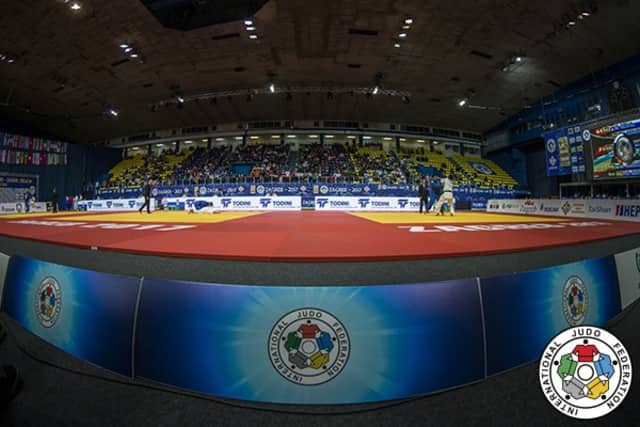 Zagreb's Dom Sportova has staged a Grand Prix and now the Junior World Championships this month
Azerbaijan were the only other country to win more than one gold as their two world titles, two silver medals and one bronze saw them finish second in the medal table. Russia rallied on day four to scoop gold which sent them skyrocketing up the table to third place as they added to their modest haul of two silver and two bronze medals.
Japan surpassed their 2015 total of 12 medals (six gold, four silver and two bronze) and three more nations claimed medals this year with 25 of the 82 competing countries winning medals in the individual competition.
JUDO LEGEND ILIAS ILIADIS (GRE) ENDS RETIREMENTTO FIGHT AT OPENWEIGHT CHAMPIONSHIPS
Judo's youngest male Olympic champion and three-time world champion Ilias ILIADIS (GRE) has announced that he will come out of retirement to fight at the Openweight World Championships next month in Marrakech, Morocco.
ILIADIS, 30, won the Athens 2004 Olympic Games at age of 17, and enjoyed an illustrious career during which he became one of the most iconic judoka of all time.
After 12 years at the top of the sport, as one of judo's standard bearers and one of the faces of the IJF World Judo Tour, ILIADIS retired after competing at the Rio 2016 Olympic Games and has since been integrated into the IJF's global development activities.
The Greek great was part of an IJF delegation that travelled to Asia in the summer to film the Mongolian episode of the award-nominated #JudoWorldForTheWorld video series.

Clickhere to watch #JudoForTheWorld Mongolia
ILIADIS, who himself was in Zagreb three weeks ago for the Grand Prix and ran a superstar seminar alongside Sydney 2000 Olympic champion Mark HUIZINGA (NED), appeared this week on the entry list for the revived Openweight World Championships on Judobase.org which set the internet abuzz with excitement and his return was officially announced on Saturday.
The Openweight World Championships, which takes place at the Palais des Congrs from 11-12 November, has a total prize money of 500,000 with the two gold medallsits each scooping 100,000.
The Openweight category was part of the Olympic programme until the Los Angeles 1984 Olympics and an Openweight World Championships last took place in 2011 in Tyumen, Russia.
Double Olympic champion Teddy RINER (FRA) will be bidding for a record 10th world title in Morocco but it's not just +100kg judoka will who be vying for world honours. Rio 2016 Olympic silver medallist Varlam LIPARTELIANI (GEO) and Olympic bronze medallist Cyrille MARET (FRA) will step up from -100kg while there are heavyweight stars aplenty in both the men's and women's categories.
Clickhere to see the currently entry list
The Junior World Championships 2017 will reach a dramatic and trilling conclusion on Sunday with the third edition of the Mixed Team competition which will appear at an Olympic Games for the first time at the Tokyo 2020 Olympic Games.
The draw for the first Mixed Team competition in this age group took place at the Dom Sportova on Saturday afternoon ahead of the opening ceremony.
Clickhere to see the daw for the Mixed Team competition
Hosts Croatia were drawn against Mongolia while the first Mixed Team champions Russia, who won the Cadet crown In August, face Austria and Japan, who took the senior title in Budapest, start against Australia. It's a full house in the competition as 16 teams will take part with Georgia v Netherlands and France v Brazil also among an intriguing set of first round matches.
Dr. Sanda CORAK (below - far right), Croatian Judo Federation President, took the stage following the draw, to mark the beginning of the opening ceremony.
The Croatian anthem was observed during the opening ceremony

"Dear Mr. Prime Minister, dear guests, on behalf of the Croatian Judo Federation I welcome you all to Zagreb for the Junior World Championships," said the recipient of the Best Development of a National Federation Award during the IJF Gala in Budapest on the eve of the 2017 Suzuki World Championships.
Thank you to the city of Zagreb, the Mayor of Zagreb and the IJF for all of your support to host this event. This week is not just an opportunity to crown champions but we also see it as a chance to make new friends through this wonderful sport.
"I wish everyone a wonderful time in Zagreb and wish you a safe trip home."
Mr. Vladimir BARTA (above - far left), IJF Head Sport Director, said: "Mr. Prime Minister, Mr. Mayor, dear Dr. Sanda CORAK, dear all, thank you to the city of Zagreb and the Croatian Judo Federation for the wonderful organisation of the Junior World Championships 2017. It's already been an excellent competition, I wish you luck for the remainder and hope you all enjoy the judo."
Mr. Andrej PLENKOVIC (above - right), Croatian Prime Minister, said: "Dear all, we are very pleased and proud to be staging the Junior World Championships in Zagreb. Judo dates back over 70 years in Croatia and is a sport which can be practiced by anyone with no limitations. You fall down and you stand up again, this is the first lesson you learn in judo and this a lesson for life. Thank you everyone for supporting this event, thank you to the sponsors, I wish you all a fair competition and I officially declare the competition open."
JUNIOR WOMEN
-78kg: Unstoppable UMEZU leads the way with ippon judo
All Japan Junior Championships gold medallist UMEZU Shiyu (JPN) defeated Bratislava European Cup winner Teresa ZENKER (GER) to win -78kg gold on Saturday. The Japanese judoka was irresistible as she won all five of her fights by ippon in the finest moment of her burgeoning career. UMEZU overpowered ZENKER on the ground to apply a ushiro-kuzure-kesa-gatame hold to maintain her perfect run and throw her name into the hat for a place among the Japanese team for the final Grand Slam of the season in Tokyo this December.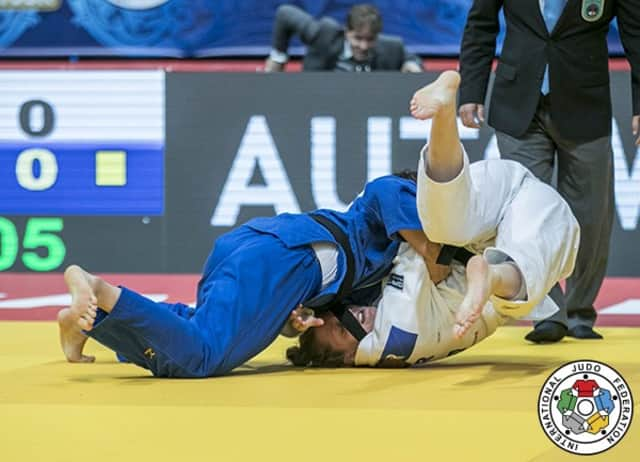 In the first semi-final ZENKER defeated Junior European Championships bronze medallist Lea GOBEC (CRO) in osaekomi as Germany's late flourish continued and Croatia's last remaining medal hope switched her focus to bronze. In the second semi-final Cancun Grand Prix bronze medallist Karen LEON (VEN) was trapped on the ground by UMEZU for 20 seconds as the Japanese dictated the contest from start to finish.

The first bronze medal was won by Junior European Championships silver medallist Marina BUKREEVA (RUS) who held down LEON for the full 20 seconds and ippon.
The second bronze medal was claimed by 18-year-old former Cadet European Championships silver medallist Patricia SAMPAIO (POR) as Croatia missed out on a medal at their last attempt. Neither country had medalled in Zagreb this week and the hosts were silenced when SAMPAIO throw their judoka for a waza-ari in golden score.
Final
ZENKER, Teresa (GER) vs UMEZU, Shiyu (JPN)
Bronze Medal Fights
BUKREEVA, Marina (RUS) vs LEON, Karen (VEN)
GOBEC, Lea (CRO) vs SAMPAIO, Patricia (POR)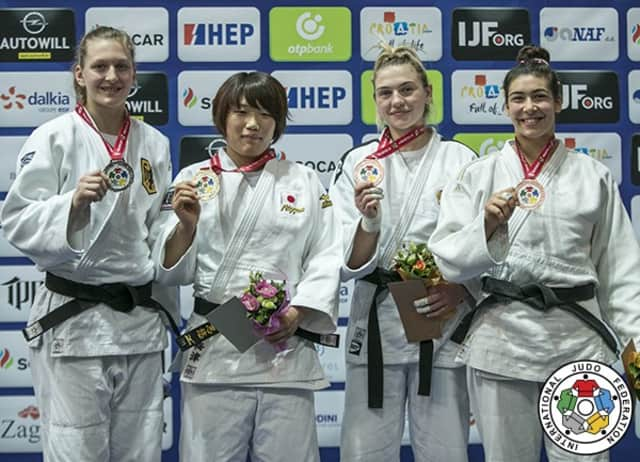 Final Results

1. UMEZU, Shiyu (JPN)
2. ZENKER, Teresa (GER)
3. BUKREEVA, Marina (RUS)
3. SAMPAIO, Patricia (POR)
5. LEON, Karen (VEN)
5. GOBEC, Lea (CRO)
7. SON, Jeongyeon (KOR)
7. HOELTERHOFF, Julie (GER)

+78kg: Japanese cadet SONE takes the fast lane to junior glory
Dsseldorf Grand Prix bronze medallist SONE Akira (JPN) dispatched her compatriot KODAMA Hikaru (JPN) to win her second world title and first at the junior level. SONE, 17, won the Cadet World Championships on 2015, skipped the u18 Championships this year in order to focus on her Junior worlds bid and that proved to be the right decision as the Tokyo Grand Slam silver medallist beat a newcomer to the IJF stage in 19-year-old KODAMA. A left-sided makikomi effort was the only score of the contest and was in the favour of the younger judoka who is again set to be a major contender at her home Grand Slam in December.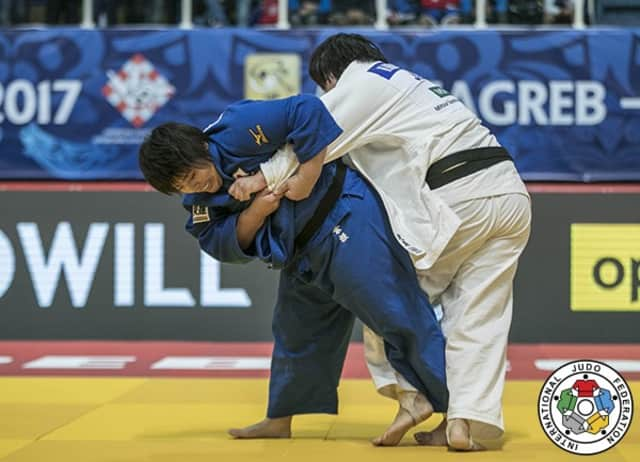 In the first semi-final KODAMA threw former Cadet European championships silver medallist Anita FORMELA (POL) with a textbook uchi-mata after 45 seconds for ippon. In the second semi-final SONE held down 17-year-old Junior Asian Championships winner Kamila BERLIKASH (KAZ) for 20 seconds for a straightforward victory to move into the gold medal contest.

The first bronze medal was claimed by 20-year-old two-time Havana Grand Prix competitor Eliannis AGUILAR (CUB) who drove BERLIKASH over with a ko-soto-gake for ippon. AGUILAR, who lost her opening contest at the senior World Championships in August, won her country's second medal of the competition as their women finished with two medals from three competitors.
The second bronze medal contest was won by senior Pan American Championships gold medallist Beatriz SOUZA (BRA) after FORMELA received her third shido after an insipid display.
Final
KODAMA, Hikaru (JPN) vs SONE, Akira (JPN)
Bronze Medal Fights
AGUILAR, Eliannis (CUB) vs BERLIKASH, Kamila (KAZ)
FORMELA, Anita (POL) vs SOUZA, Beatriz (BRA)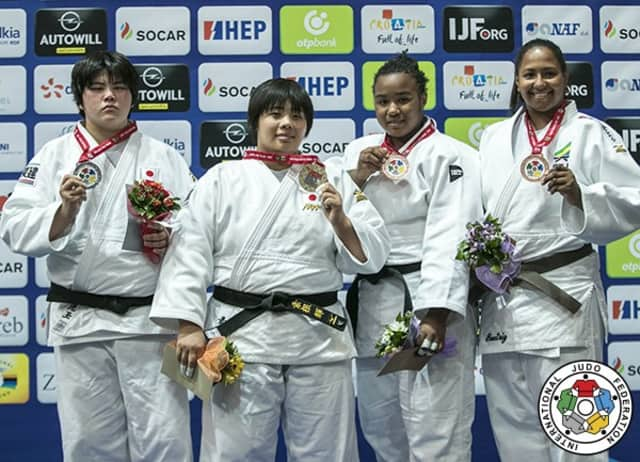 Final Results

1. SONE, Akira (JPN)
2. KODAMA, Hikaru (JPN)
3. AGUILAR, Eliannis (CUB)
3. SOUZA, Beatriz (BRA)
5. BERLIKASH, Kamila (KAZ)
5. FORMELA, Anita (POL)
7. BAUERNFEIND, Ina (GER)
7. SOMKHISHVILI, Sophio (GEO)
JUNIOR MEN
-100kg: Azeri KOTSOIEV doubles his country's golden medal haul
Junior European Championships winner Zelym KOTSOIEV (AZE) beat Junior European Championships silver medallist Arman ADAMIAN (RUS) in the same final and same outcome from the continental offering in the -100kg category. KOTSOIEV looked lively and highly-motivated during his preliminary contests and had the conditioning to push his opponent ADAMIAN onto the backfoot in the final minute before throwing with a sumi-gaeshi for a waza-ari score which proved to be decisive.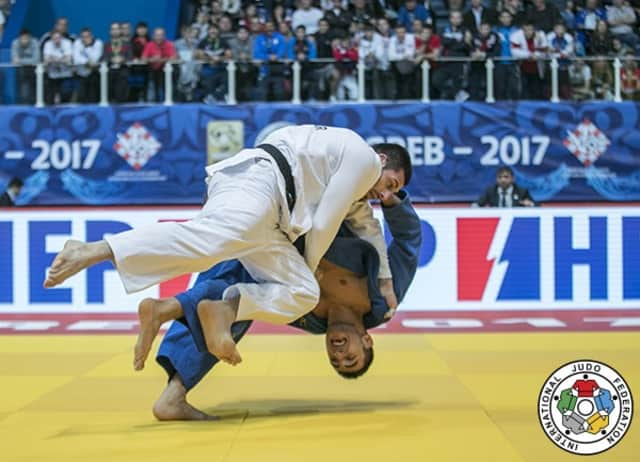 In the first semi-final Junior Pan American Championships winner John JAYNE (USA) was beaten by ADAMIAN by ippon after the Russian initially led by a waza-ari score.

In the second semi-final KOTSOIEV (AZE) defeated 20-year-old Junior Asian Championships silver medallist Temur RAKHIMOV (TJK) with a thunderous osoto-gari for ippon at the halfway mark.
The first bronze medal was clinched by RAKHIMOV after Junior European Championships bronze medallist Daniel ZORN (GER) picked up a third shido after one minute of golden score for dropping.
The second bronze medal was won by 18-year-old uchi-mata specialist YAMAGUCHI Takaya (JPN) who threw JAYNE with an osoto-gari for ippon.
Final
ADAMIAN, Arman (RUS) vs KOTSOIEV, Zelym (AZE)
Bronze Medal Fights
ZORN, Daniel (GER) vs RAKHIMOV, Temur (TJK)
JAYNE, John (USA) vs YAMAGUCHI, Takaya (JPN)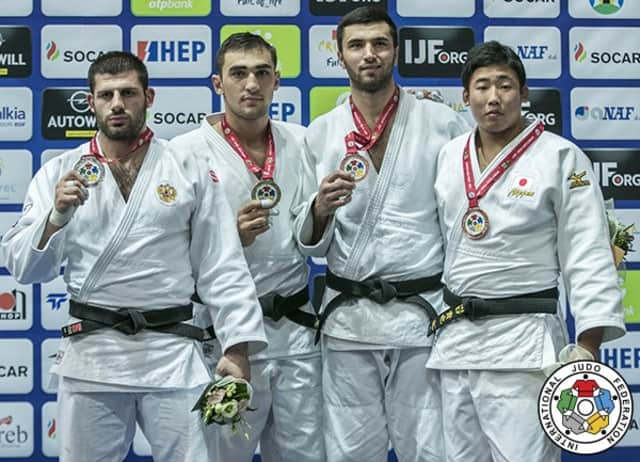 Final Results

1. KOTSOIEV, Zelym (AZE)
2. ADAMIAN, Arman (RUS)
3. RAKHIMOV, Temur (TJK)
3. YAMAGUCHI, Takaya (JPN)
5. ZORN, Daniel (GER)
5. JAYNE, John (USA)
7. ODBAATAR, Khangal (MGL)
7. FARA, Aaron (AUT)
+100kg: TASOEV holds on for Russia's first gold against RINER's latest opponent
Junior European champion Inal TASOEV (RUS) ruled the world for Russia to ensure that one of judo's powerhouse nations did not leave without winning the most cherished colour medal of them all. Free-scoring TASOEV, 19, worked over the scoreboard as much as he did his opponents as he accumulated three ippons and seven waza-ari in just four contests. Zagreb Grand Prix silver medallist HEGYI Stephan (AUT) could not alter the outcome from the Junior European Championships as he fell behind to two quick waza-ari scores. TASOEV was swift and forceful in his attacks but that waned in the second half of the final. HEGYO, 19, pulled one waza-ari back with a te-waza action when the Russian was off balance after a half-hearted attack but held on for gold in the last individual final of the competition.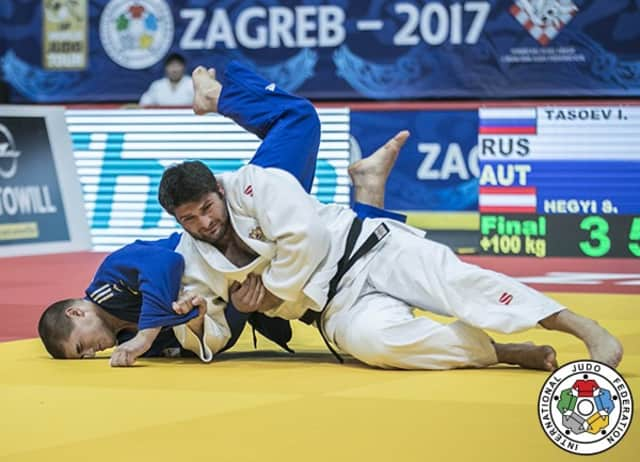 HEGYI took silver in the same venue just three weeks ago when he won three contests to then lock horns with the France's king of heavyweights Teddy RINER (FRA). The young Austrian defeated Rio 2016 Olympic silver medallist HARASAWA Hisayoshi (JPN) at the senior World Championships and most recently KAMIKAWA Daiki (JPN) -- the last man to beat RINER -- en route to facing the nine-time world champion at Croatia's Grand Prix. Openweight World Championships-bound HEGYI earned the praise of RINER for his spirited but losing effort and has time and years of growth ahead of him.

In the first semi-final TASOEV swept past Junior Asian Championships bronze medallist Alisher YUSUPOV (UZB) with a tate-shiho-gatame hold. The Russian had three waza-ari scores next to his name including a neatly executed sumi-gaeshi before pinning down the overmatched Uzbek to secure a place in the final. In the second semi-final European u23 Championships bronze medallist Jur SPIJKERS (NED) lost out to HEGYI on the ground as the powerful Austrian held down his Dutch opponent for 20 seconds.
The first bronze medal was won by 20-year-old osoto-gari specialist KAGAWA Daigo (JPN) who salvaged a medal after his semi-final defeat. SPIJKERS was trapped in a kuzure-kesa-gatame hold as the Japanese, who had caught the eye during the preliminaries with his wide repertoire of techniques, won Japan's 14th and last medal of the individual competition.
The second bronze medal was captured by 19-year-old Junior Euroepan Cup winner Enej MARINIC (SLO) with a stunning come-from-behind win over YUSUPOV. The Slovenian equalled the score with a waza-ari in the closing seconds to force golden score and dropped under his Azeri opponent for a match-winning score after just seven second of added time.
Final
HEGYI, Stephan (AUT) vs TASOEV, Inal (RUS)
Bronze Medal Fights
SPIJKERS, Jur (NED) vs KAGAWA, Daigo (JPN)
YUSUPOV, Alisher (UZB) vs MARINIC, Enej (SLO)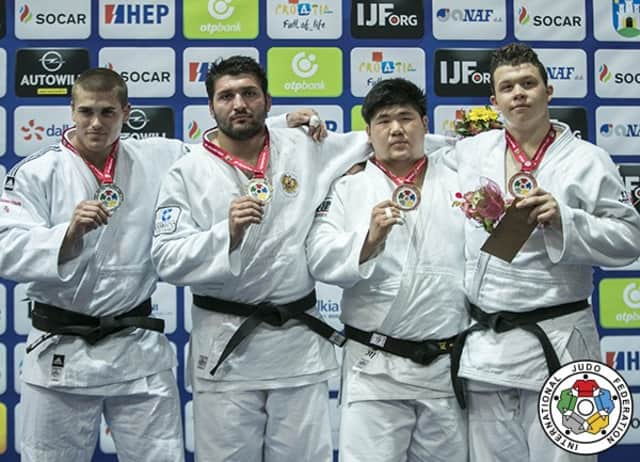 Final Results

1. TASOEV, Inal (RUS)
2. HEGYI, Stephan (AUT)
3. KAGAWA, Daigo (JPN)
3. MARINIC, Enej (SLO)
5. SPIJKERS, Jur (NED)
5. YUSUPOV, Alisher (UZB)
7. BARBOZA, Arthur (BRA)
7. BATJARGAL, Lkhagvadorj (MGL)
COMPETITION PROGRAMME
Sunday 22 October - Mixed Team Competition
11:00 Preliminaries on three mats
17:00 Final block on two mats
Location: Dom Sportova