Twenty-six nations have sent their kata specialists to Krakow, Poland, for the 2022 World Championships Kata. Close to 250 judoka arrived ready to to fight for world medals in a totally different way from those earned in the previous days of the veterans event.
Looking at a few moments from the event and the pairs competing, the Brazilian juno-kata team caught our eye on the preliminary round. Nadia Hori and Roberto Pereira (BRA) placed 4th in 2018 in Mexico and 6th in 2019 in South Korea but in May of this year they reached the top of the podium, winning gold in the Pan American Kata Championships for their favourite event, juno-kata. Salvador Bahia was the host location, meaning the pair were competing at home, bringing comfort and a sense of ease, no doubt.
In Poland it was time to translate that level of excellence to the world stage but it wasn't clear-cut, with an entry from Romanian pair Alina Zaharia and Alina Cheru to really spice things up, among a very capable field. The Romanians took silver in 2019 at the Worlds in South Korea and also in Mexico in 2018, but they also have 5 world championship bronzes and are hunting for the illusive gold. Additionally, as if the notes already made weren't enough, they also have 12 European titles and a formidable bank of experience to brandish as a weapon on a stage such as that built in Krakow.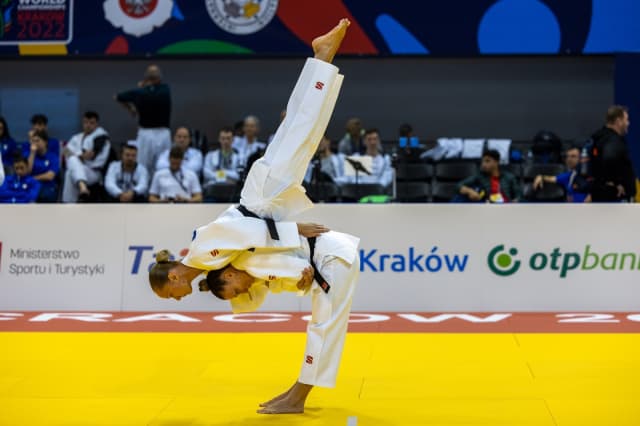 The styles of performance were very different with an attacking energy from the Brazilians and an extremely smooth delivery from their European counterparts and it was the later in favour. The Brazilian pair made some unexpected errors and didn't make it to the afternoon session but the Romanian team were there in the final block, front and centre. Statistically it became probable they would reach yet another rostrum but which colour medal would it be?
Spain, France and Germany each sent strong teams, all reaching the final and Italy had two pairs in the final. Certainly these countries are benefitting from having national support, national coaches and some financial backing.
In an all European battle for the title, the Romanian pair scored well and went to the top of the day's ranking but there was still an Italian team to come out. They weren't good enough to take that top spot though. Alina and Alina were delighted to win the gold and at last become world champions, to accompany their 12 occasions being European champions.
Senior juno-kata
1 Alina Zaharia and Alina Cheru (ROU)
2 Aleksandra Nuzzi Herrero and Andrea Nuzzi Herrero (ESP)
3 Wolfgang Dax Romswinkel and Ursula Loosen (GER)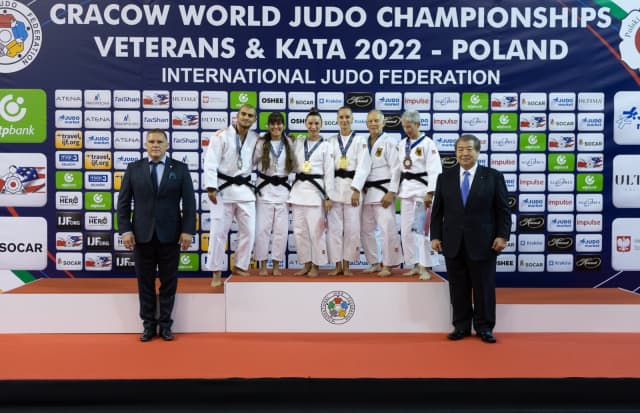 Senior nage-no-kata
1 Glatenferd Escobar and Miguel Bermudez (COL)
2 Yosuke Akasaka and Daisuke Wakana (JPN)
3 Antonio Marin Gomez Nieves and Eduardo Ayala Torrado (ESP) ,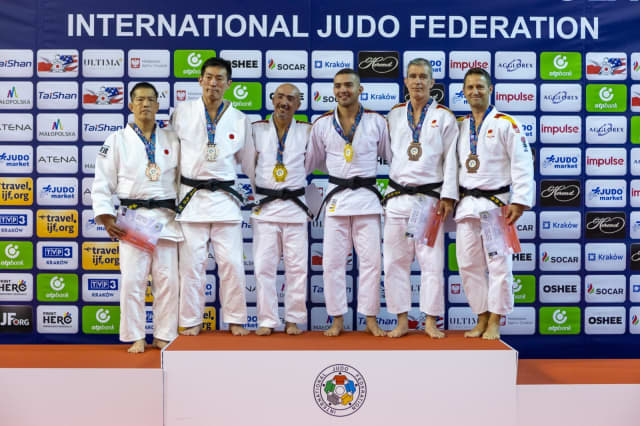 Senior katame-no-kata
1 Tycho Van Der Werff and David Lefevere (NED)
2 Miriam Sikora and Christian Steinert (GER)
3 Shane Roonet and Kang Xiao (CAN)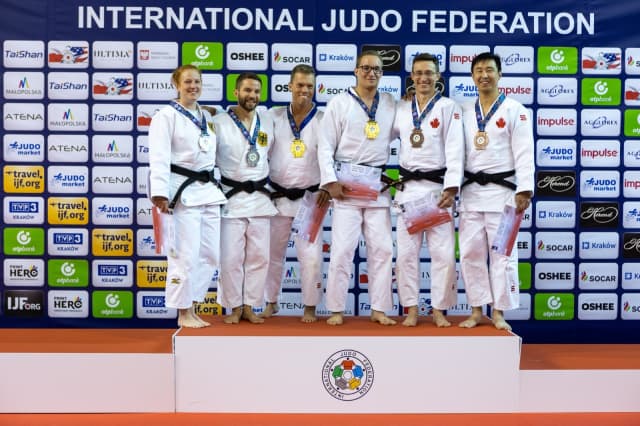 Junior nage-no-kata
1 Victoria Kraska and Dylan Meddour (FRA)
2 Zachary's Pauchon and Al Pauchon (SUI)
3 Sonja Schacht and Bennett Brandes (GER)