We all do it! We all look at a competition draw and hope our players will have the little guy, the underdog.
We want to train with the best and to reach the podium we want to beat the best, but maybe, just sometimes, we want a first round contest against someone who won't challenge too hard, to get our pace up and to work through the nerves. But what if the little guy is getting better, taking steps to fulfil their own dreams? What if they're goal-driven and thoughtful and resourceful? What if they have not only their own targets on the line, but the kudos of a nation hanging in the balance too?
Gabriella Wood of Trinidad and Tobago is 22 years old and comes from an island where the Olympic Games is a target for those in athletics, not Judo. Inspiration comes in many forms though and the light shone on judo for Gabriella when fellow islander Christopher George made headlines at home, competing at the 2014 Commonwealth Games and then qualifying for the 2016 Olympic Games, both firsts for any TTO judoka.
Gabriella had been participating in extra-curricular judo lessons at school, but her attention was drawn to the international side of the sport through Chris' well-publicised journey.
In 2015 Gabriella was taken to Panama as a member of the TTO team to compete at the Junior Pan American Championships and she came away with a silver medal. It was here that she began to think that this is the stage on which she wants to perform, it became a career plan.
As with so many smaller nations the biggest barrier has been funding. The TTO federation has no major income stream and relies on donations and frugal spending. So, with a full calendar ahead for his daughter, Gabriella's father, Brian Wood, set up the 'Friends of Judo Foundation,' a charitable organisation, working to fund an elite judo programme for Trinidad.
For 6 months Gabriella was supported by the IJF at the training centre in Hungary, giving her exposure to European judo styles and training methods. She then travelled to the UK to visit family and friends and undertook some training at the Scottish National Centre in Ratho. While there she was asked to participate in an international team event, travelling to France with a groups of Scottish judokas and it was then that she met Lee Calder, a development coach in Scotland, with particular expertise in heavyweight judo. The TTO federation had expressed an interest in Gabriella training more permanently in Scotland and the natural step was for her to begin working with Mr Calder as her personal coach. This relationship is growing stronger by the day!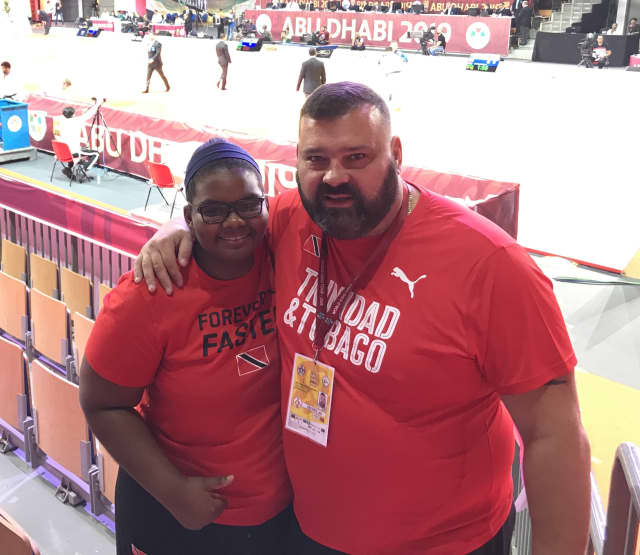 Their short term goal is to qualify for the 2020 Olympic Games, as a learning experience. Beyond that is the 2022 Commonwealth Games and then of course the 2024 Olympics, where Gabriella would want to be a real contender.
Until very recently Our heroine was in qualifying position via the Continental quota for Tokyo, but has just been overtaken by an athlete from Nicaragua. This really puts the pressure on and so here she is, in Abu Dhabi.
Tomorrow she will compete at +78kg, taking on an Indian opponent in the first round. This is a rematch of the final of the Commonwealth Tournament, held only a few weeks ago in England.
You can keep up with all the action via the IJF website.