Michael (Mick) Leigh is 90 years old today, a party is deserved! Maybe some of the global judo community know the name and perhaps some of the newer members of the family don't but his contribution has been and still is substantial.
Hailing from London in Great Britain, originally, he has invested 70 years of his life in judo, both for his own learning but, as is so often the way with lifers, also for the great benefit of others. He has stories, anecdotes and important gems of judo wisdom oozing out of his brain, a brain which must be close to full as still no day goes by without Michael accumulating some new fact or experience related to the sport. His judo life began in 1955.
"Back in those days once you got your black belt it was built in to the system that you also got your coaching, refereeing and examiner ticket at the same time." Michael, therefore, studied judo through each of these modes.
Judo wasn't quite the same as it is now. Michael's experience at the beginning of his judo life would be impossible to replicate in 2023, as evolution has constructed a depth of education within each aspect of judo that means although the master-of-all-trades still exists, it is accomplished far more deliberately than it once was. Fewer people had access to judo in the mid-1950s when compared with these digital days and there certainly weren't the 200+ national federations we know now. Kano's constant push for diversity and inclusion was already wide-reaching in the mid-twentieth century but the spread was slower than we have seen in more recent years, with only analogue communications available and transport to other countries being far less fluid than it is now.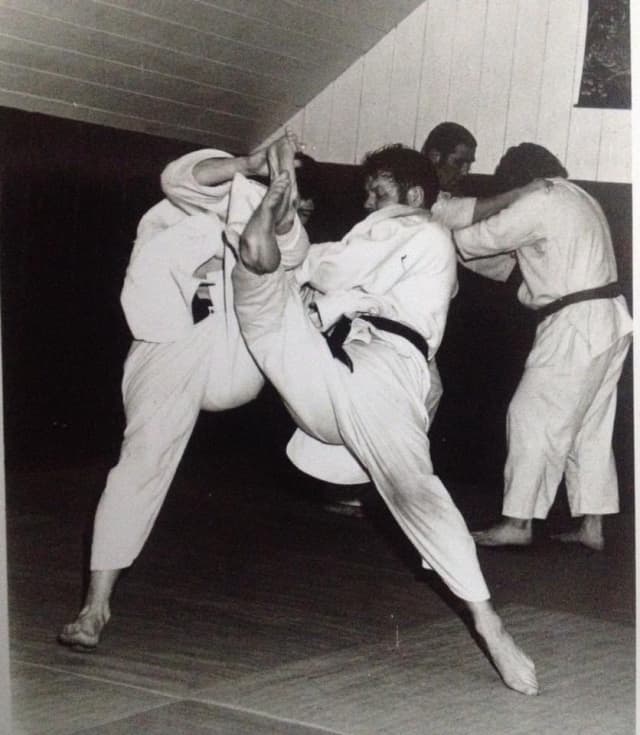 "I began in 1955. The South London Judo Society had just changed its name to the London Judo Society (LJS), a name widely known internationally even now, despite its expiration some 30 years ago. I did a course on Monday and Wednesday evenings from 7-9pm for 8 weeks and went straight to yellow belt at the end of that.
Actually I didn't want to do judo but I liked wrestling type games. I knew no throws or holds but I knew that a submission was a win. At that time I struggled to find a wrestling club and so judo was the next best thing."
Michael's ascent through the grades began at a pace:
September 1955 - 5th kyu (yellow)
October 1955 - 4th kyu (orange)
December 1955 - 2nd kyu (blue)
January 1956 - 1st kyu (brown)
"My 1st dan was awarded in 1956 by Kenshiro Abbe, a senior 7th dan from Japan. The British Judo Association (BJA) did not recognise Abbe's grades though and so I had to take it again. My 1st dan from the BJA was awarded in May 1958 by Charlie Palmer and Mr George Chew."
The first of those two men was President of the BJA for 24 years but most notably was the President of the International Judo Federation from 1965 to 1979 and also had a good stint as Chairman of the BOA. Mr Palmer was quite some person to receive a black belt from! Mr Chew also had a CV of interest as one of the founders of the aforementioned LJS. He was influential in the UK and as so many visitors and also Japanese instructors came to the British Isles in judo's early formation, that meant the influence stretched way beyond British borders. "George Chew got me into politics and was therefore instrumental in my judo career."
Mr Leigh's subsequent grades carried some weight too with his 2nd dan being awarded in 1961 by Trevor Leggett, Japanese 6th dan and head of the BBC's Japanese Service, and Saburo Matsushita, former Managing Director of the AJJF and a member of the Japanese Olympic Committee, a Kodokan 9th dan himself. In 1966 Mr Leggett and Mr Palmer joined forces to award his 3rd dan.
Michael Leigh won his 4th dan competitively in 1974, 5th came in 1980 and the prestigious 6th was presented in 1986, then 7th a few years later too. In September 2005 he joined an elite group of lofty 8th dans, a grade he has worn with pride ever since.
Having held the 8th dan for 18 years and with a continued active approach to judo, Michael Leigh was thrilled to be given the news, just ahead of his 90th birthday, that he would be promoted to 9th dan, a very special grade ratified back in April of this year. There will be a formal presentation of the red belt in the Autumn but on Monday of this week, a small group of family, friends, students and colleagues gathered for a local celebration and the presentation of the IJF certificate.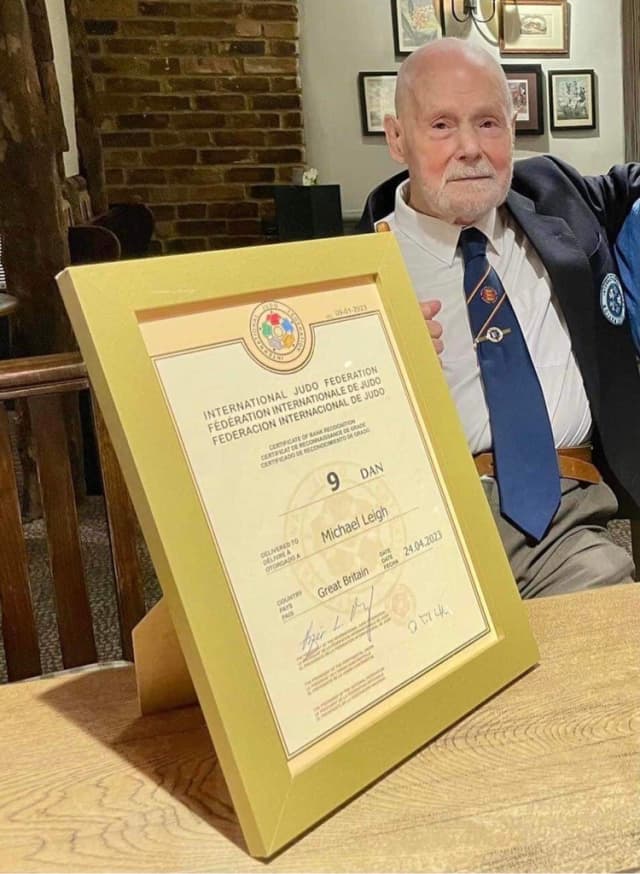 With the 9th dan now in hand and with such a huge life in judo lived at break-neck pace, further articles are planned for the coming weeks, to tell the stories, to paint the colours into these outlines and really illustrate what a life in judo can look like when all of a person's energy, through 7 decades, is directed at improvement, absorption and education. From competing with the great Geesink to coaching in Asia, Michael Leigh has an incredible bank of memories and we are looking forward to sharing them.