I wasn't planning to write anything so soon but as soon as I took the first step off the plane I felt the different air, the temperature and the smells and the thickness of it. I'm thrown straight back to my 1999 backpacking days and I have to just take a breath and smile.
We landed a few hours ago and I'm still smiling. We have had the chance to hug Sabrina and receive a perfect traditional welcome scarf from Deepak. Now we are sat in a restaurant in the heart of Kathmandu, right on the main drag, a restaurant centred around an enormous tree decorated with bright strip lights wound around the major branches, stopping only to make way for the canopies over the tables, or maybe it's the other way round.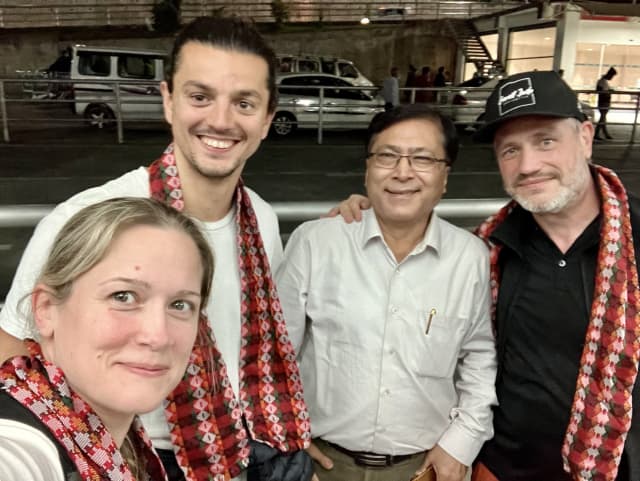 I'm sitting next to Sabrina and she's talking and talking and every word has an irreplaceable energy, full of animation and peace and sparkle. The subject dips and dives through travel and food and technology and future and the tiny details about her expedition, the one she is almost recovered from. How often do we have the great privilege to hear first hand accounts of the extremes our home planet has to offer? This is magic and I think my smile is broadening further.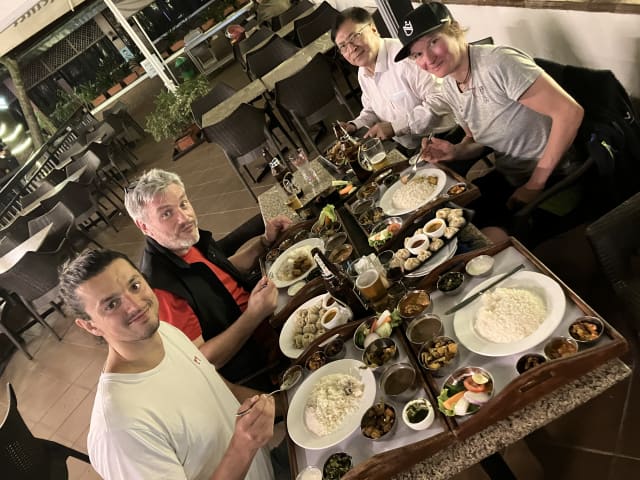 I click back in to the conversation and hear, "you can only climb the Khumbuu Icefall during the night because in daytime it's too warm and it moves. It has to be fixed at least twice a day to make it possible to climb through it." These special nuggets are so rich, speaking of climate and mountaineering and effort and solutions. There is so much. I'm sure if I replayed the conversation I would absorb a whole new library of information from the same words.
Sabrina begins to speak of Nims. Independently of each other, Nico and I bought the same book about his adventures, to read on ours. "Nims is so special." He is the man depicted in the film '14 Peaks' and everyone interested even loosely in climbing has heard his name. He is the one, the unique human who cut the record for climbing all 14 of the 8000m+ summits in the world from 7 years to 7 months. He continues to summit Everest and it is likely he will reach the top of the world an incredible 30 times at some point in the near future. He can do it without supplemental oxygen and he has an iron will that refuses to submit to the discomfort of each and every journey into the death zone.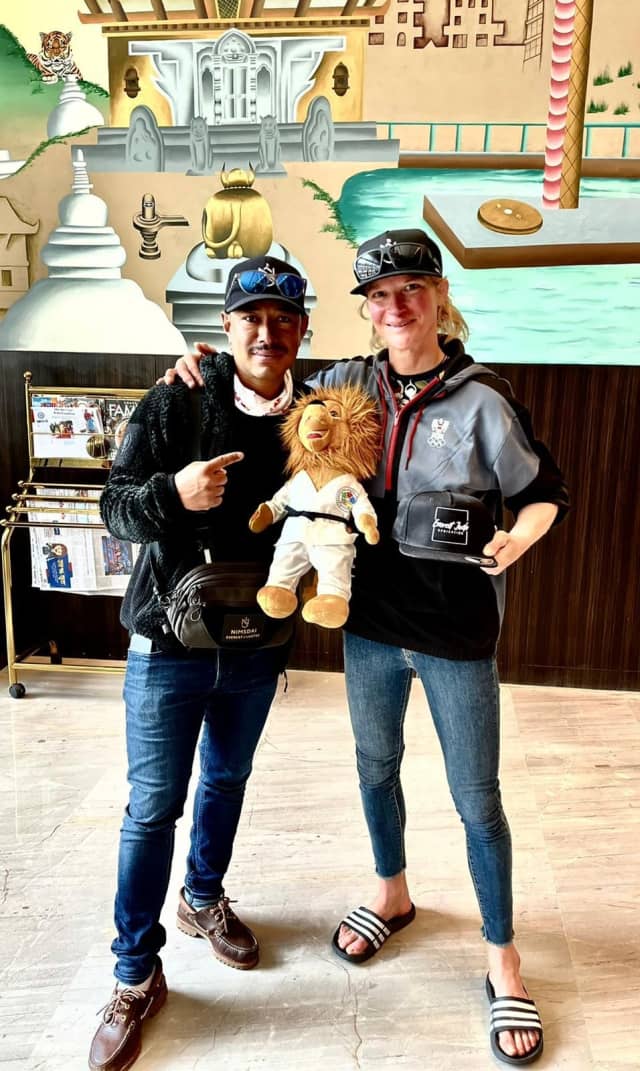 Sabrina, through her development work in Nepal's judo community, has come into contact with and become friends with Nims, among others and he was with her on Everest. To climb with Nimsdai Purja is a unique experience, witnessing his drive and incredible capability and Sabrina is grateful and humbled by this whole chapter.
It would be very easy to slip into writing seemingly unlinked snippets of wider stories and to gush with the effort of trying to keep up with all Sabrina has to say. I think the truth is that her story is teaching her as much as it is teaching us. She has so much to offer but is also still processing her own thoughts on all she has seen and learned and it isn't over yet. We get the tsunami-sized feeling that she is far from done and that Everest was just one chunk of a far greater life project.
So as I sit next to this helicopter pilot, Olympian, mountaineer, climate activist and judo ambassador, I have to just enjoy the moment, the momo, the pickles and the company and allow all the little pieces of the intertwined stories to paint their colours over our evening. It's the richest way to sync with time and I'm looking forward to the rest of our days here as it will surely be more of the same while also being vividly different at every turn.