On the morning of the first and second day of competition and while she only participated two days later, Nihel Cheikh Rouhou (TUN), bronze medallist of the 2017 Marrakesh World Openweight Championships, was already present on the edge of the tatami of the Sports Hall El Menzah to encourage her lightweight teammates engaged in the first Grand Prix of the season. By her simple presence, the 31-year-old was playing the role of 'mother' of the Tunisian team, a role that seems to perfectly suit her, especially since her world medal. On the occasion of the Tunis Grand Prix, we met the champion and were able to obtain her thoughts on a career already long, but to which she no longer plans to put an end.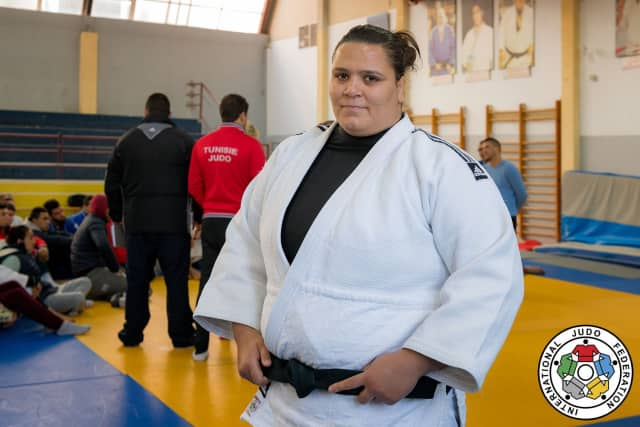 "My medal at the Openweight World Championships in Marrakesh at the end of last year was a real gift from heaven, I'm really happy today. A few months ago, I was wondering what to do next and honestly I had put an end to my career, but since I stepped on the podium in Morocco, I found an incredible motivation to go at least to Tokyo."
Holder of 18 African continental medals, a record, 5 medals in Grand Slams, and 6 in Grand Prix, the native of Sfax, 270km south of Tunis, was only missing this world honour to put a smile on her face and find the envy of even more.
"The months leading up to the World Championships were difficult. I was psychologically hurt not to be on the podium in Rio in 2016, and I did not really have the desire or the rhythm anymore. My preparation for Marrakesh was very short. I had no reference. I arrived in Morocco with more questions than answers and I was stressed to compete with the best in the world. Despite everything, I felt fresh and had a good state of mind. I just had to enter my competition, take the match one after another and remain focused."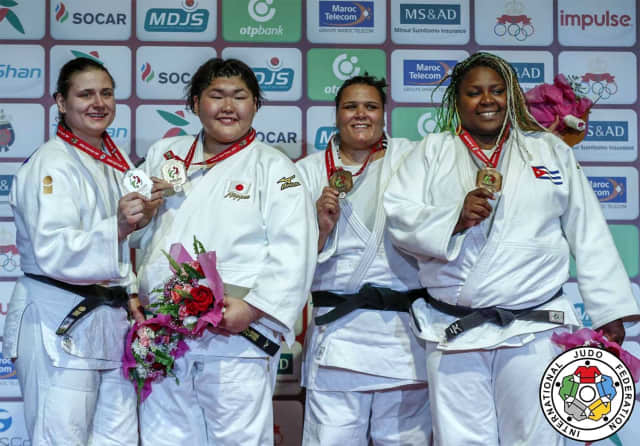 Above: Podium of the last Open World Championships in Marrakech (MAR). From left to right: CERIC, Larisa (BIH), ASAHINA, Sarah (JPN), CHEIKH ROUHOU, Nihel (TUN) and ORTIZ, Idalys (CUB)
Her record is evocative of a life dedicated to high-level judo, but as she acknowledges herself, getting on a world podium changes everything. This is the dream of every top athlete and being able to unlock the meter provides indescribable sensations: "I have long waited for this medal and after Rio thought I would wait forever. Marrakesh gave me a new breath. I feel rejuvenated and ready to prepare for the 2018 and 2019 World Championships and even for the Tokyo Olympics in 2020. Everything is now possible. "
To appear on the world podium at the same level as the former Olympic Champion, the Cuban Ortiz Idalys, had like a small perfume of revenge on the life for the Tunisian. Born in a modest environment, but led by force and courage, she could finally taste the planetary bronze medal: "My role model was Daima Mayelis BELTRAN (CUB), double Olympic silver medalist (Sydney 2000 and Athens 2004) and double world champion (Paris 1997, Birmingham 1999), precisely in the Open category. Last November, it was a bit like joining her to the Hall of Fame of international medalists."
Nihel's first thoughts, however, went to her family, who play a central role in her life. If she was hoping for this medal from the bottom of her heart, her parents and all her relatives hoped as much and perhaps even more than she: "It was an immense joy, it was gigantic. I remembered my beginnings in Judo. I was nine when I pushed the doors of the Sfax Promotion Center. Immediately, I felt that this sport was made for me. I was immediately hooked. Then I remembered my first steps in high-sport high school, when I arrived in Tunis, far from the family. You have no idea how much emotion there was when I returned home."
During the days that followed her triumphant return, the feasts, the ceremonies, the tears of joy and the embraces filled her daily life: a first reception at the airport, red carpet for a champion with a big heart, then it was at the Tunisian Judo Federation that everyone from Tunisian judo gathered, after that the Ministry of Sports organized a ceremony and at the national dojo she shared incredible moments with all the teams, and ultimately she could go back home.
"Everyone came to congratulate me. I say everyone. When I returned to the training center, athletes from other sports came to me to tell me how proud they were of what I had done and the medal I had brought home. There were parties everywhere, with music and this amazing Tunisian atmosphere."
In this overflowing of emotions, the young woman does not forget her federation president, Skander Hachicha: "If he had not been there to support me and push me, especially in the most difficult moments, I would have never returned to competition. In high-level judo there are ups and downs, but if you do not have a federation behind you and relatives who believe in you, you can not do it. Today, I can say that judo pays back in the long run. A few months ago I was feeling bad. But that's the past. I look towards the future now."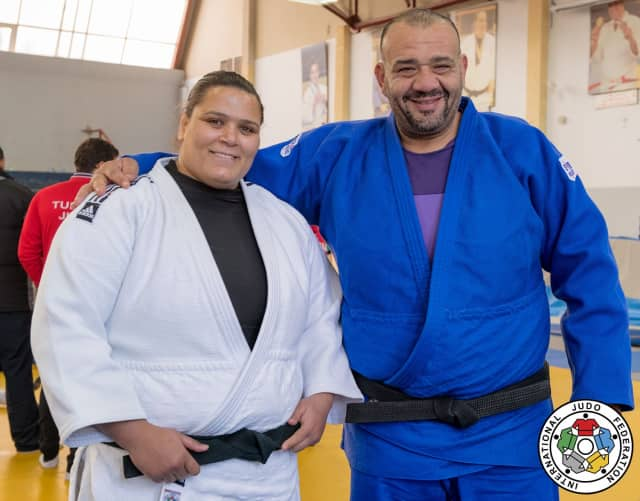 Above: NihelCHEIKH ROUHOU with her coach
Skander Hachicha also shared with us the emotions that he went through when Nihel finally climbed onto the world podium: "After the Rio Games, Nihel was discouraged. She had dreamed of an Olympic medal, but it did not work. She was disappointed and then decided to end her career. I was very sad but I respected her choice. We hired her as a coach in Sfax, so that she could stay in our judo family and she could be close to her parents, who are old, but who she supports with all her heart.
"She needed time. We left her to recover and little by little, at first a bit like a joke and then more seriously, we talked about a return to competition, with the prospect of the Grand Prix in Tunis in 2018 and the next African championships, which will be held here too later this year. Nihel is a competitor from the soul. She could not resist long and she got caught up in the game. Frankly, I really believed she could make it but at the same time, I was not sure she could overcome from her disappointment after Rio. Her world medal is so deserved. It has caused in the hearts of all Tunisians a tsunami of happiness."
Nihel Cheikh Rouhou was the only African medallist at the Marrakech Openweight World Championships, however, she believes in the future of the continent on the international scene: "Today African judo is especially strong in the North of the continent, but throughout all these years, I have seen more and more athletes coming from other countries. It's good for all of us. This creates a strong emulation. The younger generation is growing stronger and I am happy about it. "
A world medalist and African woman, Nihel is proud of what she has accomplished: "My role as a high-level female athlete in Africa is close to my heart. My medal is a good signal for all girls on the continent. I feel like the mother of this young rising generation. It's a very nice role to play."
Today the world medalist has resumed training. She shares her life between Sfax, where the federation helps her rent an apartment so that she is close to her parents, and Tunis where she meets her teammates of the national team for whom she has become more than a World medalist. Nihel Cheikh Rouhou is the mother of a large family, that of all these young athletes who admire her and want to join her as a world medallist.
Photos IJF Media by Gabriela Sabau and Nicolas Messner