On 6th October the Judo Federation of North Macedonia held a special awarding ceremony, where Her Excellency Keiko Haneda, the Japanese Ambassador was presented with her honorary black belt.
On behalf of the Macedonian federation, a unique plaque and a black belt were awarded by a delegation led by the President, Mr Vladimir Trpanoski and the Vice President, Mr Goran Antevski. Both thanked  H.E. Keiko Haneda for her four year commitment to the development of judo and for her personal engagement with the sport and its community in RN Macedonia.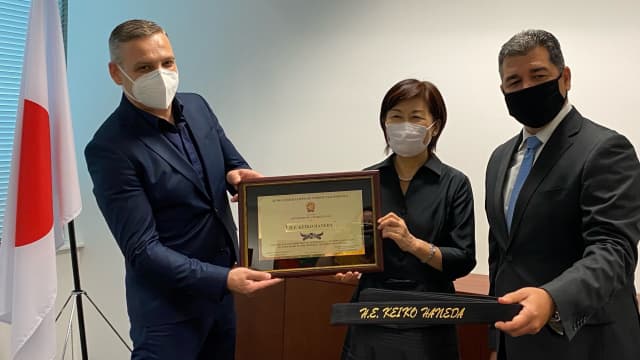 H.E. Keiko Haneda, expressed her appreciation and gratitude for the acknowledgement and pledged  to continue all development activities, promoting the sport of judo and to further encourage the special relationship being forged between Macedonia and Japan. The Ambassador emphasised that during her tenure she has always supported sport that develops the spirit and health of every citizen. She also expressed great hope and enormous excitement for the possible inclusion of Macedonian judokas at Olympic Games in Tokyo next year and to be able to use that occasion to help promote judo further through the country.
Development and exposure are important priorities for the Macedonian Judo Federation. They have maintained the stability of their federation and their clubs and through their activities have continued to strive for progress. The commitment of the International Judo Federation to support 10 schools in Macedonia has also been well received and lays the foundations for further exposure among potential new judokas.