Recently we published a piece of news to tell the story of the new dojo in Kabwe, Zambia, where President of the Zambia Judo Association, Alfred Foloko and Pádraig O'Fainín, head of the Sables Nua organisation, officially opened the new facility. Beyond the fact that from now on young judoka will have the opportunity to practise judo in good conditions, the whole project is about humanity. After the opening, Pádraig O'Fainín told us the inspirational story of a young boy he had found on the street and who has become a judo champion.
"I'm from Ireland and my sport of choice is Ireland's national sport, hurling, probably unknown to most of you. It's a wonderful sport; fast, hard work, exciting and I enjoyed playing it in my youth and watching it in later years.
In recent years, however, I discovered judo and although I never played judo I have come to appreciate the sport and in particular the discipline and respect it propagates in the judokas.
I immediately recognised the role judo could play in Sables Nua, our centre for street children in Kabwe, Zambia. Our youngsters, particularly the shelter boys, can be rough, tough, ill-disciplined and, being honest, troubled and troublesome, so the civilising or taming influence of judo was put to the test when we established our Sables Nua Judo Club.
The success of the club was brought home to me pre-Covid, when one of our boys won his category in the Lusaka Judo League tournament, played in the wonderful O.Y.D.C. (Olympic Youth Development Centre) in Lusaka. The boy in question we'll call Sidney. He's an orphan and one way or another ended up on the streets, where we found him. He was then a very small boy. One day he ran away, as our refugees from the streets sometimes do and he went back to the familiarity of his life on the streets, sadly including stealing and glue-smoking and an aimless life. Despite constant searching we couldn't find him and eventually gave up looking, assuming that he had moved on to Lusaka, to be swallowed up there by the streets and bus stations, which are home to hundreds of street children.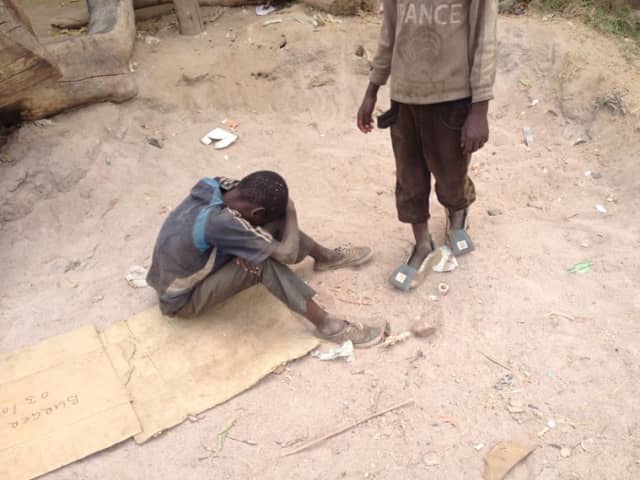 However, about two years ago, taking a short-cut down a rarely used alleyway in town we stumbled, literally, on him, purely by accident. He was in a dreadful state, out of his mind on glue, filthy dirty, lice-ridden, extremely thin and quite sick too. I know I shouldn't but I took his photo: a picture of sadness, desolation, tragedy, maybe to be able to show him later how far he could go.
He came with us to Sables Nua; he didn't have much of a say in it. He was so 'out of it' that he didn't know what was happening. A few weeks of detox, cold turkey, coupled with some tender loving care and he began to come around. He went back into class and gradually life began to take shape again.
Then Sidney discovered judo and his life took a serious turn for the better. He took up the sport and enjoyed it. He wasn't very skilled but stuck with it, ignoring all the losses he took, fight after fight. Gradually he started to improve. He understood the discipline and camaraderie of judo; the respect for self, for your opponent, for the judges and referees, for the tatami, for the dojo, for life itself.
At the competition in the O.Y.D.C. Sidney defeated all opponents and took a gold medal. We were happy; Sidney was even happier. The win was a victory for Sidney, for his fight against addiction, against the cruel hand that fate had dealt him, the poverty that saw him on the streets in the first place. It was, too, a victory for Sables Nua, in our ongoing battle with the streets. It was also a victory, a sweet, sweet victory, for judo."