Throughout the week, they kept quiet, yet everyone noticed them. Members of the Kenyan judo team were in Olbia to learn and to gain experience. With seven athletes, it was a relatively large delegation and Esther Wanjiru (-57kg) and her teammates will have a lot to talk about at home.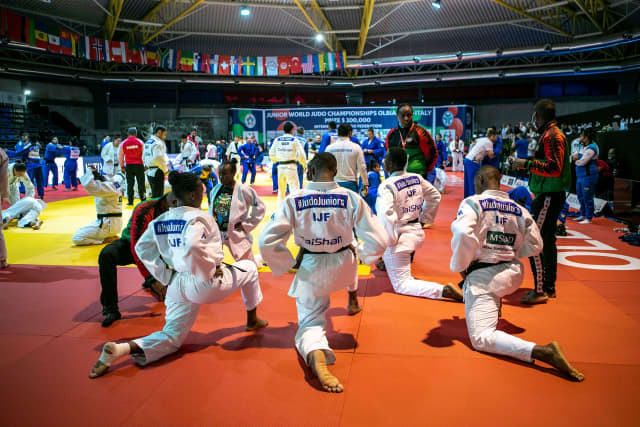 "It was a great competition and we are very proud to have been able to be present," explains Esther. "I think what was important is that we were present and that we took this first world championship participation as an extraordinary experience. What I will remember most is that we have to train more and better. It's not easy; we have some catching up to do. We have to expose ourselves more but if we hadn't come, we wouldn't know it. This is what such a trip is for, so that we can measure the way to go. If one does not know the way, it is difficult to know where to go. Now we know it and I am happy."
On a more general note, Esther also remembers something else about her trip, "I discovered a country, Italy, which is very pleasant and comfortable to live in. It is a beautiful place. Also, at the hotel, in our health bubble, we were able to establish contacts with other delegations, while strengthening our own team spirit."
This is one of the reasons why the Kenyan team stood out positively throughout the week. Each morning, they met in the left corner of the tatami and warmed up in groups, to further strengthen this team spirit that's so important in judo. Joseph Mburu, the technical director of the delegation, also Coaching and Education Director of the Kenyan Judo Federation, is not mistaken, "This is the first time in the history of judo in our country, that we are competing with a junior team at a world championships. We still have a lot to learn, but creating a team spirit is an important first step. Olbia gave us this opportunity.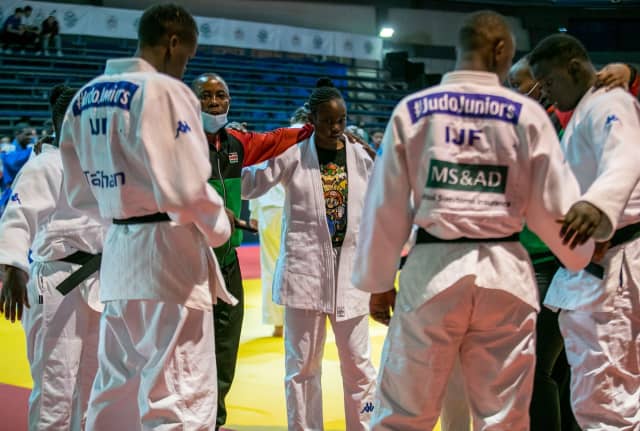 In Kenya and in Africa more generally, we still have a lot of work to do to reach out to other countries. We are lagging behind compared to other continents and to Europe and Asia in particular. We need to do more. Thanks to the IJF and the AJU, we have been able to do great things, but we are still sorely lacking in infrastructure and we must develop our technical capacities.
Our athletes need competitions, a lot more competitions. They want to learn and we must do everything to enable them to do so. Currently, in Kenya we are building the foundations for the future of Kenyan and African judo. We dream of being able in the years to come to win medals at the continental championships and one day at the world championships and the Olympic Games, but for that we have to build step by step and we need to start now.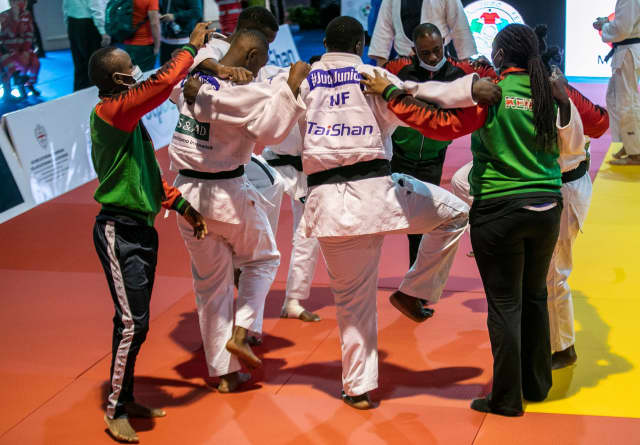 You know, for all of our judoka present in Olbia, it was the first trip outside Africa. They are from all over Kenya, so just being there was an adventure in itself. Even if they did not win a medal, they will be able to return to the country explaining what there is to do to perform."
The lesson is anything but painful. Of course Esther and her friends didn't get a medal but they were there and were truly present. They even participated in the mixed team event. They participated by giving the best of themselves. They don't have to be ashamed. For those in charge of the team, useful lessons will also be learned from this trip. This is also what their participation in the World Junior Championships, Olbia 2021, is for.