We are back in Paris and for the first time in many, many months we have our judo spectators back. It is not perfect, not exactly as we would like it to be but it is heading the right way, with the Bercy at 50% capacity. We have their noise, their appreciation, their expertise and it is a relief and also a motivation. The Paris Grand Slam has been built on the strength of its spectators and we are so glad to have them back at home where they belong.
Udo Quellmalz, IJF Referee Supervisor, felt the presence of the crowd too, "What impressed me today in Paris isn't a new thing at all. Even through the preliminaries, before the excitement of the medal matches, the spectators did their best to lift the roof off the Bercy with their voices. They are so glad to be back and that transferred on to the tatami."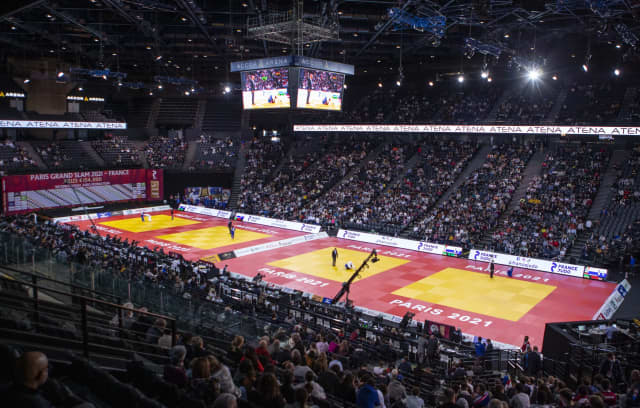 "The young French players were so well received and it was a huge boost for them throughout the day. Most of them have arrived straight from Olbia, where they put in a fantastic collective performance to bring quite a haul of medals home from the Junior World Championships. It is a real demonstration of a strong system and high quality training when a group of junior judoka can win such high level matches at their world championships one week and then repeat that, little more than a week later, at the level of the Paris Grand Slam."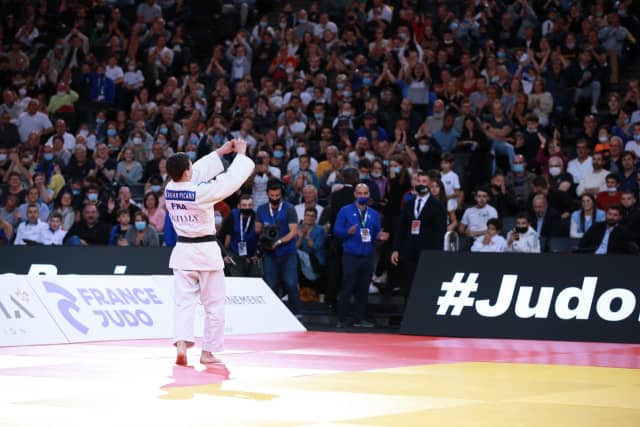 "So many of these youngsters were not on the radar before but they are now. They have thrown their hat in the ring and it seems official that they are now on the hunt for Olympic selection. This venue motivates and it's clear that France is preparing for the future.
As a side note, I also want to acknowledge some of our new World Judo Tour referees. The Paris Grand Slam is as challenging for referees as it is for competing judoka and today, for example, Fary Seye from Senegal had a real presence on the tatami, looking every bit the professional. There is work to be done but there is a great feeling among this new group and with consistent development they will really become an accomplished addition to the Tour; their level is excellent. For Senegal and Africa as a whole it is very promising to have this kind of platform at the beginning of the new Olympic cycle and I hope it will be a springboard for more referees to come forward from the region."
Emanuele Di Feliciantonio, IJF photographer and lifelong judoka also noticed those whom have been on the Tour for longer, still improving their judo and raising their game. "Eteri Liparteliani produced a massive ura-nage just like her namesake and teammate Varlam might have done. I have been waiting for her to mature on the World Judo Tour and today she has shown that she is really ready. She brought her own version of Georgian judo but it was absolutely Georgian, through and through."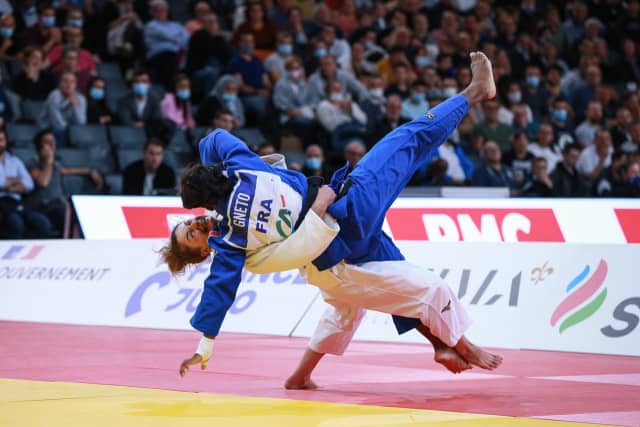 "I also really enjoyed seeing Astride Gneto compete today. She is very concrete now, bringing robust judo. Every technique is well executed. She looks like she is at peace with her judo and it is being delivered with focus and confidence; a formidable system and strategy."
With such energy on show in the Bercy on day 1 of the 2021 Paris Grand Slam, perhaps we can say that the expected post-Olympic lull is already a thing of the past. Paris has revitalised its attendees and now the new Olympic cycle seems real.