During this week, the Peace and Sport organisation is celebrating its annual awards, in a digital format. Despite the difficult situation due to the pandemic that has been prevailing all over the world for almost two years, programmes to promote peace through sport have been continuing across all continents, without pause.
As one of the most active actors on the field, the Portuguese Institute for Youth and Sport and the Youth and Sport Secretary of State of Portugal received the 'Institution of the year' Peace and Sport Award for their 'National Plan For Ethics in Sport.'
The Institution of the Year Peace and Sport Award rewards a public entity (state, government, region, for example), a sport institution or a company, leading and/or supporting a sustainable programme which contributes to the development of peace through sport. 
Judo has been an integral part of the plan and having been highlighted in the award application and promotional video, we warmly congratulate the winners for their prize as well as for sharing the judo values to a large audience in Portugal, an audience that goes beyond judo itself.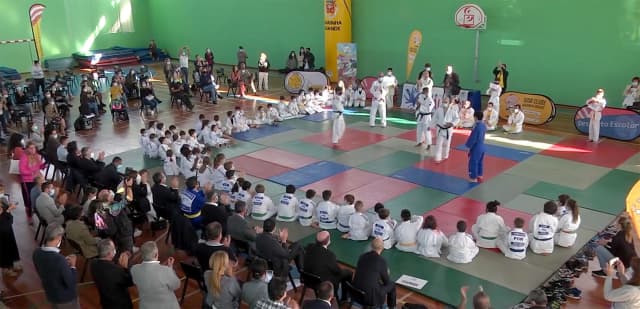 Joao Paulo Rebelo, Secretary of State of Youth and Sport for Portugal said, "The National Plan For Ethics in Sport aims to promote ethical values such as truth, respect, responsibility, friendship and cooperation. The plan involves the entire population, especially children and young people, schools, universities, clubs and collectivities, associations, federations, people with disabilities, sport agents and also the prison population. Our plan is based on several strategic axes: education, events, publication and research, contest and campaigns."
Since 2012, the plan has provided 500 awareness sessions to 350,000 children. It has certified 461 ethical practices led by clubs, schools, municipalities, and institutions and registered more than 2,000 entities. It aims to highlight ethical behaviour through the use of the FairPlay Card, a specific programme implemented in Portugal. 

Joao Teixeira, teacher of the young judoka at the Judo Clube da Marinha Grande, explained, "Our commitment towards awareness-raising and information-rich activities delivers significant results in schools and clubs, both in terms of change and impact."
Judo stands at the heart of the sport for development and peace (SDP) movement, and is an essential part of SDP programmes around the world. Portugal proved on many occasions that they are one of the leaders in terms of promoting the values of peace and we are happy to underline that judo is playing a key role in that promotion of a better society. 
Winner's announcement video: CLICK HERE
More information about Peace and Sport: CLICK HERE