Although ice hockey is undoubtedly sport number one in Montréal and Canada, the Canadians judo fans came in droves to the Grand Prix. Not only to finally watch 'their' judokas perform well on the home tatami but also to witness the many high ranked judokas perform live here in Montréal.
For the occasion, the Maurice Richard ice arena, where usually speed skaters whiz over the ice and hockey players score goals and deliver body checks, has been transformed to a judo temple where renown international judoka make their best throws and sweeps to the joy of the many judo fans in Quebec, the Canadian province more than 10,000 judo call their home.
Catherine is here to watch the judo competition together with her son and friends. "It's nice to have such a major judo event in our city," she says. Montréal should host more in the future. It's a great sport." Her 8-year old son Zachary confirms. "I also practice judo. I love it!", the kid wearing a Judo Canada T-shirt proudly says. "I saw the Canadian athletes win medals. I'm so happy. It's great fun to watch!"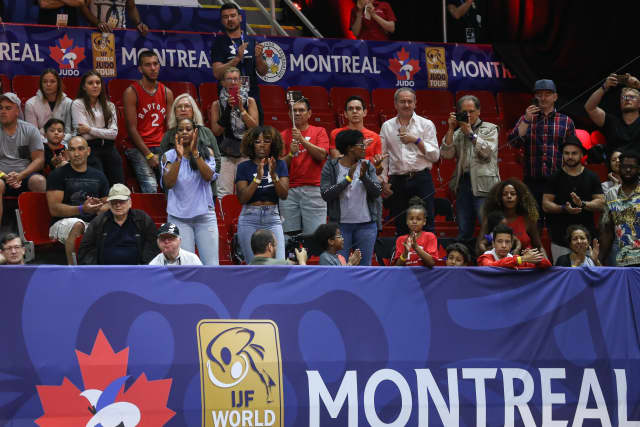 "This Montréal Grand Prix is awesome," says Jason Scott also watching from the bleachers. "It's a one in a lifetime event. It's fantastic to have a big international judo tournament in Canada. It's a terrific sport. Everyone should come and watch this competition. Canada did well so far with seven medals. More to come I hope."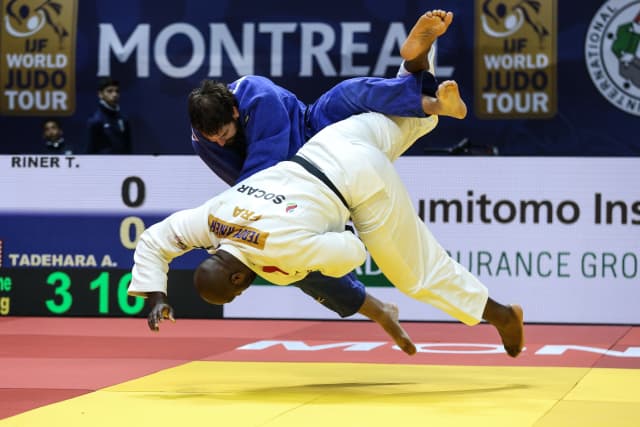 The many fans in the arena indeed are enjoying themselves. Great action inside, a fun fan village outside. So far they have been spoiled with 'their' judokas mounting the medal podium in almost every category. Of course, they're boisterous when the judokas with the red maple leaf embroidered on their judogi enter the tatami. But they sure are respectful to all participants. No boos, only cheers. For instance, when Antoine Valois-Fortier competed against Japanese Nagase for the gold the home crowd obviously cheers for their home town boy. But when the Canadian got floored by Nagase, the fans equally applauded the nice throw by the former Japanese World champion. And when tenfold World Champion and double Olympic champion Teddy Riner enters the arena, the fans spontaneously started clapping and cheering for him "Teddy, Teddy, Teddy …"
Judo a spectator sport for the whole family!